COMMUNITY
The power of community spirit and how it can improve your wellbeing
---
What role do togetherness and kindness play in our communities, local and beyond?
In a brisk corner of the internet, more than 4,500 people come together for worldwide tropical cyclone discussion, and general weather observations. This group is made up of followers of Nathan Foy – creator of Force Thirteen, a YouTube channel that produces videos on cyclones and weather forecasts. But who could have predicted the force for good this community could become?
"Our community mostly resides on Discord [a chat app for voice, video, and text], and is open to anyone," says Nathan, when asked to reflect on the space he has created. "We still very much are mainly weather-related, but we opened a 'room' for care and support a couple of years ago, under the initiative of our moderator team."
When Nathan saw an increase in the amount of personal issues coming up in general conversations in the group, the team decided to take action to make their community a supportive space. Drawn together by their shared interest in cyclones, the group now also offers the option of informal peer-to-peer support, a fleet of moderators ensuring it all remains safe.
Talk of Discord servers and digital moderators may feel uniquely 2022, but the desire to gather is, of course, not. In fact, it's going right back to basics. Coming together, meeting people where they are, building communities, and weathering the storm together – these are the practices that built our society in the first place, and that gave our modern world its foundations. And the more pressure we put on those foundations – the higher we build and the further away we get from our roots – the more we need to return to them, to nurture them, and to come together once again.
The group of Nordic countries (Finland, Denmark, Norway, Sweden, and Iceland) that consistently dominate the top spots in the World Happiness Report (WHR) have a couple of things in common. It's important to acknowledge the financial climate – high GDP per capita, a welfare state, and ample social benefits – but beyond that, the WHR looks at other factors, including social support and generosity.
They're the kind of values we might associate with 'village living'. The phrase alone might conjure up images of a stroll to the local shop, the walk punctuated by friendly encounters with people you know by name, and who would be round in a jiffy the moment you need a hand. The good news is that this 'village' style connectivity isn't particularly geographically restricted.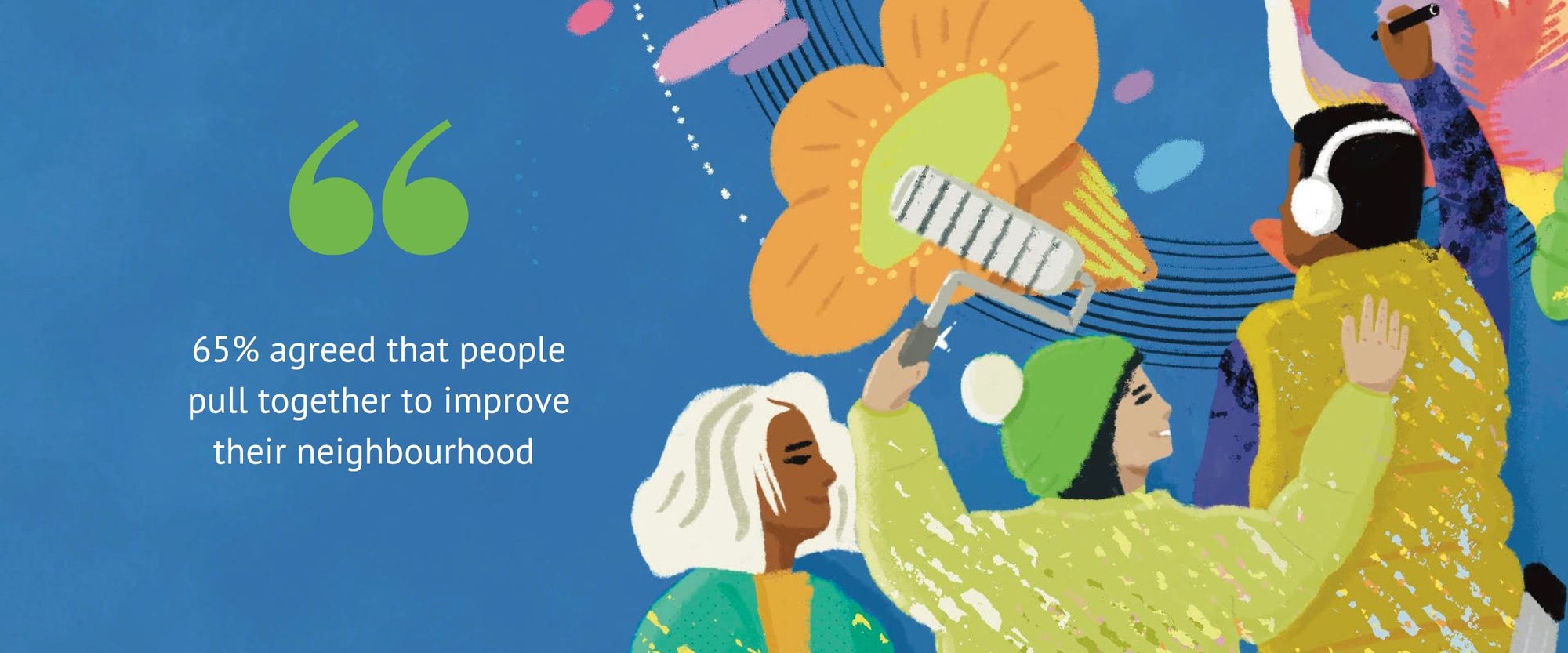 In figures from the Department for Environment, Food and Rural Affairs, when asked "Overall, how happy did you feel yesterday?" on a scale from 0 to 10, where 0 is "not at all happy" and 10 is "completely happy", those living in predominantly rural areas gave an average rating of 7.47, only marginally higher than the average rating of 7.25 given by those living in predominantly urban areas.
What's more, in a report into community life, which ran from April 2020 to March 2021 and was published by the Department for Digital, Culture, Media & Sport, 65% of respondents agreed that people in their neighbourhood pull together to improve their neighbourhood – an increase from 59% in 2019/20 – a sign things could be on the up. And, yet, alongside all this, the Campaign to End Loneliness reports that 45% of adults feel occasionally, sometimes, or often lonely – equating to 25 million people feeling isolated to some extent. So what's going wrong?
There's likely been a point in all our lives when we have felt some kind of isolation, and the truth of the matter is, we can't really pin it on one thing. Feeling financially excluded from social events, poor work-life balance, health, and limitless other factors can leave us feeling excluded. But the benefits of community are incredibly fruitful – it makes us feel safe and secure – and a study of the unusually long-living population of Sardinia, Italy found that strong ties to family and friends, along with physical activity, contributed to their long lives. Back in the UK, there are beams of hope, such as Nathan's unlikely wellbeing hub, and Ceri Gillett's inspired solution for working mums.
"When I became a mum in 2015, I really struggled to find a space for myself," Ceri tells us. "I was starting a new business, and heading to baby groups just wasn't my cup of tea. I'd find myself sitting on the sidelines, not engaging with others, and wondering why I came. I needed a space that would allow me to express both parts of me, as a mum, but also a woman starting a business, and I couldn't really find it."
So Ceri created a community platform, Mubo, that offers support for working parents, who feel directionless since becoming parents, can't afford childcare or school holiday clubs, or can't travel to other childcare provision. Today, there are seven Mubo Hubs across Wales.
In these local hubs, parents share childcare and work – with parents doing alternate shifts, working half the day, and watching the children the other half, and vice versa. They hire in kids' activities and split the cost amongst all the parents to keep it low and give the parents a chance to work, everything propelled forward because the load is shared.
And as we face difficult times ahead, communities are more needed than ever before. "I'll definitely be thinking about new ways to get the community together, yes," says Nathan, when considering this forecast. "For the past two years, our community has been involved in raising money for our annual Force For Good event in December, and we plan to do that again this year on the first Sunday of December. This is a fundraising initiative that involves live streaming to raise funds for those in need."
The necessity of fundamental change, in order to achieve the kind of nation-wide happiness that is enjoyed by Nordic countries, cannot be underestimated – but pockets of those systems can be found all over the UK, dreamed up by the determined, devoted people who believe in better. Big and small, those things that we can all do to nurture our connection with the people around us, they make a difference. The sort of kindness that Nathan and Ceri have used to create a sense of togetherness in their own ways, is available to us all – the only thing left to do is to take the first step.
---
💛
Quick community wins

When the challenge feels too big to tackle, start small:

. Offer to do a 'skill swap'
. Organise a community clean-up
. Identify areas that need improvement, and see what can be done (e.g. underlit streets)
. Look up local volunteering opportunities
. Set up a Whatsapp or Facebook group for the people on your street
. Create a community garden
. Support local businesses
. Offer to go to the shops for those who can't make it out
. Donate to local food banks
. Offer to do some gardening for those who can't themselves
. Start a newsletter
. Campaign for more community spaces
. Make a note of people's birthdays, and pop cards through their doors
. Get to know service providers like bus drivers and postal workers
---