NEWS
The Good, The Bad, and The Uncomfy: This Week's News (You May Have Missed)
---
Orgasm faces, non-bio biodegradable wipes, and fat-shaming at its finest. Here are five headlines that you might have missed this week
Photobooth gets Brits to show off their 'O' face for National Orgasm Day
Luxury intimate lifestyle brand LELO took to London earlier this week to encourage people to share their 'O' faces for National Orgasm Day.
Held annually on 1 August, this year LELO aimed to encourage Brits to stop faking their orgasms and be proud of their 'O' face. The event comes as new research revealed that 64% of us have admitted to faking an orgasm. Why? According to the stats, 49% of us feel self-conscious about our orgasm face.
Visitors to the booth received printouts of their 'O' faces, along with Hex condoms and personal moisturiser. Psychosexual and relationship expert Kate Moyle, best known for her work on BBC's Sex On The Couch, commented:
"People have been faking orgasms for too long, and a big part of the problem is that we still have a long way to go in normalising the conversation around sex. Many people feel under pressure to fake orgasms as they feel their partner will expect it, and that's because we don't have and aren't given a solid education around more realistic expectations of sex.
"We really hope that this photo booth will play a part in getting the conversation moving about sex, sexual pleasure and orgasm, breaking down the stigma of 'faking it' and helping people to work out how to be responsible for their own pleasure and enjoy sex more, with no more fake 'O' faces needed."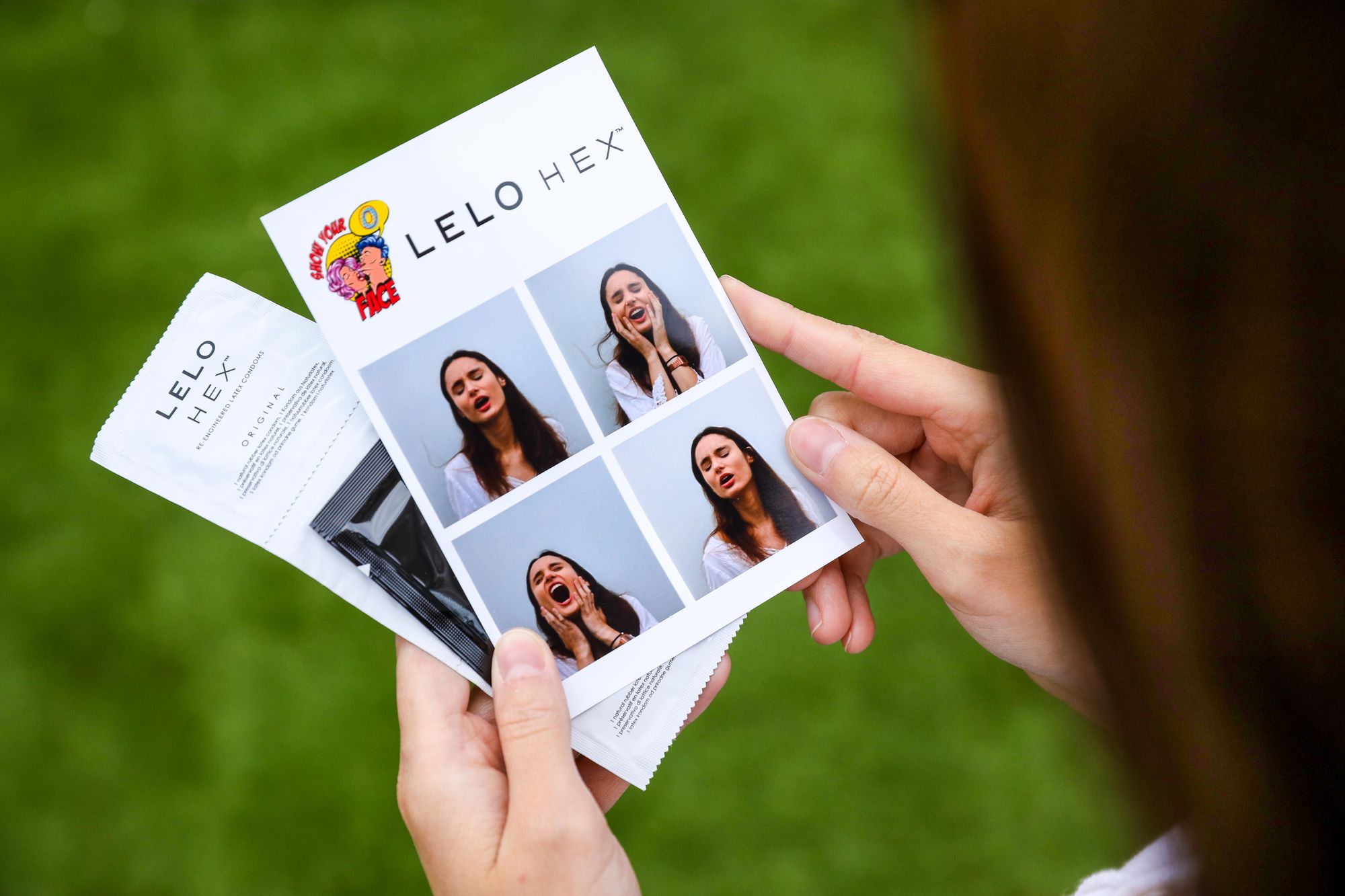 'Biodegradable' and 'flushable' wet wipes are destroying the environment
Earlier this week, Vice UK reported a new 'reef' of used wet wipes have been discovered near Hammersmith Bridge in west London. Mounds of what look like natural debris have actually been revealed to be old makeup wipes, toilet cleaning wipes, hand sanitising tissues and baby wipes, previously flushed down London's toilets.
Environmental charity Thames21 revealed that they removed 23,000 wipes in April alone this year. Many users may be unaware that wipes commonly contain polyester and other polymers, allowing them to remain strong despite being damp. Unfortunately, this means they aren't as environmentally friendly as we may think.
Even wipes marked as biodegradable or flushable may not be a safe option. With no regulation of labelling at this time, experts have pointed out that flushable wipes literally just have to be flushable, while biodegradable wipes may only do so under certain conditions that may not be present within the UK.
In 2018, the BBC revealed that no 'flushable' wet wipes tested had passed the water industry tests, yet half a year later, we've seen no real changes.
Next time you reach for a wet wipe, try and consider which easy environment savers you could use instead.
Leading mental health author speaks out against misleading headline
We love Matt Haig. An amazing author for all ages, an outspoken mental health advocate, and someone who isn't afraid to speak out about his own experiences and struggles, we all want to be a 'bit more Matt Haig' when we grow up (we can totally say this at nearly 30, right?).
Matt took to Instagram and Twitter to set the record straight, following a headline filled with (at best) poorly researched quotes or at worst, mental health stigma continuing to shine through. In a headline from the Daily Mail, a journalist incorrectly called a quote from one of Matt's books 'Meghan Markle's favourite poetry', before going on to say it had been written by 'author Matt Haig who beat mental health issues to become successful."
In his comment to followers, Matt responded, "Just for the record: I didn't beat my mental health issues to become successful. I still have mental health issues. And any success I have in life sometimes co-exists with those issues. I wrote my first book unable to leave the house. You can have issues and do stuff too. (Also: it's not a poem.)"
Despite a rise in awareness and acceptance, mental illness and mental ill health are still subject to stigma. It's thanks to celebrities and influencers speaking up about their struggles and successes that can help us to continue dispelling the stigma, and creating a happier, healthier, more open society.
Thanks, Matt, for speaking out.
Ugly tempers abound: young people five times more likely to lose their temper thanks to 'load rage'
Young people are experiencing 'load rage' after just a minute of waiting for a download, according to new research.
Internet connectivity and download speeds are both thought to be contributors to this frustration. The survey of UK smartphone users revealed that young people are up to five times more likely to lose their temper over slow speeds than older phone users. Of users surveyed, nearly half aged 16-24 said they would like to reduce their screen time, feeling their use was excessive.
If (like me), you can't remember the last time you were more than a room away from your phone, it could be time to take a short break. Try these six simple ways to spend less time scrolling.
What were they thinking? 'Reviewer' attacks comedian's weight, fat-shames, and hits all the class stereotypes
Performing at the Edinburgh Fringe Festival this week with, Jayde Adams has shared her experience with a downright tone-deaf reviewer.
"Got reviewed in Norwich last week for a set in a tent… 'unapologetically hefty Jayde Adams threw her weight around'? Why is he reviewing my weight? He didn't describe Rich, Stephen or Luke's weight? Why mine?" Jayden said, in a series of tweets calling out the author and publication.
She continued. "Not only is this saying that I need to apologise for my weight, not measuring the men against each other for their size and then the implication I threw myself around in some sort of fit is a pretty offensive class stereotype. Man I've hit a 3 shit jackpot."
Perhaps some out there feel it's OK to make comments alluding to weight when the performer at hand has a routine talking about the ups and downs of getting fit and fat shaming. Instead, it feels as though this is another unintentional misstep on the part of fat-shaming, diet-promoting culture.
We're at a point where it's virtually impossible to avoid diet talk, charities are running with fat-shaming adverts that mental health professionals and body positive campaigners alike have criticised, and people with serious eating disorders are still being turned away because they aren't 'thin enough' for help.
It's 2019. Isn't it time we stopped thinking we have a right to comment on how other people look? Appearance and health aren't always linked and, honestly? If you're thinking of commenting on someone's weight for 'their own good', it's probably none of your business in the first place.