NEWS
The cost of eating disorders
---
New reports reveal how much eating disorders are costing us in the UK and the amount being spent on research
The coronavirus has taken its toll on our mental health as a nation over the last 18 months, affecting all of us in different ways. One area that has been hit particularly hard is eating disorders. These conditions thrive in isolation and only get worse without support.
Before the pandemic hit, there was already a crisis around eating disorder treatment, with waitlists making treatment hard to come by. Already being stretched to its limit, the system broke further as the pandemic exacerbated the conditions for those struggling.
Eating disorders like anorexia, bulimia, binge-eating disorder and other specified feeding or eating disorder (OSFED) are becoming more common and are the most life-threatening form of mental health condition. The emotional cost is, of course, unfathomable. However, a new report published by The Hearts Minds Genes Coalition, founded by activist Hope Virgo, has now revealed the financial cost.
The report found that eating disorders cost the UK £8.8b in 2019 and £9.4b in 2020. Written by Hope Virgo, Professor Gerome Breen, Dr Agnes Ayton and EY, the report has highlighted some staggering costs of Eating Disorders in the UK, but note that with the right treatment pathways, the right public health messaging and a joined-up approach, not only will lives be saved, but we will be saving money for the NHS.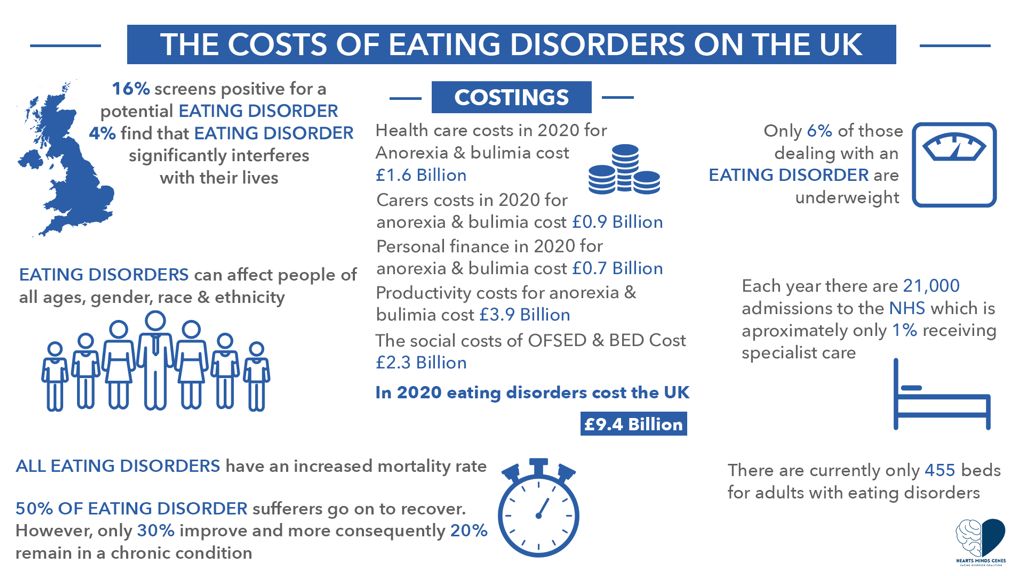 One 24-year-old anorexia sufferer explains that his condition left him unable to work for three years and also unable to claim benefits.
"I'm lucky that I have parents whom I am so close to and they kept me fed, clothed and with a roof over my head living with them. It was very hard to take as I wanted to be independent and having to ask them for money to buy food or to fill my car with petrol was really hard and demoralising.
"I pay £150 per month on nutritional support, without which I'd have ended up severely unwell on several occasions. This is something that until recently came out of savings, but I now have been able to get Personal Independence Payment and feel lucky to do so. Initially, it was meant to just tide me over until I got NHS treatment, but it's been three years now!
"My eating disorder also caused bowel damage and I needed a stoma because of it. As my issues had been undiagnosed for so long, I was left incontinent. So I felt no option but to pay for the surgery – otherwise, I'd have had at least a year being unable to go out. The operation cost over £5,000. My parents must have spent up to £20,000-30,000 all-in I reckon."
Commenting on the findings from the report, Hope admits that, sadly, the results don't surprise her.
"This report is just another stark reminder of what is going on across the UK right now, where every single day people are being left in limbo without any support, but we know that this is just the tip of the iceberg of a much greater problem. A problem that needs to be tackled as a matter of urgency. We are calling on the Government to develop a national strategy to tackle eating disorders, ensuring that everyone gets access to a mutli-disciplinary team."
Eating disorder charity Beat has also released a report looking at how much funding is allocated to the research of eating disorders. The Breaking the Cycle report was compiled by Beat on behalf of the All-Party Parliamentary Group (APPG) and sets out both the findings of their inquiry into research funding and recommendations.
In their inquiry, it was found that while eating disorders account for around 9% of the total number of people in the UK with a mental health condition, just 1% of the limited mental health research funding went towards eating disorders between 2015 and 2019. A historic lack of investment was cited as the cause of the vicious cycle we find ourselves in now, where a lack of research allows stigmatised attitudes towards eating disorders to persist.
If we can increase funding in this area and listen to the recommendations laid out in both reports, not only could we see more people getting the support they need, but the UK could save money. It shouldn't be about the money, but in this capitalist society, money talks. Let's see if the government is listening.
---
If you're struggling to cope with an eating disorder and are able to explore private therapy, you can find therapists at Counselling Directory.