CULTURE
Teaching Kids About Yoga and Kindness
---
Help kids discover how to recognise, express, and handle complex emotions with the help of yoga
We've all heard of the benefits of yoga. Earlier this year, the call for yoga in the classroom was renewed, as experts highlighted the ways in which yoga can help children feel more engaged with exercise whilst helping them to better understand wellbeing concepts.
Focusing on strength, flexibility, balance and breathing, yoga can help boost our physical and mental wellbeing at any age. One 2014 study from the University of Massachusetts revealed that after just 10 weeks of classroom yoga, primary school-aged children showed clear improvements in their social interactions, attention span, academic performance, self-esteem, as well as their ability to handle stress and anxiety.
While the focus has been firmly on the fun, physical and emotional benefits for children, we've started hearing more about the benefits yoga can have for younger, preschool-aged children as well.
When the latest book from children's publisher Pat-A-Cake, Llamaste & Friends, turned up in my to-be-read pile, it became apparent that not only would this make a cute addition to anyone's shelves, but this would clearly be a must-read for parents and caregivers looking to help kids understand big emotions (and how they can manage them).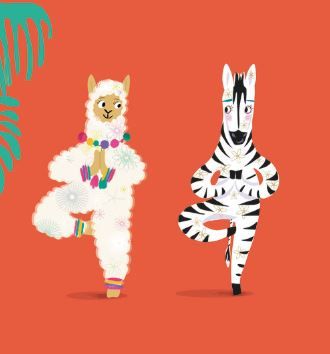 What's it about?
Llamaste the llama likes to practice yoga, spend time with her friends, and help them to feel happier and more confident in themselves.
A sweet story filled with beautiful, colourful artwork and frequent discussion points to engage children, follow Llamaste as she helps her friends feel less anxious, more brave, happy, and confident, thanks to simple, child-friendly yoga poses.
Should I read it?
If you're looking for a story to help children (aged 3+) begin recognising their emotions, feel more comfortable speaking out, as well as introducing simple ways to improve your wellbeing together, Llamaste & Friends is the perfect book to get you started.
As Fenella Lindsell, Founder of Yoga Forever puts it: "Story-style yoga is a wonderful way to communicate an ancient practice in a modern world. Llamaste will help children to learn important values of respect and kindness."
Using easy to read text and simple but engaging vocabulary that encourages children to talk about how the characters are feeling as well as relating it to their own feelings and experiences, Llamaste & Friends can help kids to develop their empathy skills.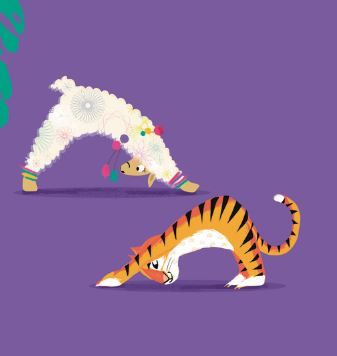 Explaining using clear language and images of some of the 'bigger' feelings children may have encountered but may not yet know how to explain (such as fear, anger, sadness, shyness, and worry), the book helps children to develop the language to talk about their emotions, as well as active ways they can try and combat these feelings with the help of yoga.
All yoga poses are simple to try and family-friendly. Free, downloadable resources (including an easy to follow poster and calming soundtrack) are also available to help get you started.
If you are looking for a way to introduce your child (or children you care for) to yoga in a fun, relatable way that will help get them talking, Llamasde & Friends is the book for you.
---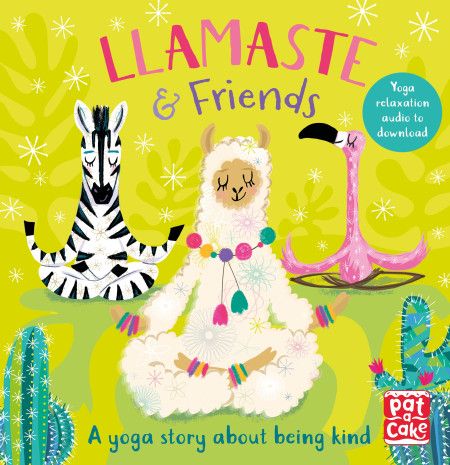 Llamaste & Friends
Illustrated by Annabel Tempest
RRP £6.99
Out 8 August 2019
For ages 3+
Great for…
Teaching kids about the power of kindness and yoga.
Parents looking to share important messages with young children.
Introducing pre-schoolers to big ideas.
---
If you liked this, you'll love…
Yoga Babies by Fearne Cotton
The yoga babies love to have fun trying new poses. Sometimes life is busy and tricky, but yoga can help everyone chill out. Follow the babies as they practice yoga at home, in the garden, and before bedtime.
Hello, Friend! by Rebecca Cobb
Discover the story of one big-hearted, enthusiastic little girl who insists on making friends with a certain little boy. Why wouldn't be want to be friends?
Kids Yoga by Karin Eklund
Roar like a lion, stand tall as a mountain, and sail a boat through wild waters. A beautifully illustrated children's guide to yoga, suitable for even the youngest of beginners.
---
Discover more about the benefits of yoga and find an experienced yoga therapist near you with Therapy Directory.