NEWS
Outrage As Controversial Weight-Loss App Launched for Children As Young As Eight
---
Despite one in four adults worrying about their body image and as many as one in eight of us experiencing suicidal feelings over body image concerns, Weight Watchers has chosen to launch a weight-loss app aimed at children as young as eight years old
As a whole, we've reached a point where discussing diet culture, weight loss, and overall body-shaming is considered to be taboo. When in mid-2019, Cancer Research UK launched its controversial campaign comparing obesity to smoking, mental health campaigners, body positivity influencers, and mental health professionals alike felt that the messaging not only missed the mark, but risked increasing the stigma surrounding weight and fat-shaming.
With the rise of body-positive messaging and influencers, we're moving more towards self-acceptance, self-love, and discovering ways that work for us as individuals, rather than listening to the diet industry's often tired messaging around 'beach-ready bodies' and other shaming phrases designed to guilt us into losing weight for our looks.
In their latest bid to rebrand weight loss for a new generation, diet industry giant Weight Watchers (rebranded as WW from last September) has launched the Kurbo app.
Weight Watchers targeting children and teens
In what is turning into a yearly event, WW have announced the launch of a new product aimed at children and teens. In 2018, the company best known for its slimming classes launched a free weight loss club programme for young people aged 13-17. Sparking backlash across social media with the #WakeUpWeightWatchers hashtag, many were unaware Slimming World had been offering similar programmes for 11 to 15 year olds since 2006. Eating disorder experts and parents alike raised concerns that such programmes could spark obsessive and unhealthy behaviours. In response to their previous bout of criticism, CEO Mindy Grossman said "It actually strengthened our resolve and made us offensive."
WW has now rolled out Kurbo by WW. The nutrition and weight-loss app for children aged 8-17 offers a seven-day free trial. Children can enter their food choices and will be shown a green, yellow, or red light to indicate the healthy choices, in a system similar to the Change4Life food labelling system used by some brands within the UK. The app then tracks what children are eating so 'parents don't [have to]' and there will be 'No more fighting about food'. The app also provides 'challenges and cool hacks' for children to try, as well as regular check-ins and personalised tips that act as the 'encouragement you need to reach your goals'.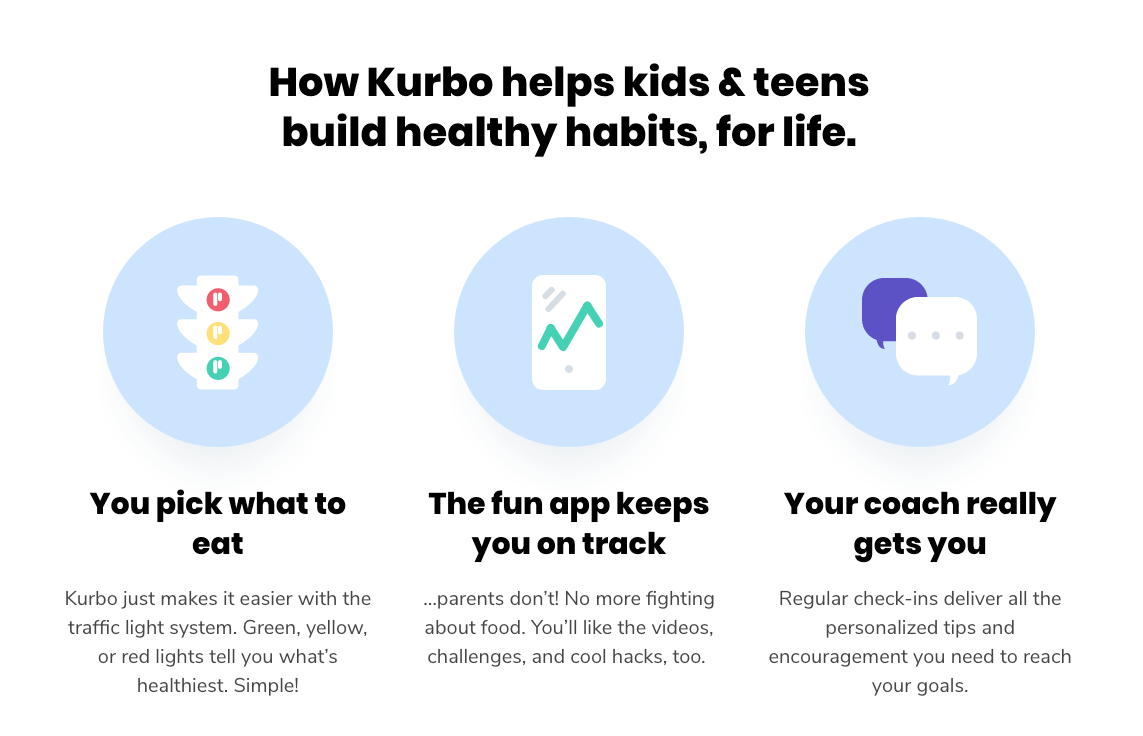 While many wouldn't argue that healthy eating tips, advice, and nutritional information for children is needed as part of their education growing up into healthy, happy adults, many are concerned at the brand's focus on weight loss and BMI.
As of the time of writing this, Kurbo by WW's homepage featured 'success stories' including names of children (one as young as eight), how much weight they've lost or how many BMI points they've dropped.
Further concerns around the framing of parent testimonials have also risen. Rather than focusing on the importance of teaching children and teens about healthy eating, Kurbo by WW's homepage shared Kim's praise for the app, as Coach Thea "held her [daughter] accountable so I don't have to. It's stopped all arguments about food and we get along much better."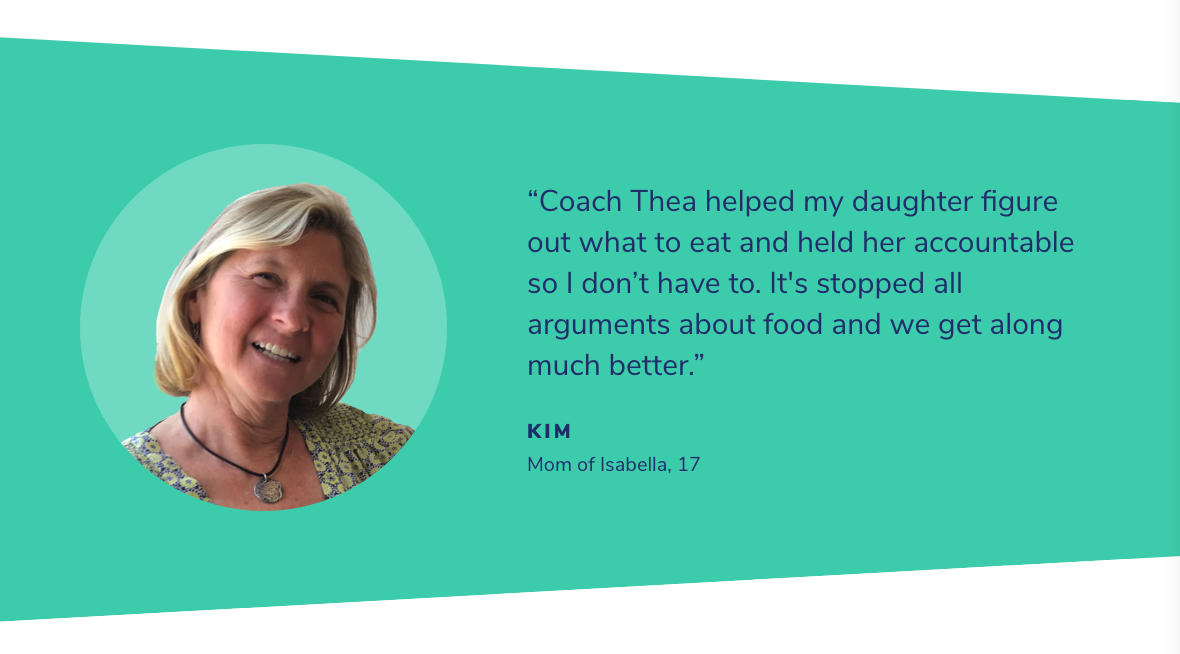 Our focus on BMI (body mass index) may not be a reliable measure of how healthy, overweight, or obese we may be. While most doctors still say it is a pretty accurate measure for patients, others consider it to be an outdated method (particularly for those involved in sports or other muscle-building activities). Knowing your BMI alone without taking it in conjunction with other important factors such as blood pressure, cholesterol, and family history cannot give an indication to particular health risks.
Kurbo by WW
Aimed at the US market, WW acquired the app in 2018 and have spent the past year developing it. New features include a Snapchat-inspired interface and multi-day streaks to encourage regular interaction.
Users enter their height, weight, age, and goals to get started. They then begin logging what they eat using a traffic light system of good 'go foods' that can be eaten freely, yellow foods that should be eaten in moderation, and red 'stop and think' choices.
Starting at $69 a month, weekly video coaching is also available through the app, where coaches are trained to pick up on signs of disordered eating and unhealthy weight loss.
UK childhood obesity rates
Figures revealed obesity rates in UK children have doubled amongst primary school-age youngsters. A record high of 20% of final primary school year aged children in England (10-11) were classified as obese, with 23% of those aged 11-15 falling within this classification according to a 2016 Health Survey for England.
Over a quarter (26%) of adults in England are classified as obese. Just 16% of children and 26% of adults are thought to consume the recommended five or more portions of fruit and vegetables a day.
Ensuring that children (and parents) are equipped with the knowledge and confidence to make healthy food and lifestyle choices is important. But is an app the way to do it? Is our primary focus on food, not physical activity, a balanced enough approach to be passing on to children?
More harm than good?
We spoke to counsellor and Counselling Directory member Sophie Robinson-Matthews to get her thoughts on this approach.
"Tracking food, weight and calories can encourage disordered eating and related anxiety (anxiety to do with appearance, weight, actual food consumed, eating in public etc.), especially where there is already an unhealthy association between food and physical appearance with the young person.
"Tracking food in this way can also build the association between value as a person and reaching certain 'goals' or 'standards' in their outwards appearance and distort what food and eating is for - fuel and nutrition and enjoyment of that in a human and healthy way."
Studies have indicated that, when done incorrectly, childhood weight-loss efforts can worsen or lead to body image issues and disordered eating. A 2019 study revealed almost half of participants reported feelings of guilt, obsession, and social isolation stemming from their use of nutrition and fitness apps.
A 2016 study highlighted the problems that can arise when parents comment about their child's weight. The study revealed adult women who could recall their parents making weight-related comments were more dissatisfied with their bodies (regardless of their BMI). The more parents commented or focused on weight, the more dissatisfied the adult daughter felt about her body, and the more she weighed as an adult.
Mental health advocate, body image campaigner, and presenter of Naked Beach Natasha Devon MBE, shared her thoughts with us:
"You'd think, in 2019, people would have finally grasped the notion that diets not only don't end in long term weight loss, but can cause significant psychological damage. Diets have a 90% failure rate and in more than half of cases they result in more weight being gained, long term. The only winner is capitalism as people get caught in binge-starve cycles that can last years or even decades. Why are we so eager to place 8-year-olds on this hugely damaging treadmill?
"Rather than weight, we should be focusing on accessibility to healthy behaviours. Local authorities should increase spending on sports facilities and resources for schools. Children should do more physical education at school (in a range of activities so even those who are non-sporty can find some form of exercise they love). Nutritious food should be realistically affordable for families on any budget.
"But, crucially, it should be adults who silently build a world in which this is just the life children lead, by default. Eight-year-olds shouldn't even be thinking about their weight. We know inducing these types of insecurities at an early age can lead to crippling body image insecurity and even eating disorders in later life."
Reactions so far
Actress Jameela Jamil, who launched the 'I Weigh' movement, is known for encouraging others to "feel valuable and see how amazing we are beyond the flesh on our bones." Speaking out against the app on Twitter, she said:
"...are we kidding? Breeding obsession with weight and calories and food at the age of...8? I was 11 when my obsession started, due to being put on a diet for being the heaviest girl in the class. I became afraid of food. It ruined my teens and twenties."
She continued. "If you are worried about your child's health/lifestyle, give them plenty of nutritious food and make sure they get plenty of fun exercise that helps their mental health. And don't weigh them. Don't burden them with numbers, charts, or "success/failure." It's a slippery slope."
Mental health advocate best known for her #DumpTheScales campaign, Hope Virgo, shared her thoughts.
"This new app Kurbo by WW is disgusting. And it is out right dangerous! Eating disorders are serious mental illnesses and teaching young people these messages is wrong! This app should be shut down now."
Others took to Twitter to express their exhaustion with calling out these "irresponsible, harmful and toxic" messages and practices by organisations that "should know better."
While others focused on what we should be doing - teaching children how to eat healthy - instead of teaching them about diet culture.
Happiful writer, Kat Nicholls, shared her thoughts.
"As someone who developed an eating disorder at 13, an age this app is targeting, I am very worried about the effect it may have on young people. Food tracking can quickly lead to obsessive thoughts, and using a quick and convenient app can be the perfect facilitator for this.
"If we want to encourage balanced eating habits, we need to educate families on nutrition and encourage intuitive eating. People like WW say they are concerned for children's 'health', but I wish they would stop to consider mental health implications alongside physical ones."
Why body image matters
The Mental Health Foundation reported in 2019 that one in eight of us experience suicidal thoughts or feelings because of concerns about body image. A further one in five of us have felt shame because of our body image over the past year. One in ten women have self-harmed due to their body image.
Amongst young people, 40% of 18-25s have said social media images have caused them to worry about their body image, leading to more than a third (35%) restricting their eating due to body image worries.
For parents who say the focus on their child's weight is due to health concerns, we ask: shouldn't we be just as concerned with young people's overall health and wellbeing?
Maintaining a positive body image in our era of social media is hard enough as an adult; shouldn't our focus be on helping provide all of the tools our children need to grow up into healthy, rounded, happy adults? Do we really want to tell our kids that a weight-loss app is the answer to all of their problems, or is there a better way?
How you can help support children and teens
If you are concerned your child or teen may be one of the 60% of young people with low self-esteem or body image issues, there are things you can do to help. Take a look at these 9 ways to help teens with body image issues on Counselling Directory.
Find out more about how you can help teens cope with body image issues with these tips and advice from the Clinical Director for Mental Health at Bupa UK, Pablo Vandenabeele.
If you are looking for a safe space where you can encourage more positive feelings towards our bodies without feeling pressured to make the switch from self-doubt to body positivity, body neutrality could help.
Discover free, educational resources recommended by Natasha Devon, that can help you speak with and get children and young people to open up about body image, mental health, and more.
Visit Counselling Directory to find out more about how therapy can help you change your body image through challenging negative thoughts, embracing compassion, and nurturing your body.
---
We contacted WW for comment on their new app of 14 August. At the time of publication, we had yet to receive a response.
---
WW contacted us with a response:
"At WW, we have decades of expertise in scaling science-backed behavior change programs, uniquely positioning us to be a part of the solution to address the prevalent public health problem of childhood obesity," said Gary Foster, PhD, Chief Scientific Officer at W W.
"Alongside a distinguished group of leaders in pediatric health and nutrition, we've carefully developed this platform to be holistic, rewarding and inspirational so kids, teens and families get the tools and guidance they need to manage their environment and build and sustain healthy habits."
A WW representative said: "WW in the US has collaborated with the Youth Advisory Panel -- a team of leading healthcare professionals and academic experts in paediatric health and nutrition from around the globe -- they recognised a clear need for an engaging, scalable, family-based program designed specifically for kids and teens.
"WW acquired Kurbo last year, a scientifically-proven, family-based healthy lifestyle program based in the U.S. Kurbo is derived from Stanford University's Paediatric Weight Control Program and 30 years of clinical nutrition and behavioural modification research.
"The program's personalised and data-driven mobile platform includes a mobile app and one-on-one health coaching to help children and teenagers, with support from their families, make lifestyle changes while receiving guidance around sustainable healthy eating, physical activity and mindfulness habits."
Our request for comments on the potential impact on children's mental health were not addressed.