NEWS
One-third of UK parents have never discussed bereavement with their child
---
Research released this Grief Awareness Week reveals many parents have never spoken with their children about bereavement, nor feel comfortable doing so
Talking about death is never easy. While many of us recognise the benefits of speaking with others to work through our own grief as part of the bereavement process, new research reveals that we may not be passing on this habit to our children.
Research from Project Eileen, a charity that helps young people tackle the topic of death to help build resilience and support mental health, has revealed that more than a third of UK parents have never spoken with their children about death, bereavement or grief. A further 21% say they would not feel comfortable doing so.
Parents are hoping schools can play a greater role in the process. Less than a third (29%) believe schools are preparing young people sufficiently for big life events such as death and grief. More than half (53%) believe that death and grief should be included within the school curriculum.
Louise Poffley, Founder and CEO of Project Eileen, commented: "It's saddening to think that parents still don't know how to approach the subject with their children. Many are often worried about saying the wrong thing or making the situation worse.
"Project Eileen has been set up to help break down the stigma of talking about this sensitive issue and equip children with coping mechanisms and to talk about their feelings. In this way, we can help them to understand what happens when people die and also how to carry on with their lives.
"This National Grief Awareness Week, we are encouraging parents to proactively talk to their children about death, prepare them for how to deal with it in the future and potentially reduce long-term physical and mental health problems."
But how can we get the conversation started?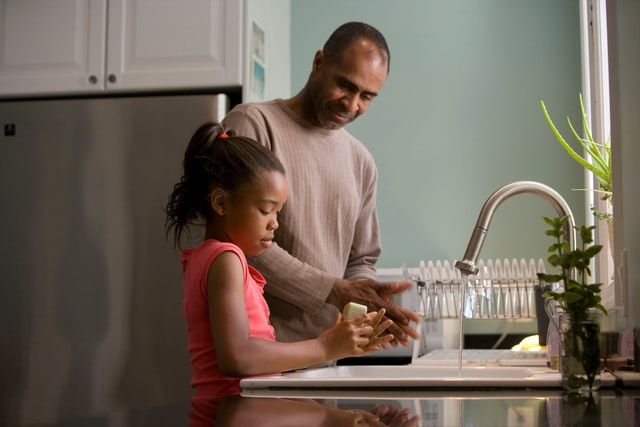 Childhood bereavement and grief
Each year, more than 41,000 children experience bereavement. Encountering grief for the first time can be a confusing, distressing time that is upsetting at any age. Helping children to process their feelings and understand what has happened can feel impossibly big, but is an important part of the process.
But, how do you know how much to share with them? As Counselling Directory explains, many factors can play a role, including the child's age, relationship with the person who died, the circumstances surrounding the death, as well as how their family naturally expresses their feelings and communicates with each other. Their own natural resilience levels can also have a significant impact.
Emotional resilience is key to learning how we deal with our feelings, and how they impact the ways in which we behave, feel, and even think.
You can help support your child in becoming more emotionally resilient in a number of different ways. Listening to what they are telling us, sharing healthy ways of coping with their feelings - both positive and negative - as well as encouraging them to share how they are feeling can all help.
How to support a grieving child:
Maintain your routine
While our first instinct may be to try and protect children by keeping them away from school and potentially upsetting questions or situations, sometimes the normality and continued routine can provide a sense of stability and security.
Reach out for support
There are a number of different children's bereavement charities that can offer helplines, direct to further resources, or even offer someone to talk with. Child Bereavement UK helps children, young people, parents and families following childhood bereavement or the loss of a child. Grief Encounter offers specialised bereavement support services to individuals, families, and schools, including one-to-one counselling, music, art and drama therapy, and more. Winston's Wish offers emotional and practical support for young people up to the age of 25, as well as for those who care for them.
Access free resources
There are many different free online resources that can help children and young people to cope with grief and better understand how they are feeling. Help2MakeSense is a free online resource from charity Winston's Wish, offering advice and personal experiences from young people.
Counselling Directory has created a series of free resources to help bereaved children, including guides on how children can use journaling to work through grief, making memory boxes to help with childhood bereavement, how parents can support grieving children through the festive period,
Books to support bereaved children
Sharing books about grief can help children to explore and identify what they are feeling. Reading books together can help offer a sense of comfort for some children, highlighting that they aren't alone in their grief whilst normalising the grieving process. We share five books on grief for children to help you get started.
Consider speaking with a therapist
Bereavement counselling can give children the opportunity to express and explore how they are feeling in a safe, confidential environment. By speaking with someone outside of their family and friends, it can allow the chance to speak without worrying about upsetting anyone.
---
To learn more about childhood bereavement, grief, and finding support, visit counselling-directory.org.uk