NEWS
Nominations Now Open For Award Recognising Outstanding Individuals With Learning Disabilities
---
The second annual Learning Disability and Autism Leaders' List has opened up for nominations
The UK's first national listing of its kind, the Leaders' List, today has opened up nominations for 2019. Created by not-for-profit Dimensions, the country's largest non-profit supporting autistic people, those with learning disabilities, challenging behaviour or complex needs, and developed in association with Learning Disability England and Voluntary Organisations Disability Group (VODG), the annual initiative has entered its second year.
The Learning Disability and Autism Leaders' List aims to recognise and celebrate those who are breaking stereotypes and challenging prejudice to help make their communities better for themselves and others. Nominations will be open until 6pm on Friday 26 July.
Autistic individuals or anyone with a learning disability can enter or be nominated. To nominate yourself or someone else online or by post, visit Dimensions. Submission forms are available in accessible, easy to read formats.
Campaigns Manager at Dimensions, Sarah Clarke, is calling for individuals to consider nominating themselves or loved ones.
"All of our winners make an important contribution to their community by changing public perceptions around autism and learning disability, acting as role models and changing our society for the better. The achievements of our 2018 Leaders are truly remarkable – and we are excited to celebrate more amazing stories this year."
"We hope that the Leaders' List inspires others and help them realise that their ambition, however big or small, can make a real difference."
Actress and comedian Sally Phillips shared her support for the Leaders' List.
"The wonderful list highlights the remarkable achievements and contributions that people with learning disabilities and autism make to their communities. The Leaders help change public perceptions and inspire others to dream big – reminding us that everyone can make a difference."
For 2019, individuals can be nominated across six categories including:
Local communities
Advocacy, policy and media
Work and education
Sports, arts and entertainment
Groups and teams
Profound and multiple disabilities
All of this year's chosen Leaders will be invited to a special launch event to celebrate their achievements, with winning stories published on the International Day of Disabled People on 3 December.
The Leaders List hopes to find a range of diverse spokespeople to help speed up social changes. Dimensions plan to provide ongoing support to all Leaders, enabling them to personally share their stories on a more public platform.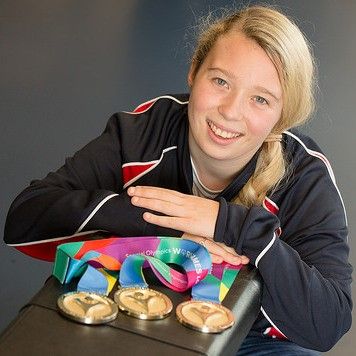 2018 Young Leader and Sports, Arts and Entertainment Leader award winner, Kiera Byland, shared her experience and encouragement for those thinking of entering this year.
"It was an amazing feeling to be chosen. I would say to anyone please enter, share your story, everyone's story is important, that's how we all learn.
"Inclusion takes time, but we will achieve it by working together and showing society that we do having something to give."
Leah Lansdown, 2018 winner of Work and Education Leader, shared her thoughts on how the experience affected her.
"I was amazed with the reaction of others being recognised for the things I've overcome. It was nice to finally have my own voice for people to understand me better."
This year's judging panel has been carefully selected to include a range of autistic people and individuals with learning disabilities, as well as industry and media experts. Amongst this year's judges includes Poppy Jaman OBE, CEO of City Mental Health Alliance; Vic Goddard, Co-Principle for Passmore Academy; and 2018 Sports, Arts and Entertainment Leader, Becky Rich.
"Being the mother of two amazing autistic sons, I know first-hand the many challenges faced by autistic people." Deborah Brownson, MBE and member of this year's judging panel said. "It's so important to recognise and empower those brave individuals who speak up against inequality. I'm honoured to be a judge and look forward to reading all about the inspiring work happening every day across the UK."
Vic Goddard, Co-Principle at Passmore Academy where 2018 Leaders List winner Oak Saunders is a pupil, shared his thoughts.
"It's a great privilege to join the 2019 Dimensions Leaders List judging panel. As a society, we have a duty to educate and change perceptions about learning disabilities and autism. I'm humbled to hear stories of inspiring individuals who demonstrate compassion, courage and show that everyone has the power to change society for the better.
"I am lucky enough to know a remarkable winner from last year's List, and have seen first-hand how important this recognition is to them. I look forward to hearing the inspiring stories of this year's nominees."
Content producer and writer Bonnie Evie Gifford from Memiah, the company behind Happiful Magazine, will also be joining this year's judging panel.
Discover more about how companies like Dimensions are making entertainment spaces more autism-friendly, find out how public spaces could be more autism-friendly, or learn more about autism, learning difficulties and learning disabilities.