NEWS
New campaign gives voice to women's health: #WombStories
---
Seeking to give a voice to women's health, a new campaign from Essity (creators of Bodyform) highlights the myriad of experiences women have with their bodies throughout their lives
Traditionally, we've been taught a bit of a linear narrative when it comes to women's bodies. From a young age, we're taught about our biological timeline in the most basic of terms: we'll get our periods in our tweens or teens, maybe there'll be a little bit of cramping in there or tears.
We'll have to be careful to use protection unless we want to end up as teenage mothers. At some point, we'll have babies. Over time we'll become less fertile, and then... Well, I don't know about you, but I don't remember the menopause being mentioned at all whilst growing up.
But the thing is, that's one very specific journey. That's not what all of us will experience - whether that's through our own choice, or what naturally happens with our bodies.
What about those of us who experience excruciating pain during our periods? What about the women who don't want to become pregnant - or those who do, but need help conceiving? And what about all the sticky, undignified bits in between (that absolutely no-one warns you about)?
Through their new #WombStories campaign launched this week, Bodyform are seeking to challenge the taboos around women's health, and give our experiences (and health issues) a voice. Periods, endometriosis, miscarriage, infertility, IVF, menopause, first periods, birth, even the simple decision to not have children - all of these are covered in their short, thought-provoking film, showing what it really means to be a woman.
There's no one size fits all: it's time we give each other the confidence to talk about women's health, and our own personal experiences (and struggles).
Giving a voice to the unseen, unspoken, and unknown truths about women's bodies
Seeking to confront the damaging narrative that women live with every day, global feminine care brand Essity found that 62% of those surveyed don't think that women's anatomy and health issues are talked about openly. To tackle this issue head-on and to help women break away from the overruling narrative around what we should (and shouldn't) feel about our bodies, the campaign #WombStories was created.
The creators behind Bodyform aim to tackle the issues that our society still feel uncomfortable with, helping us to uncover and celebrate women's reality.
This latest campaign follows the success of their award-winning #BloodNormal campaign, which challenged the use of blue liquid over red in women's feminine hygiene adverts, as well as 2018's Viva La Vulva campaign which called out our body-shaming culture (as it was revealed over half of women thinking their vulva is imperfect).
Building on their ongoing battle to help normalise women's bodies in their many shapes, sizes, and natural processes, #WombStories is pushing back against the idea that all women will experience a single, 'acceptable' biological timeline.
Through pushing this single narrative, we ignore the messy, painful, occasionally funny bits in-between. When society doesn't encourage us to talk openly about the highs and lows of our intimate health, it risks stigmatising our experiences. The less comfortable we feel in speaking out, the less likely we are to reach out when we need help and support - emotional or physical.
In a new study conducted by Essity on behalf of its brands including Bodyform and Libresse, it was found that over half (54%) of women would like to be able to talk more openly about the health issues that are affecting them.
Two-thirds of women who have experienced endometriosis, a miscarriage, fertility issues, or menopause reported that being open with friends and family helped them to cope. Yet, the same research found that half of women feel that society wants them to keep silent about their experiences.
In the UK, one in 10 women are thought to experience endometriosis - with it taking an average of 7.5 years to receive an actual diagnosis following the onset of symptoms. One in seven couples will have difficulty conceiving. One in four (25%) of pregnancies end in a miscarriage.
Irregular periods can happen at any time - from the start of puberty right through to the start of menopause. Yet when was the last time you had a conversation about any of these topics with someone? A friend, family member, a loved one - can you remember ever talking about these kinds of topics?
According to research by Essity, 40% of women feel that staying silent about these issues has damaged their mental health. The silence around these issues is creating more difficulties, sensitivities, and stigma for women each day. Our physical concerns may be being treated, but what about the emotional impact that is often left unspoken about, unheard, and overlooked?
FemCare Global Marketing and Communications Director at Essity, Tanja Grubner, commented:
"Although this campaign was conceived long before the pandemic changed everything, the issues women face didn't just get put on hold or go away because of what was going on around us. In many instances, Covid-19 has increased the isolation women feel and the complexities they experience.
"The pandemic has seen women forced to give birth alone, have their fertility treatments and endometriosis surgeries delayed and postponed. Now more than ever is a time to ensure women speak up about their bodies and experiences."
Our culture of silence is impacting women's confidence and wellbeing. It's time to start having honest, open conversations about our experiences, without fear of being shamed, judged or dismissed.
Tanja continued: "With #WombStories we are starting a movement. We want to boldly go where no other brand has been before; inside women's bodies and emotions to truly represent their sensations and feelings that we believe are not only invisible but ignored, overlooked or denied.
"#WombStories reveals a woman's narrative inside and out and we hope to put these topics on the table for all to talk about. We believe that only once we understand women and everything they go through, can we care for them with our period and daily intimate care products."
Golden Globe-winning and Emmy-nominated director, writer and producer, Nisha Ganatra, worked with Essity and six female animators to create the short film. Chronicling both the beautiful and brutal sides of biology and physiology that women experience every day, for Nisha, the project was both important and personal.
"Our bodies can bring joy but also pain and devastation. It's an emotional rollercoaster that lasts a lifetime. This is what bonds women in sisterhood."
"When they're at their best, our bodies are incredible machines that give us pleasure, and, if we want them to, help us propagate the human race. But they don't always work. Hell, they don't often work. Irregular periods. Endometriosis. Miscarriages and infertility. Our bodies can bring joy but also pain and devastation. It's an emotional rollercoaster that lasts a lifetime. This is what bonds women in sisterhood," Nisha explained.
"I feel particularly drawn to this project. The work I feel most passionate about is the work that meaningfully resists outmoded social norms that no longer fit the cultural moment but persist nonetheless. When my daughter is an adult, it shouldn't just be acceptable for a woman to have ownership over her body and over her narrative. It shouldn't just be acceptable for people to be who they want and to love who they want and to choose not to have children if they want. This should be the norm."
Executive Creative Directory of AMV BBDO and Art Director of the campaign, Nadja Lossgott, commented on the importance of helping society to see that periods do not exist in isolation; we have a complex, lifelong relationship with our bodies.
"Periods don't just exist in isolation. They are connected to this entire ecosystem centered around our wombs, which almost acts as a second seat of power that rules us in such profound ways. We have this intensely complicated relationship with it. And yet this life-long bittersweet journey with our bodies is still considered something to shut up about.
"By visualising and anthropomorphising our wombs, we can begin to open up an emotional and human way to express these often complicated, contradictory feelings of love and hate, of pain and pleasure, of the mundane and the profound we constantly deal with."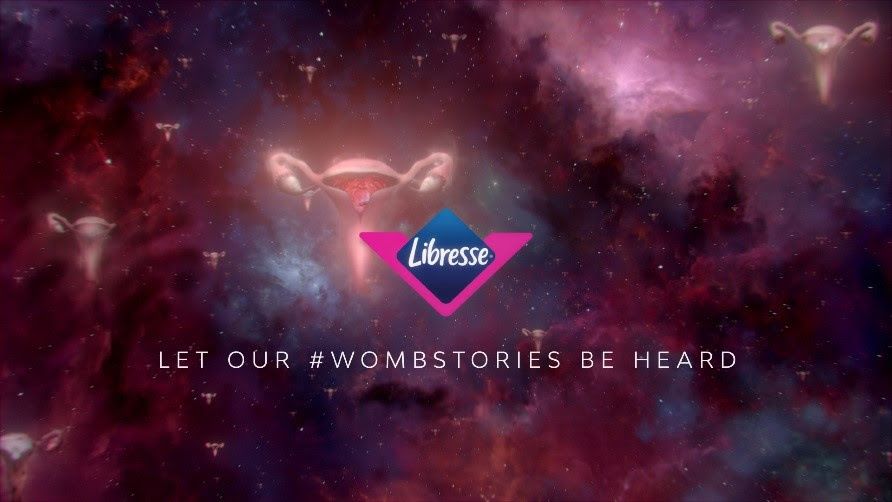 ---
Finding help and support
Miscarriage - if you have been affected by a miscarriage or ectopic pregnancy, help and support is available. The Miscarriage Association offers information, forums to share your experiences, and a helpline offering support and information on pregnancy loss and miscarriage. Open from 9am - 4pm Monday to Friday on 01924 200799.
Or, for advice on small actions you can take to help things seem a little more manageable following a miscarriage, try this NCT article.
Endometriosis - for more information about the symptoms of endometriosis, visit the NHS website to find out how you can keep a pain and symptoms diary before visiting your GP.
Endometriosis UK offer help and advice. Their helpline is operated by trained volunteers with personal experiences of endometriosis. While unable to give medical advice, they can help talk through your issues, consider options, and provide a friendly listening ear. Visit their website to find out more about opening hours, and call them for free on 0808 8082227.
Infertility - if you have been struggling to conceive for a year, or are aged 36 and older, are already aware that you may have fertility problems, speaking with your GP can be a positive first step to help find out any causes or treatments available in your area.
The Fertility Network UK offers events, support groups, online support, webinars, and more, for those who are trying to conceive, as well as those who are living without children. Their support line, run by a former fertility nurse, is available between 10am - 4pm on Monday, Wednesday, and Friday on 0121 3235025. Or you can email [email protected].
Menopause - the Menopause Support campaign offers information, resources, workshops, podcasts, and more to help women experiencing menopausal symptoms.
Starting periods - Childline share information on everything your child needs to know to be ready for their period, understand what to expect, and learn more about pains, mood changes, and more. If you're not sure how to start the conversation about periods with your daughter, Bodyform has created a simple guide to help you get started.
It's good to talk - if you are struggling with your physical or mental health and wellbeing, reaching out and speaking with someone about how you are feeling can be an important first step. Talking with friends and family can feel daunting - nearly half of us keep our worries to ourselves, despite an overwhelming 82% of us realising meaningful conversations about our worries benefits our mental health.
Find out more about how you can talk with your family about your mental (and physical) health, or discover how to start the conversation at work.
If speaking with someone close to you feels too daunting, working with an experienced, qualified counsellor or therapist can help. Talking therapy can give you the space to open up in a judgement-free, no-pressure environment, to explore issues that may be affecting you in more ways than you might think. To find out more about counselling and how it can help you, visit Counselling Directory.