CULTURE
Invisible Cabaret: The burlesque troupe stripping back mental health stigma
---
In 2018, we're finding more ways than ever before to talk about historically taboo topics. Rosalind Peters and Rochelle Thomas are the co-directors employing the sensuous powers of burlesque to start conversations about mental health with their troupe: Invisible Cabaret.
Kathryn Wheeler caught up with Rosalind and Rochelle, to learn more about this affecting creative venture
I'm sitting in the basement of the Kings Head Members Club in Hoxton. The exclusive club is disguised as a boarded-up pub, and it took me a couple of walk-bys before I realised you have to knock on an impassive glass door to be let in.
Inside, there's a distinct feeling of drama and sensuality, which mirrors the performance due on stage tonight. I'm here to watch Invisible Cabaret – a burlesque troupe exploring the theme of mental health.
Earlier in the day, I met Invisible Cabaret's co-directors, Rosalind Peters and Rochelle Thomas. They're two engaging, receptive women in their 20s, and the masterminds behind this incredible new venture.
What first fascinated me about the project was the concept of combining the mysterious, sensual world of burlesque with the stark realities of mental health. So, naturally, my first question is: where did the idea for Invisible Cabaret come from?
"Rosi had the idea and put it on Facebook to see if anyone would be interested," Rochelle tells me. "And I had a connection with the venue, so it just took off from there."
While Rosalind and Rochelle knew each other at university, it wasn't until this brief Facebook exchange that they came together to create what could only be the result of two people working on the same wavelength.
The pair held open auditions in London, asking each auditionee to come with their main act, but to be prepared to talk about mental health, or incorporate it into their routine. "I was a bit nervy because it's not something that you normally do when you first meet someone. You don't say: 'Hello, how's your mental health?'" says Rosalind. "But we needed the project to be very open."
"I think people who auditioned were quite nervous. Nobody came in with an act just about mental health," says Rochelle. "A couple of the girls came in with tap or singing, and then they said: 'Oh and by the way I have prepared something, shall I give it a go?' Because they weren't sure how to go about it."
As an entirely new venture, it's not surprising to hear that auditionees were tentative to dive straight in. Which prompts the question: why chose to explore mental health with burlesque in the first place?
"It can be shocking and thought-provoking, and just really visceral," says Rosalind. "The root of the word 'burlesque' is to parody. So, what we're satirising is not mental health, but the fact that we're at a point where so many people are suffering in silence. Yet, when someone does speak up everyone says, 'me too', or, 'I thought I was the only one'. It's so weird, it's almost laughable."
But there's more. "The part of our mission statement that I really love is: mental health issues are taboo, and do you know what's also a taboo subject?" says Rochelle. "Nudity. Boobs. Taboobs, if you will."
"And then we've got all these art-farty ideas of being naked and vulnerable," says Rosalind. "We've thought about it from a lot of angles."
I ask whether they also want to challenge the misconception that burlesque is just stripping, but Rochelle is quick to check me. "We saw a burlesque show, and asked one of the performers the same question. She said: 'Well, I am a stripper.' That's her job. But is she embarrassed by that? No. Should we be embarrassed by it? No."
Rosalind, who MCs the entire evening, as well as performing original songs, thinks this is part of what makes the Invisible Cabaret so powerful.
It's political. A woman is taking her clothes off in a public place. It's empowering for the woman, but also for the audience, especially a female audience member
"My job is to warm up the audience. At the start, I tell them to get involved when our performers begin a strip, give them a 'woo', and a 'yes!'" she says. "It's political. A woman is taking her clothes off in a public place. It's empowering for the woman, but also for the audience, especially a female audience member."
Later, I get a taste of that power. The two women that I met with earlier in the day, while passionate, charismatic and confident, had completely transformed in the evening. Rosalind is a tour de force as Master of Ceremonies, with impeccable comedic timing that transitions seamlessly into the more serious notes of the night. And Rochelle's burlesque strip tease was both equally earnest and empowering.
Speaking of her "social anxiety strip", Rochelle tells me that the piece is about the way that being in a public place can make those with social anxiety feel vulnerable and exposed. "It's a reverse strip," she says. "I begin the act on a train, naked. I then put clothes on in an attempt to hide myself. Midway through the act, as I'm about to leave, a mirror appears and it's a moment of reflection of saying: 'I have to ride the train; it's my only way to get to work. If I'm going to live a normal life, I'm going to have to face my demons. I can do it… I can do it. And then stripping back and sitting back on the train completely naked and just owning it."
"I love it," say Rosalind. "And I think in some ways it's one of the most representative acts that we have."
I agree.
Of the 10 performers in the troupe, all of them are women. I ask Rosalind and Rochelle whether that was intentional, and they reply with a unanimous no! "We're open to having men, and I would love to have some proper drag in the show!" says Rosalind. "But at the same time, it's uniquely lovely to be in a group of incredible women in this political and social climate. Every single one of them, in their own way, is fighting for their living, for their cause."
And you really get a sense of that when you consider everyone's backgrounds. By day, Rosalind is a social media marketer, Rochelle works as a receptionist, and the troupe includes a student nurse, and even a postie.
I ask Rosalind and Rochelle what the audience reaction has been to Invisible Cabaret so far? Rosalind nudges Rochelle: "Tell her what your dad said."
"My dad is a cognitive behavioural therapist," says Rochelle, "and when he came to watch the show, during the interval he didn't go and get a drink, he just sat and listened to what people were saying. He said that every single person in the audience was talking about mental health, about their own experiences, and friends' experiences. He said it was amazing because this dialogue started in just one half of our show. That gives me goosebumps; it makes me feel so happy."
---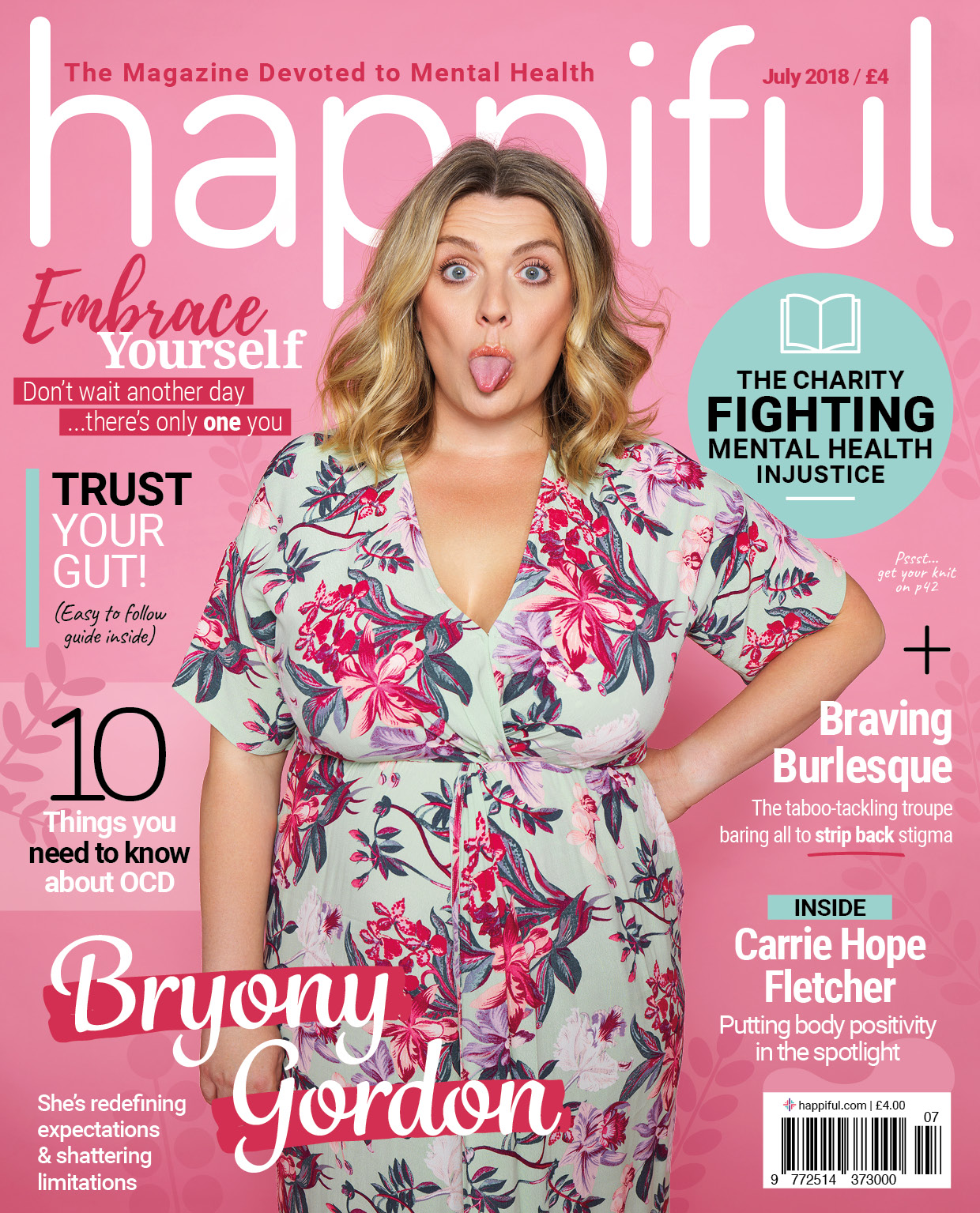 To read more of Rosalind and Rochelle's exclusive chat with us, pick up our July issue.
3 Ways to Get Happiful Magazine
In-store: Pick up your copy in Waitrose, Tesco, Sainsbury's, Morrisons or Asda. Find a store near you.
Online: Happiful is completely free to read digitally. To get July in your inbox this Thursday, subscribe now.
Happiful Shop: Can't see your copy of Happiful in a store near you? Head to our online shop.
---
Invisible Cabaret are performing at the 'Make More' festival in Victoria Park 23–27 August. Visit makemore.art to buy tickets and see their show.
To find out more about the Invisible Cabaret, visit their website, invisiblecabaret.org, or follow them on Facebook and Instagram @invisiblecabaret