A fistful of daffodils, a slightly burnt breakfast, and a handmade card were regular Mother's Day gifts in our household growing up. When did that stop feeling like enough?
It's hard to deny that the day has become highly commercialised. According to new research from Mintel, we'll be spending a combined £600 million on our mums, grandmas, and special like-a-mum's in the UK alone this Mother's Day.
Just how many personalised mugs, boxes of chocolates, oddly patterned silk scarves, and rarely used keychains do our loved ones really need? Does a pendant with 'Mum' stamped on it, or a store-bought card for 'Someone Special' really have that much of an impact as something small and thoughtful, or a little something you've made yourself (or with the help of your kids).
We've put together a few simple ideas to help you have a more memorable, less commercial celebration.
Get crafty
You're never too old to make something special for the ones you love. Colouring, drawing, painting, crafting - let your imagination run wild. Make them something that shows how well you know them and how much you care.
Why not try making a happy memories box to share with them, or printing off a copy of your favourite family photo and decorating a frame just for them. We've put together three simple, free activities that can get you started (as cards or gifts). For kids, show Mum she's your hero with our special colouring page or card. For adults or teens, give her flowers without the seasonal price-hike with our Just For You activity page or card.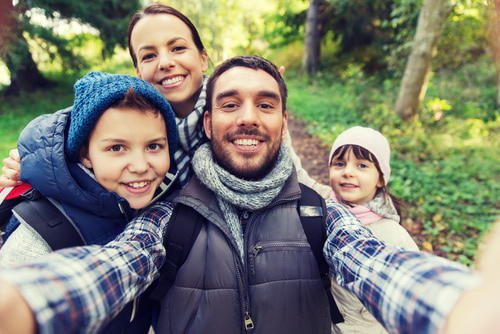 Venture Outdoors
Organise a hike or an outdoor adventure you can take together. Find a route you've not been on before, revisit an old favourite, or just head outside and see where the path takes you. Plan a picnic so you can share a peaceful moment together while you're out. If the weather's too bad (chances are with British weather, it's a distinct possibility) you can always have a picnic at home. Try adding a homemade touch to your picnic with this awesome chocolate and chickpea trail mix recipe.
Get the kids involved with the planning, or have them make a special card to give to Mum before your outdoor adventure. We've put together a Nature colouring page and a card to get you started.
Try Baking
Share the love, express yourself, and make tasty treats the whole family can enjoy. Baking's not only fun - it's also good for your mental health. Our friends at Nutritionist Resource have come up with some great tips to make baking healthier. If you're looking for a tasty, fun recipes to make together with kids, we totally recommend these tasty sticky toffee pudding cupcakes.
Be Mindful
Finding just the right thing to give Mum or the perfect words to say can seem like an impossible task. It's easy to forget the most memorable gifts can be as simple as spending time together.
We asked Dr Sherylin Thompson, chartered counselling psychollogist and founder of The BeingWell, for her top tips about having a more mindful mother's day.
"Bringing mindfulness to our relationships with loved ones can help us cultivate deeper connections with less reactivity to conflict. Bringing mindfulness to how we relate helps the other person respond more openly to you too. It is a great gift for the other to have your presence, and the chances are, you will benefit too."
Start a new tradition
Maybe you want to celebrate in a non-traditional way. Maybe you've got more than one mum to celebrate with, or you'd like to show your love for someone else who has made a big impact and been there for you. Try celebrating on different days, or extending the festivities over the whole weekend. Who's to say Mother's Day has to be just one day?
---
Still haven't convinced you to swap the shops for a commercial-free Mother's Day? If you're still thinking of picking up a gift, here's a little practical advice to help you choose something your loved one will want.
Make it personal
No, I don't mean buy something with their name written across it. Pick out something that reminds you of them, reflects a little bit of their personality -- and yours, too. Aim for their favourite colour, flowers you know they love, or find something that reminds you of a treasured memory or experience you shared together.
Keep it practical
What would your loved one prefer - something useful, something decorative, or something to do? Avoid getting them another piece of clutter for the back of the cupboard (or the local charity shop). Funny gifts may seem like a great idea, but once the big reveal is over, how useful (useful or practical)[https://www.psychologicalscience.org/news/releases/good-gift-givers-think-beyond-the-big-reveal.html] it will really be?
Put them first
There might be an absolutely amazing deal on bath bombs, luxury chocolates, or bunches of daffodils, but if the person you're buying for doesn't like long relaxing baths, prefers savory over sweet, or isn't a big fan of flowers, it's a waste of your money - and risks disappointing them. Show how well you know them with a thoughtful gift. It really is the thought that counts.
Finally, remember…
Acknowledging your Mum or special person is what matters. Making sure that they know you love and care for them, appreciate and are thankful for everything they do, is what's really important.
---
Discover more tips for how to have a More Mindful Mother's Day from Dr Sherylin Thompson on Counselling Directory.
Download our free mother's day resources for children, teens and adults
My Hero colouring page
My Hero colouring card
Just for You make a flower pot page
Just for You make a flower pot card
Nature Adventure colouring page
Nature Adventure colouring card