CHILDREN
How To Help Kids Build Self-Esteem
---
Author Poppy O'Neill shares her tips and advice for how parents can help boost their child's self-esteem
Self-esteem can be tricky to get a handle on at any age. How we think and feel about ourselves, be it positive, negative, or somewhere inbetween, can have a huge impact on our day-to-day actions, what we say, do, and how we view others. Working to improve our self-esteem can take significant time and effort, but it can greatly improve our perception of ourselves, along with our willingness to put ourselves out there and try new things.
Low self-esteem can stop children from making friends, trying sports, and hold them back from taking part in class discussions or group projects. Rather than focusing on their successes, low self-esteem can result in kids fixating on their mistakes. Helping children build healthy self-esteem can have a wider impact than we may realise.
What causes low self-esteem?
Low self-esteem can be caused by any number of things. Children may compare themselves to their friends, their confidence may be knocked by problems at school or at home.
Some experts have begun contributing the rise of social media use by children as having a negative impact, with as many as one in four kids aged eight to 11 having a profile on social media sites. With more, easier to access insights into the live of those around us, while adults know sites like Instagram and Facebook often show just the best aspects of our lives, children may not see it that way.
If you are worried about your child's self-esteem, there are a few signs you can look out for that can indicate they may need a little extra support. These include:
Constantly putting themselves down
Doubting their success or not trying so hard due to past results
Showing a fear of trying new things or of change
Repeatedly comparing themselves to others
Expressing feelings of inadequacy or unimportance
Losing their temper easily
Struggling to get involved in social situations
Appearing nervous or concerned about what people think of them
How you can help
While counselling can help increase children's self-esteem, there are also plenty of ways parents can help children feel more confident and self-assured.
Poppy O'Neill, author of You're A Star: A Child's Guide to Self-Esteem shared some of her top tips and advice on how we can help boost children's self-esteem and confidence:
Set a good example
The best thing you can do for your child's self-esteem is to set a good example. Talk kindly about yourself in front of your child, even if you think they aren't listening! They might not like to admit it sometimes, but you are your children's role model and they learn so much of how to be a grown-up from watching how you behave.
Use positive, solution-based language
When faced with a problem, try to use positive, solutions-based language. If something's gone wrong, it's not immediately important to work out who's to blame or how it could have been avoided.
Look at the situation carefully and work out how to make it right. Show your child that you're still learning and trying new things even as an adult. If you're learning a new skill, show or tell them about your first attempt.
Children understand abstract concepts best when we can give them real-life examples. So you could talk about how long it took to pass your driving test, or show them one of their baby photos, and talk about all the things they have learned to do since then.
Be specific with your praise
It can be tempting when your child is doubting their abilities to compliment and praise everything they do. Instead, try to be specific with your praise – for example, if they've drawn a great picture, compliment their attention to detail or ask them about a particular part of the drawing.
If you know they're struggling or they aren't trying their best, suggest small ways they could improve or break the process into smaller steps.
Encourage positive role models
Peer pressure can be powerful at this age, so let your child know that they are special and wonderful as they are. Try to gently encourage them towards positive role models, and feed their imagination with inspiring books, films and activities.
Don't be afraid to ask for help
If you're worried about your child's mental health, do talk it through with your GP. While almost all children experience feelings of low self-esteem, some may need extra help. There are loads of great resources out there, such as Mind or CAMHS, for information and guidance on children's mental health.
---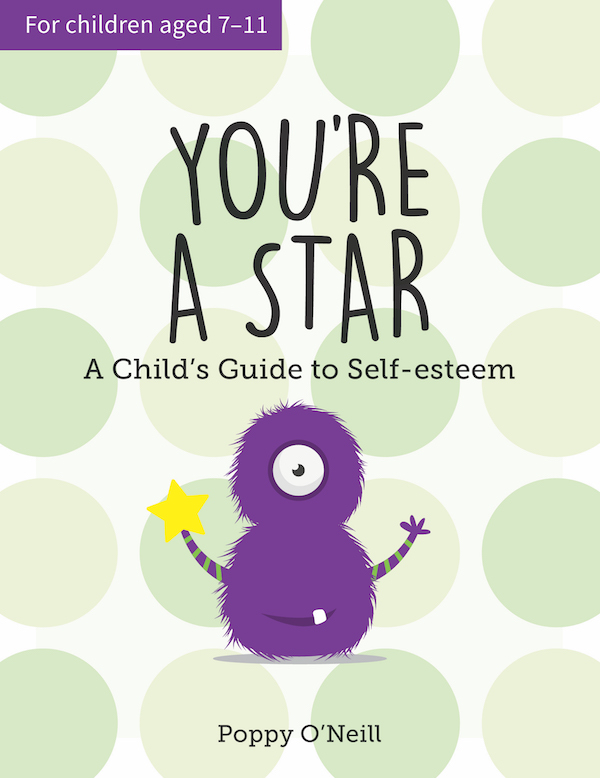 Aimed at children aged seven to 11, You're A Star combines proven cognitive-behavioural therapy (CBT) methods used by child psychologists in schools, with simple activities designed to help children grow their self-esteem.
Interspersed with useful tips, inspirational statements, and practical information for parents, children can follow along with Bop, the book's cute guide, to discover more about self-esteem and how they can become more confident.
Pick up your copy of You're A Star: A Children's Guide to Self-esteem now, find more self-esteem building tips for kids from Place2Be's Sarah Kendrick, or visit Counselling Directory to learn more about self-esteem.
Author Poppy O'Neill
RRP £10.99
Publisher Vie Books
Images cover used with permission of Vie Books