Does eating healthy foods really have to break the bank? Or can you still make healthy, nutritious, balanced meals on a budget?
When you hear the phrase 'healthy foods', what comes to mind? Leafy greens, well-balanced plates, or eye-watering price tags? According to new research from yfood, 41% of us Brits associate healthy food with unaffordable prices.
With the cost of food (and the cost of living) still firmly on the rise, it's no wonder nearly half (47%) of us have turned to social media to find recipes. What better way to find fun, healthy, affordable recipes than seeing what others are already making? However, this has led to further confusion around what is and isn't actually healthy to eat.
Previous research has shown that almost half of Brits have 'no idea' what they should be eating, while 49% of us don't understand what a 'correct' portion size looks like. It's no wonder that a third of adults don't eat fruit each week, while nearly half (46%) consume no vegetables at all on a weekly basis.
Just a fifth of us cook meals from scratch – and, even then, we are only doing it up to twice a week. Yet home cooking is filled with benefits: it's often healthier as you know exactly what is going into your food, it can be a fun activity to do together with friends and family, and it's cheaper than eating out or ready meals. For many, it can even be a mindful form of self-care.
Here, we share seven quick tips to help you get started.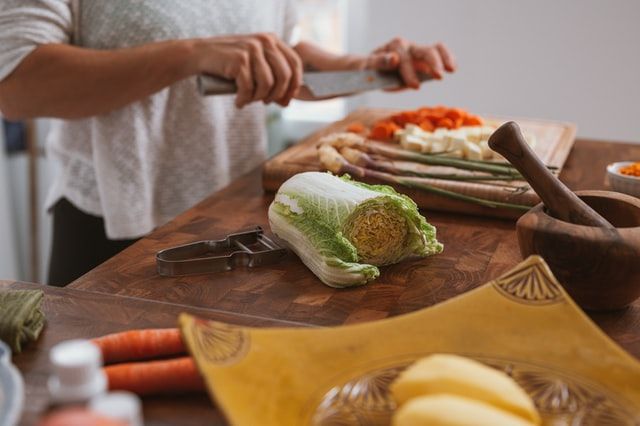 Quick wins for a healthier, affordable, balanced diet
Our average food bill is set to rise by £380 in 2022. For those of us on a budget, that seems like an insurmountable rise. But there are ways you can make small changes to help you save money without sacrificing food quality, variety, or nutritional benefits.
1. Planning is key
It can be tempting to just pick up what you need for a single meal on your way home each night, but planning ahead and doing a single 'big shop' can be more cost-effective. If you can, think ahead and plan out a week's worth of meals: breakfast, lunch, and dinner. This not only helps you to avoid impulse purchases when you're at the tills multiple times each week, but can help you to plan around your ingredients, instead of just what you fancy (or what's got a reduced sticker but may not be that healthy).
Angelika Cutuk-Short, MSc Nutritionist, shares her seven-day healthy family meal plan to help you get all the essential vitamins and minerals you need. Angelika explains, "Having fab recipes is great – but making the list, shopping for ingredients, and making those recipes is the first step to good health. Failing to prepare is preparing to fail. Choose recipes that you like, print them, put them on your shopping list, buy the ingredients, make and enjoy them knowing that you and your family are eating healthy."
If the thought of doing a single big shop fills you with dread, or you struggle to meal plan for a whole week, try this simple shopping list to get you started. These mix and match ingredients are enough to make a variety of healthy meals, and many options are available in tinned or frozen varieties – meaning less food waste, and often bigger portions you can freeze for later.
2. Back to basics
Healthy meals don't have to be expensive or complex. If you find yourself struggling for inspiration, stocking up on general food essentials can be a way of ensuring you have nutritious (yet still delicious) meals. Nutritionist Resource's Ellen shares more about creating a simple shopping list, store cupboard must-haves, and how to keep cooking simple to ensure it's affordable, easy, and enjoyable.
3. Eat seasonally and ferment
Nutritional therapist Lucia Stansbie (Dip CNM, mBANT, mCNHC), explains more about the importance of seasonal foods when trying to eat better and spend less.
"In-season fruits and vegetables are cheaper, richer in vitamins and antioxidants, and a much better alternative to out-of-season imported goods. If you buy in-season fruit and veg, you might be overloaded with one kind of produce. The same thing happens if you decide to go and pick berries or mushrooms. The best solution is to ferment those products. They will last for the months to come, and will be an excellent aid for your gut health."
4. Make enough for leftovers (or consider batch cooking)
Making enough for leftovers for lunch the next day can be a great way of saving time and money. Bulking out main dishes with plenty of extra veggies can make things go further, but if you're looking for a solution that can help you save time in your day-to-day schedule, consider batch cooking.
Batch cooking works on the idea that you set aside time to cook in bulk, to freeze and last you for an extended period of time. This could mean making Sunday your cooking and meal prep day for the week ahead, or it could mean preparing up to a whole month's worth of dishes in one day.
Nutritionist Resource's Katie shares two affordable vegetarian (and vegan substitute) batch cooking recipes that you can make year-round as healthy, freezable comfort food options. Or try these great batch bake lunches, breakfasts, and snacks for inspiration.
5. Buy frozen
As Lucia explains, frozen foods can be just as healthy as fresh. "Many people shy away from frozen staples like spinach, peas or broccoli, for no reason. Vegetables are frozen as soon as they are picked, so retain many vitamins and antioxidants. Studies show frozen peas have higher amounts of vitamin C than fresh ones."
6. Adaptability is key
Going to the supermarket with a list in mind is great, but once you've developed a little more confidence with your cooking, going off-list has the potential to save money too. Keep an eye out for deals on store cupboard staples that are easy to incorporate into recipes, such as beans, lentils, chickpeas, and tinned or frozen veg.
7. Switch it up
Making the switch from brand names to store alternatives is a no-brainer. But have you considered swapping the highstreet stores for local markets? You can often find cheaper deals on fruit and veg, and many markets have stalls offering deals on meats, cheeses, and eggs too.
If going to the supermarket is your only option due to time, location, or lack of other options, that's OK! Kimberley Neve, MSc, ANutr, explains more about how to beat the supermarkets and shop healthily.
"Most of us are aware that supermarkets have their tricks to get us to spend more; yet we also have a certain trust in them to provide us with our essentials and offer the best bargains. They have a vested interest in us spending as much as possible each visit. This can be an issue if you're trying to stick to a budget and is often detrimental to your health too, as most offers and promotions are for less nutritious foods like biscuits and chocolate.
"If you're trying to shop more healthily, have a list of what you want to buy and ignore end-of-aisle promotions. Look down low for healthier and cheaper products. Don't shop when you're hungry. Consider shopping online where it's easier to follow your list and not be tempted by less nutritious options."
---
Cooking from scratch: Free, healthy recipes to get you started
Cooking doesn't have to be complex. If you're an inexperienced cook, or you're nervous about potentially wasting ingredients, working from recipes can be a great way to get started. Check out Nutritionist Resource's free, healthy recipes for breakfast, lunch, dinner, and snacks. From plant-based dinners to top picnic picks and healthier versions of takeaway favourites, making healthier food for less can be quick and simple once you develop a little more confidence in the kitchen.
---
Why is healthy eating so important?
Healthy eating isn't about weight loss. Ensuring you have a balanced diet not only impacts your physical health, but your mental health, too. What you eat can have a huge impact, from reducing symptoms of seasonal affective disorder to boosting fertility, reducing high blood pressure to combatting tiredness, stress, and low energy levels.
Eating healthily can improve your mood, health, and wellbeing. Working with a nutritionist can help you to make healthy, sustainable lifestyle changes that fit your personal needs, whilst being easy (and enjoyable) to maintain. Find out more about healthy eating and how to create a balanced diet with Nutritionist Resource.