BLOG
How the pursuit of wellbeing unites us all
---
Whatever route we explore to achieve it, and whatever unique barriers we face, there is a unifying desire that connects us all: to nurture our wellbeing
In my time doing this job, I've sat down with a lot of different people. I've chatted with global superstars, actors, singers, and models. But also, artists, activists, authors, campaigners, community leaders, volunteers, people going through incredibly tough times, ordinary people doing extraordinary things – and, one time, a troupe of burlesque dancers.
You've probably noticed this in your own life, but two things I've learnt are: 1. The experiences we've had, the people we've mixed with, the causes we care about, and the ways we live our lives come together to create very unique people with very unique thoughts, feelings, and ideas. And, 2. There is so much that unites us.
People talk about a 'universal language' – something that can be understood by every human being, no matter their background, or what language they speak. Some may point to music as an example of this. Dance is another one, and football might edge its way in there, too. But something that the era of silent films shows us is that so much can be conveyed by tapping into the very basics of the human experience: our emotions, our passion – our actions, and our reactions.
In issue 71, we look at how the pursuit of wellbeing connects us all. We assess the importance of queer spaces on p28, and highlight the need to bring Traveller mental health conversations into the mainstream on p57. On p16, we explore how the Victorian tradition of a 'change of air' could reset our minds and help us find a sense of peace. And, on p32, we meet an 85-year-old and a 31-year-old who moved in together as part of an innovative scheme that addresses some of the UK's most pressing issues.
From the six pillars of work-life balance (p36) to mastering the 'physiological sigh' (p39), this issue is also overflowing with tips and ideas that you can take with you to make an immediate difference in your life.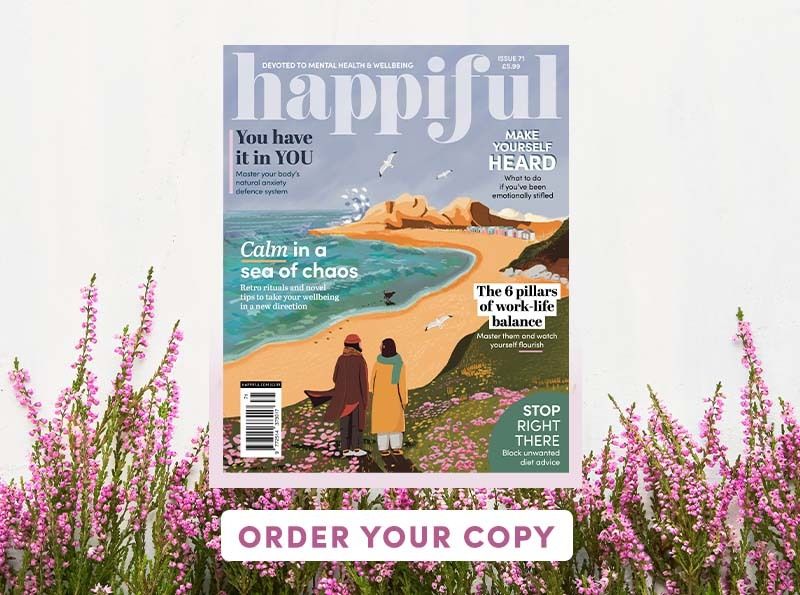 But that's not all. The issue 71 print edition includes:
• Fascinating features on parasocial relationships, yoga for desk workers, the joy of reading aloud, and recognising when you're being emotionally invalidated.
• Life-changing hacks on dealing with information overload, navigating unwanted diet advice, and helping kids develop healthy gaming habits.
• Expert advice on topics such as how to be more open-minded, dealing with intergenerational trauma, and an exploration of OCD.
Other people are endlessly fascinating. We can gain so much from their knowledge, their interests, and their purpose, and we can give so much back by listening.
Happy reading!
Kathryn Wheeler
Guest Editor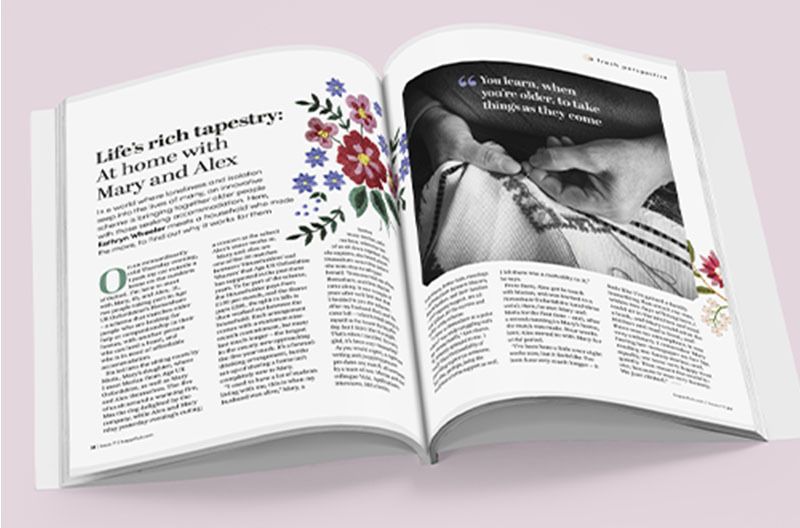 Happiful's mission
Our driving force is, and always has been, to ensure that everyone who needs it has access to mental health and wellbeing support – with no financial or geographical barriers. That's why we offer several ways for people to access our award-winning content for free, including our website, app, podcast, and digital magazine.
And we're able to do this thanks to the support of our wonderful print subscribers, whose purchases fund this – so we want to say a huge thank you!
If you'd like to support our work and mission, please head to our online shop to explore our range of subscription offers, which include:
• Happiful delivered straight to your door each month
• Free postage and packaging to the UK and NI
• Exclusive early release for print readers
• Specially crafted guided journaling pages in each print edition
Plus, did you know that the magazine and its packaging are fully recyclable, and for every tree used to create the mag, we plant two in its place?
Order your copy of Happiful today.