CHILDREN
Happiful Reads: The Trans Teen Survival Guide
---
Trans rights campaigners Fox Fisher and Owl use their shared experiences to create a simple, must-have guide for transgender teens
Teen survival guides are pretty common nowadays. While there are some great ones out there, it can be tough to know where to get started. Owl and Fox's recently released guide offers something we haven't quite seen before: a guide designed with trans and non-binary teens at the forefront, aiming to arm them with the knowledge needed to feel informed, empowered and confident, navigating life as a trans teen.
Writing from a place of experience
Fox Fisher, an award-winning artist, trans rights campaigner, and co-founder of the My Generation film project, along with partner Owl, a trans campaigner, speaker and writer who has worked on trans rights across Europe (including as an advisor for All About Trans), have both been there, done that. Having each experienced their own journeys through transition, these authors write from a place of experience.
Offering friendly and frank advice interspersed with humour, their guide gives a great starting point for young people (and those who support them) to discover more about the ups, downs and areas to look out for when it comes to navigating the already tricky teen years as a transgender or non-binary person.
A little bit of (almost) everything
From how to come out to friends and family, to what it's like to go through cross-hormonal therapy and how to put on a packer, Owl and Fox talk about just about everything trans teens and families may have questions about.
With a particular focus on self-care, expression, and being proud of your own, unique identity, The Trans Teen Survival Guide aims to empower as much as it aims to inform. The authors also offer advice on dealing with depression, handling dating, and share real-life stories from their own experiences and others'.
Offering short, easy to navigate, topic-specific chapters and where to go for more information, this guide is a great starting point for anyone looking to learn more about the trans teen experience. Easy to dip in and out of, parents, teachers, and those who support or work with young people can all benefit from this straightforward guide.
While the book provides a great overall introduction, there is little to no specific information on transphobic bullying. Some readers have also expressed concern around the placement of safety information and inclusion of binding with tape - as warnings aren't provided alongside binding discussions, in places.
But, for those looking for more in-depth information, links to further websites, books, helplines and trans activists are all included.
Don't just take our word for it
Readers have taken to social media to share their thoughts, thanks and support to Fox and Owl for creating this first of its kind book.
Please RT this is a book I know would have made a huge difference to my life when I was a teenager, we had to try and figure it all out for ourselves, no internet, precious few books and those classed as over 18. Thanks to @UglaStefania & @theFoxFisher for this great book. ❤️ https://t.co/TkVhT3gNSk

— Diana James (@dianalouisej) September 26, 2018
The book I needed as a teen has turned up. Too late for me, but in time to help someone else. This one is going to be donated to @OuthouseEast. Thanks @UglaStefania and @theFoxFisher. :) pic.twitter.com/iUvbxl2pzK

— Christina (@Chr1stinaG) September 26, 2018
Freshly catalogued the #transteensurvivalguide by @theFoxFisher and @UglaStefania after seeing them talk about this wonderful resource on Monday at @WaterstonesTCR I knew I needed a copy for the library! #reading #transawareness #wednesdaymotivation pic.twitter.com/4KdeTuAw8c

— Moseley School Library (@library_moseley) September 26, 2018
If you are looking to order a copy, Fox Fisher's tweet below includes a link that donates to Mermaids (a UK charity that offers family and individual support for gender diverse and transgender children and teens) for each copy sold.
We are so thrilled that the Trans Teen Survival Guide book is released today! Order through this link to benefit @Mermaids_Gender: https://t.co/CeDGThby4X Please give us a positive review too <3 pic.twitter.com/PpNaYOGaL0

— Fox Fisher (@theFoxFisher) September 21, 2018
---
For more information on gender dysphoria and where you can find support, visit Counselling Directory or check out counsellor Anna Jezuita's trans teen guides for parents, her family guide to gender transition, and tips for transitioning teens.
---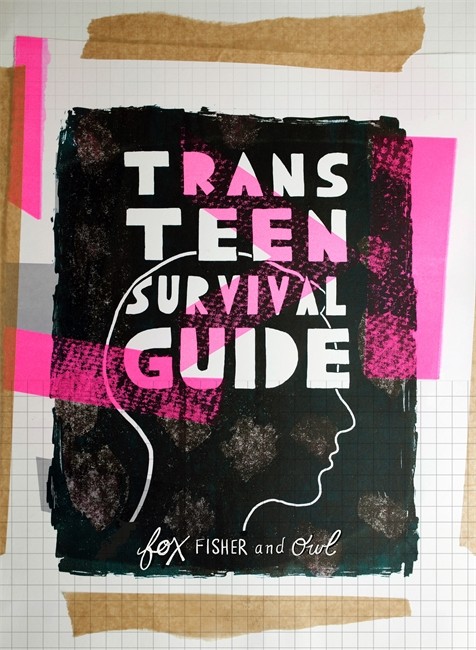 The Trans Teen Survival Guide is available to purchase now online and from all good retailers.
Author(s) Fox Fisher and Owl
RRP £12.99
Publisher Jessica Kingsley Publishers (JKP)
Images cover used with permission from JKP
For trans teens at all stages of their journey, this comprehensive guide is written by two trans authors who have experienced it all first-hand. Frank and friendly, The Trans Teen Survival Guide covers everything you need to know about gender dysphoria, hormone blockers, packer, binders, surgery, self-care, dating, handling the media, and much, much more.
Including first-person accounts from trans and non-binary young people, discover invaluable, practical advice from those who understand the complexities and challenges of growing up trans. Fox and Owl aim to arm young people with the information they may need to navigate their teen years and show them they have nothing to fear.