NEWS
Government Plans For Mental Health Support and Education In Schools: Why Experts Are Concerned
---
Charities and mental health campaigners have expressed concerns about government plans to make mental health education compulsory in schools, as well as over mental health support teams that will be stationed in trailblazing schools from late 2019
Earlier this month, Happiful reported on the introduction of compulsory mental health education across primary and secondary schools across the UK.
Set to take effect from September 2020, updates to children's health education will include being taught how to build mental resilience and wellbeing, alongside how to recognise signs they or others are struggling with their mental health and how they can respond. Despite initially positive responses, many campaigners and charities have expressed concerns over the impact this will have on both students and teachers.
Further concerns have arisen this week over government confirmation that school mental health support teams are set to begin working with children by the end of 2019, but will only reach an estimated 20-25% of school children by 2023.
While changes to the way educate and support children's mental health are of course welcomed, many charities and mental health experts have begun criticising recently confirmed plans. Children's charity Barnardo's have expressed their disappointment with proposed time frames, amongst other concerns.
Javid Khan, Barnardo's chief executive, said "Theresa May has described mental illness as a burning injustice that required a new approach from Government. However, actions speak louder than words. The government's response to the green paper consultation does not show enough action on how, as a society, we are going to stop sleepwalking into a children's mental health crisis.
"The response has let down the children who gave their views about the problems with the green paper and if the government does not rethink its approach, it runs the risk of letting down future generations too."
We take a look at the primary concerns surrounding Government plans.
Most children won't see the benefits of planned changes over the next five years
The Government confirmed earlier this week that mental health school support teams are set to begin work by the end of 2019. The Department for Education and Department of Health announced they will proceed with plans to employ thousands of extra staff to support school communities, however, the timeframe for the scheme has come under fire.
Matt Hancock, Health and Social Care Secretary, said: "Children and young people must feel supported with their mental health needs and I am determined to keep people healthy, treat their problems quickly and provide services closer to home.
"By creating a dedicated new workforce in schools, which, when in post, could equate to more than the entire total current child and young person's mental health NHS workforce, we will support each and every child in fulfilling their potential as we transform mental health services in this country."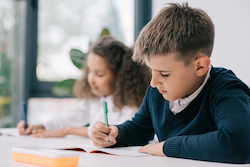 However, only 20-25% of young people in "trailblazer" schools will be able to access this increased support by 2023, leaving thousands of children and teens unable to benefit from these changes. Many critics warn that this plan is a case of too little, too late for children who will not see the impact of this funding over the next five years.
Calling for the Departments of Education and Health to find ways to increase the pace of the rollout, general secretary of the National Association of Head Teachers, Paul Whiteman said: "Although we recognise that the initial trailblazer pilots are important first steps towards long-term improvement, our concerns remain for the children, young people and schools who may still see no improvement in mental health support in their area for many years.
"With only 20-25% of the country involved over the next five years, too many children and young people will continue to struggle without help, their health and education suffering based on a postcode lottery."
With a planned spend of £95m putting Senior Mental Health Leads in schools, along with a further £215m creating local mental health support teams to bridge the gap between schools and Child and Adolescent Mental Health Services (CAMHS), the government has confirmed support teams will be in place by December 2019 in "certain trailblazer areas". These areas will see schools work with the NHS, councils, and other bodies from late 2019. Dates for senior mental health leads in schools are yet to be confirmed.
According to a report from The Independent, an NSPCC spokesperson said this scheme will "leave too many children with no extra support in the short term. We need swift help for all our pupils, in every school. Not just those chosen to trailblaze."
The first set of trailblazers for mental health support teams are set to be announced this autumn. Training for mental health support teams will be offered from seven confirmed universities, including the University of Reading, King's College London, University College London, Greater Manchester Mental Health CBT Training Centre, the University of Exeter, University of Northampton, and University of Northumbria.
Wait times for children seeking support may still be too long
While many have expressed their disappointment that government plans for additional mental health support in schools are expected to reach only a quarter of students over the next few years, additional concerns have arisen surrounding those who will benefit from the trailblazer scheme.
Although the Government's proposed pilot outlines a maximum four-week waiting time to see a mental health specialist, Barnardo's have called this not good enough, with experts suggesting children should be seen in days, not weeks.
Current CAMHS guidelines require children to be seen within 18 weeks of referral, however, many trusts, particularly in Scotland, have failed to meet this in 2018 - putting into question the likelihood these targets will be able to be met. 11 out of 14 Scottish NHS boards failed to meet CAMHS waiting times earlier this year, with almost 30% of young people across Scotland being offered no help or support during this 18 week period.
In their response to the first joint report of the Education, Health and Social Care Committees of Session 2017-19 on Transforming Children and Young People's Mental Health Provision Green Paper published earlier this week, the government recommended appropriate resources should be made available to ensure the implementation of a four-week waiting time target does not have adverse impacts on those accessing CAMHS services, unintentionally making thresholds for accessing services even higher.
It says: "Lowering waiting times should not be at the cost of reducing
access or any other unintended consequences. Any waiting time standard must drive improvements in access to NHS specialist mental health support. We are fully committed to lowering waiting times, and not just for a specific service or condition, but across the entire range of issues that children and young people's mental health services support. Young people in crisis will continue to be seen more rapidly than four weeks, as is currently the case."
No clear plan has been communicated around teacher or school training, support or funding
A major concern raised by schools has focused around training, support and funding. It has yet to be confirmed what (if any) additional training will be required for teachers to support changes to the curriculum, with many expressing concern that additional expense, time commitments, and stress will fall on schools and teachers themselves.
In an earlier comment to Happiful, former government mental health champion and mental health advocate Natasha Devon MBE expressed her concerns over the implementation of these new plans.
"I'm deeply concerned that the guidance states that teachers must simply 'talk to' pupils about physical and mental health. This isn't enough.
"I'm also worried this is another job on teachers' already lengthy to-do list. I hope there is sufficient funding behind the proposal to ensure school staff are adequately trained and that the extra work associated with taking on the responsibility for teaching mental health will be reflected in teachers' pay packets.
"I'd be interested to see if this proposal from the Department for Education runs alongside proposals from the Department of Health to ensure parents and society generally play their part in children's wellbeing. It's either a promising start or a sticking plaster measure. Time will tell."
In a further article on TES earlier this week, Natasha spoke about the need to transform school culture to truly boost mental health.
Increasing pressure and responsibilities for already strained teachers have also been raised as major concerns. According to a 2017 BBC report, an overwhelming 75% of teachers have suffered physical or mental symptoms of stress because of their jobs.
In addition to teaching, many are expected to complete marking and admin outside of the classroom, with huge pressures to meet exam targets. Further pressures around training that may be needed to support the addition of mental health and wellbeing to the curriculum, along with who the expense of this training may fall to have both been raised as concerns.
While seven universities have been confirmed to be offering education mental health practitioner courses from January 2018, these courses are understood to have been created to train mental health support team members rather than teachers.
The focus on awareness doesn't tackle the underlying problems in the system
In a recent post on Twitter, Natasha Devon called for fundamental changes in culture both in and outside of school to tackle the crisis young people's mental health faces.
Only a fundamental change in culture both in and outside of school can even begin to tackle the crisis in young people's #mentalhealth. @DamianHinds proposals do not go far enough. https://t.co/pG4dCaofDk pic.twitter.com/fTXSaf5OUS

— Natasha Devon MBE (@_NatashaDevon) 25 July 2018
"Back in my early days as the government's "mental health champion" (an appointment which was announced with a similar amount of fanfare in 2015) something a teacher said really struck a chord with me.
"I had been wheeled out for some event or other and was attempting to convey the extent of the government's commitment to tackling poor mental health in young people using a range of projects, such as peer support and pilot schemes to strengthen relationships between schools and child and adolescent mental health services.
"A teacher in the audience responded with: "I suppose all of these endeavours are like applying Factor 50, but no one is turning down the heat..."."
While no-one will deny the importance of raising knowledge and awareness around the mental health challenges and increasing stress children face, Natasha highlights there is only so much impact this knowledge can have in an environment where there is no time or space to practice self-care, and medical care can have lengthy wait times at best.
With a culture that increasingly emphasises test scores and a focus on key core subjects over a broader curriculum, the addition of mental health and wellbeing education will do little to aid those who previously may have excelled with a more coursework-based method of testing, or whose strengths may err more towards less "desirable" subjects such as drama and art.
By training children to recognise signs of stress and a need for support amongst themselves and their peers, rather than focusing on the system that is causing increasing feelings of stress, it could be argued that we are in many ways applying a bandaid rather than tackling the core problems themselves.