NEWS
Flick for victory: new campaign thanks Brits for practising self-love
---
Celebrating singles who've stayed home and resisted the urge to mix households during lockdown, dating app Badoo has released a series of wartime-esque posters urging us to 'keep the home fires burning' until it's safe to meet and get intimate with others
The first half of 2020 has taken its toll on us all. Since lockdown began, over 7.4 million adults across the UK have reported feelings of loneliness, leading to a poorer sense of wellbeing and sense of disconnection from those - and the world - around us.
While some couples have been getting more adventurous in bed and have seen an increase in how often they are having sex thanks to our forced time inside, an overwhelming 80% of us feel like we've been negatively impacted by our recent lifestyle changes. One in three of us (34%) feeling the wider move to work from home has placed a strain on our relationships with our partners and children.
For singletons, the past few months have brought about different challenges. While over half (57%) have turned to virtual dating to help ease feelings of loneliness and isolation, it's hard to deny that video dates can feel like a poor substitute for the real thing. In recognition of the months of staying home and 'flicking for victory', dating app Badoo has created a series of empowering posters to celebrate those who have resisted mixing with other households to have sex during the pandemic, thereby helping to stop the further spread of Covid-19.
Keep calm and carry on masturbating
Alongside their new campaign, Badoo has released a series of stats highlighting our uncertainty around continuing lockdown rules, and if it's safe to start mixing households to have sex. While lockdown rules have eased, shielding may have come to an end, and small social bubbles are allowed, abstaining from visiting multiple households is still encouraged to help reduce the risk of a second wave.
Over half (54%) of singles surveyed admitted to being confused about the rules when it comes to bringing home a sexual partner. An overwhelming three in four (70%) said they are still worried about a second wave of coronavirus and are trying to stay at home as much as possible. 75% said that they haven't had sex at all during lockdown.
To help celebrate those who've switched sex for staying home to practice self-love, Badoo has collaborated with Alice Skinner, illustrator and visual artist, to launch a collection of cheeky posters encouraging us to all to 'flick for victory', 'keep calm and carry on wanking', and 'keep the home fires burning'. Hoping to urge people to continue to put their safety and health first, Badoo has also released tips alongside their billboard campaign to help us all get more out of exploring self-pleasure.
Since lockdown began, over a third (37%) of single brits have masturbated more than usual, averaging once a day, every day, between late March and now according to Badoo, whilst other research has found over half (55%) of us have masturbated more than usual. Yet despite this increase, one in three are still tempted to have sex with someone outside of our household, despite social distancing regulations.
Natasha Briefel, UK Marketing Director at Badoo, commented: "We know being single in lockdown has been tough for many, so we wanted to find a fun and playful way to open up an honest conversation about masturbation and solo sex, while saying thank you to those who have avoided temptation to break the rules. We've seen lots of great connections being made during this period of digital courtship in lockdown, so want to encourage our users to be kind to one another, chat, meet and date honestly and safely when they're comfortable doing so."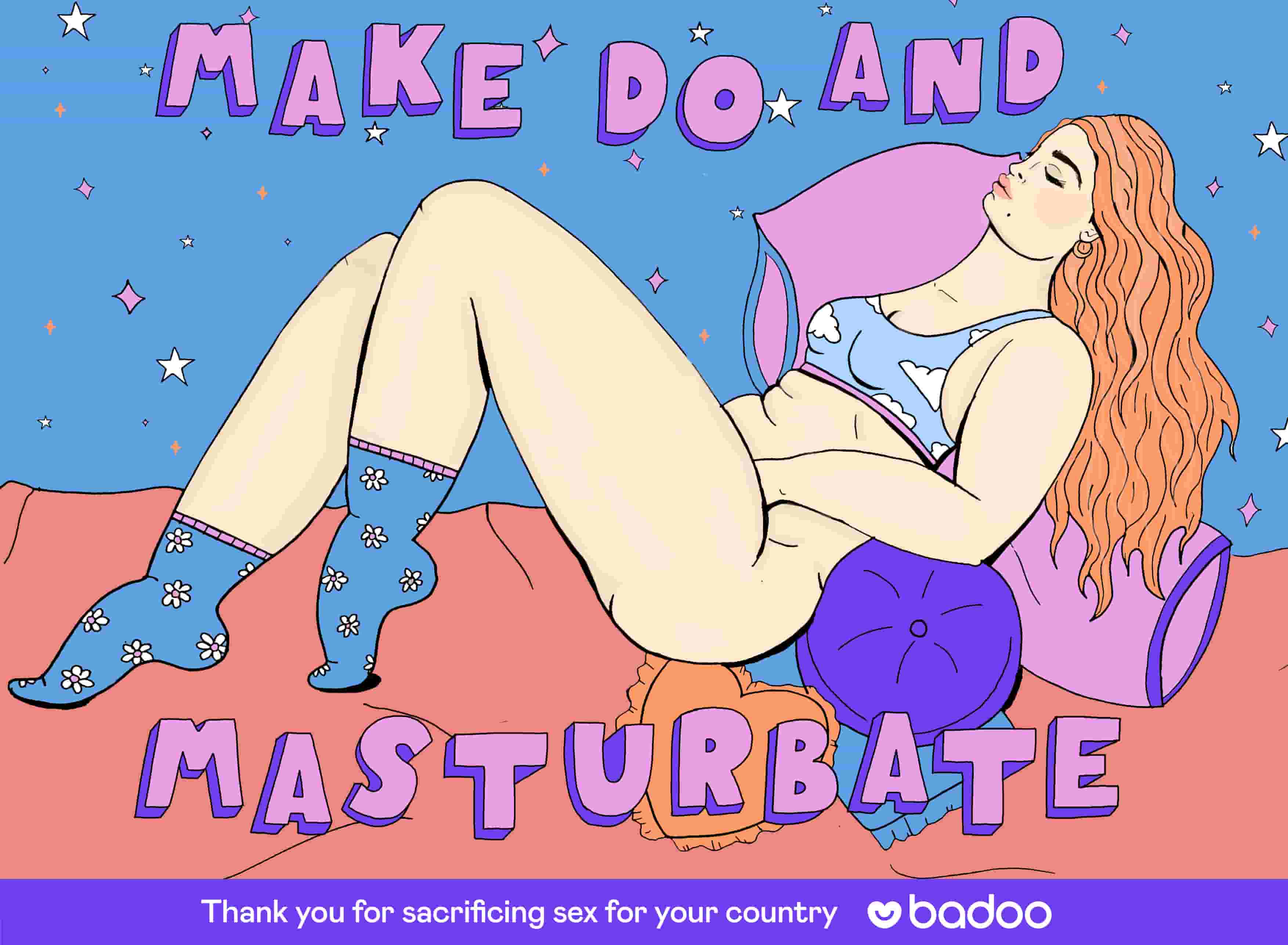 Award-winning writer and broadcaster, Alix Fox, who specialises in 'decently indecent' sex, added:
"Although the limitations of lockdown aren't quite as tight as they were, in-person sex with a new partner you're not already bubbling with is still largely off the table (and the bed, and the kitchen counter…). I know a lot of single people are about ready to bust with lust, and desperate to get their hands on someone else's glands, but right now masturbation remains the safest, most responsible option to get off while preserving your health and protecting that of others."
But what about for those who see masturbation as a poor substitute for the 'real thing'? Alix explains more.
"Doing your bit(s) for national wellbeing doesn't have to be a huge compromise. In some people's minds, masturbation plays 'second fiddle' to partnered activities like penetration and oral; they see it as a not-so-fun consolation prize. But solo sex can be deeply satisfying, as you get to please yourself entirely on your own terms; plus, there are loads of ways you can switch it up to keep it exciting and discover brand new sensations and experiences. Lockdown is a chance to truly get in touch with your body like never before, and upgrade your sexual relationship with yourself."
Masturbation for self-care
Masturbation has been found to have a number of physical and emotional health benefits. Helping us to relieve pent-up stress, sleep better, and release sexual tension, practising self-love as part of our self-care routines can also help us to boost our moods, relieve physical pain such as menstrual cramps or lower back pain during pregnancy, as well as helping us to better understand ourselves, our desires, and our bodies.
As explained by Lucy Beresford, psychotherapist and host of LBC radio's Relationships and Sex show, going solo can have a wide range of benefits for men and women.
"Masturbation boosts your sexual confidence. It can provide a reliable source of orgasms, and the hormone released during those orgasms means masturbation creates relaxation and pleasure. With masturbation, you possess a reliable source of pleasure for the rest of your life!"
Whether you're single, in a relationship, or somewhere in between, it sounds like it could be worth making time for some quality self-love and self-care time.
---
Discover more about how you can have a happy, healthy sex life despite social distancing and lockdown on Counselling Directory.
If you have been struggling with your mental health, it's worth noting that this may also be impacting your sex life due to ongoing stress, anxiety, dietary choices, and overall feelings of overwhelm.
Find out more about how you can boost your sex life while looking after your mental health, or consider speaking with a qualified, experienced therapist to find out more about how you can support your mental health and look after your wellbeing.