NEWS
Explore England's top accessible walks
---
Get back to nature and discover which counties in England offer the most accessible-friendly walks
Exploring the great outdoors is not only good for our physical health, but our mental health too. Studies have shown the benefits of spending time in nature; from forest bathing to outdoor therapy, getting outside can have a positive impact on our mental wellbeing.
But what about those of us who have additional accessibility needs? When the act of going for a relaxing walk becomes overtaken by worries about accessible pathways, parking, or family-friendly trails, it can become more stressful than we realise.
Not all outdoor spaces are wheelchair, pram or pushchair friendly. Finding accessible walks that you can enjoy solo, with friends or family can be a frustrating experience. New research from outdoor experts at Millets seeks to highlight the best counties to explore and discover accessible walks.
According to their research, Somerset currently offers the most access-friendly walks, with 119 spread across its rolling hills. Top wheelchair and pushchair friendly walks include Yeovil Country Park and Ham Hill, with impressive views of Exmoor, the Mendip Hills, and South Somerset Moors.
Hampshire came in second, with 79 accessible walks ranging from Queen Elizabeth Country Park to Staunton Country park, while Dorset came in third, offering 77 walks. Other counties that made it into the top 10 included Devon (60), Lancashire (59), Wiltshire (50), Greater London (40), Cornwall (37), Derbyshire (36), and North Yorkshire (33).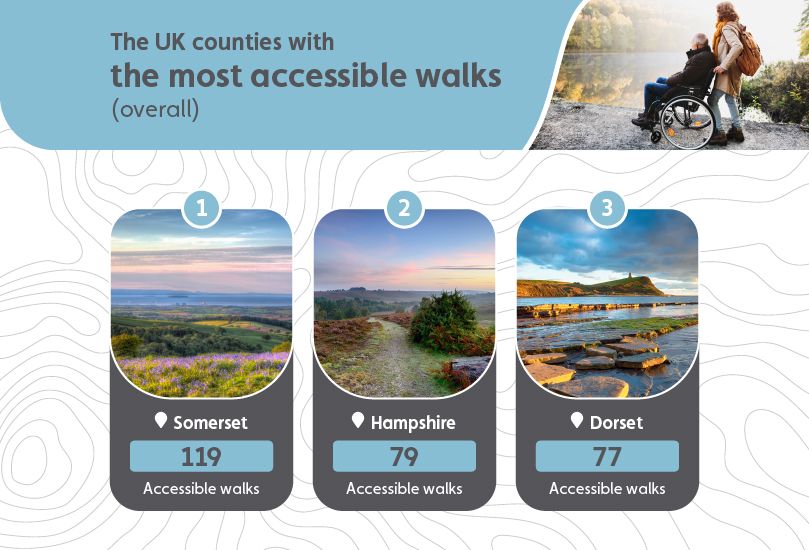 Kiera Baxter, Adventurer and Marketing Exec from Millets, commented: "The UK has many fantastic walks. However, many of these famous routes are lacking in accessibility as many people may find hills or rough terrain difficult to get across.
"This is why we wanted to uncover the best places for accessible walks, to ensure everyone can get enjoy the outdoors. There are a whole range of accessible walks across the UK suitable for both wheelchair users and pushchairs. From country parks and beaches to forest walks, there are beautiful and accessible destinations all around the UK."
---
Exploring the great outdoors can help us to better notice, connect with, and understand our surroundings - and ourselves. Spending time in green spaces can have a positive impact on mood, physical health, boosting confidence and self-esteem. It can also help to reduce feelings of stress and anger, whilst providing the opportunity to meet new people and make new connections.
If you are struggling with your mental health, or feel like you could do with some additional support, speaking with a professional can help you to better understand issues or problems that may be affecting you. Walk and talk therapy is one way you can get the benefits of traditional counselling whilst also benefiting from natural surroundings. Discover more about the benefits of walk and talk therapy, and find out what you can expect from a session with a trained, professional therapist.