MINDFULNESS
Draw yourself calm: what is mindful drawing?
---

A chance to slow down, be creative and connect with nature's beauty, mindful drawing is our new favourite activity. Here we talk to artist and author Amy Maricle to learn more
I started drawing back in 2020, during the first lockdown. I was taking a break from my side-hustle after experiencing burnout and needed something to keep my creative mind busy that was not related to work, and drawing fit that bill perfectly.
Following online classes and doodling flowers became a habit and it helped me tap into a whole different side of creativity. I found the whole process really calming and became interested in how drawing and mindfulness can come together. So, when I was offered the chance to speak with Amy Maricle, artist, former art therapist and author of Draw Yourself Calm, I jumped at the chance.
"I use a lot of the mindfulness skills that I learned in my work to help people," Amy tells me.
"It's really about slowing down and approaching art in a very process-oriented way so that it's inviting and grounding. I find it really helps me and my students to open up to their imagination because things move more slowly, it's less judgemental and it's just way more fun."
Before speaking I had started working my way through the book, learning more about what mindful or 'slow' drawing is all about and having a go at some of the exercises. A key part of the process is tuning in to how you're feeling, connecting with the breath and taking notice of what you're doing. Amy explains that noticing the way the pen feels in your hand, the bumps in your paper, the sound of the lines as you draw them, can all help you sink into a calmer, more meditative state.
And this is what mindfulness is about, at its core. Paying attention to the present moment and allowing yourself to get absorbed by it. When we do this, ruminations about the past and worries about the future can fade into the background. As someone who struggles from anxiety from time to time, cultivating moments like this is paramount.
Inspired by nature
As I was working my way through the book, I noticed the patterns were largely inspired by nature. From the soft and wispy milkweed pattern to the intricate cobble design, many of the exercises imitate nature's own stunning patterns.
Discussing this influence, Amy explains that she's always been inspired by nature and felt lucky to live close to a nature reserve during lockdown in 2020.
"I live in an area with access to a small nature preserve. It is right on the side of the highway, so it's not so quiet, but it's very close to my house. I know I am extremely fortunate, and I go to that nature preserve often. During the pandemic, it was my medicine, along with my art."
Amy wondered how she could support others during the pandemic and realised, mindful drawing could be it. She started holding live mindful drawing sessions on Facebook for people to join and it was really well received, and in time she was approached about creating her book.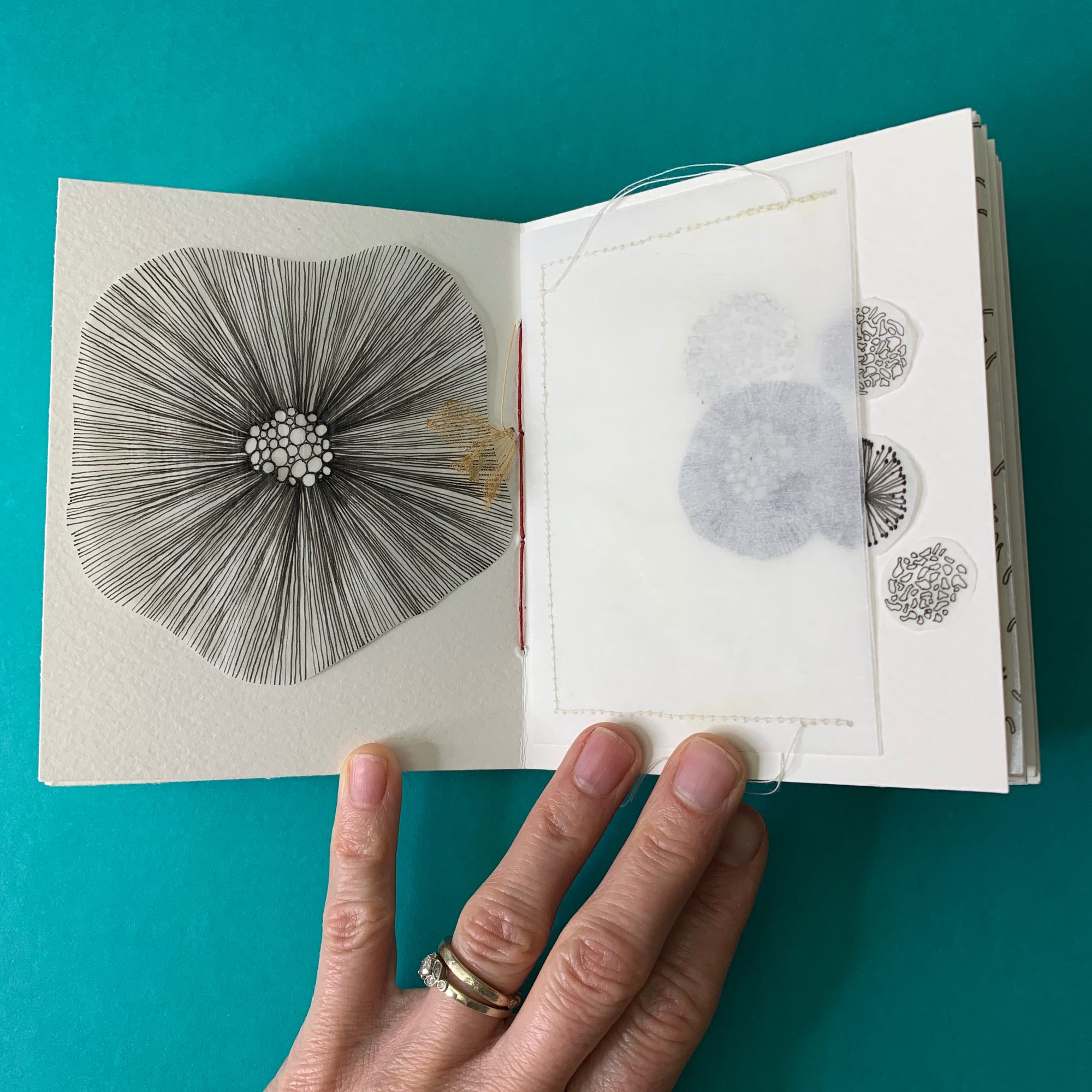 Overcoming perfectionism
Continuing our chat about nature, I tell Amy what I love about nature is that it isn't perfect. Its lines are wobbly and organic, and when drawing these patterns I felt a sense of relief as I could let the sense of perfectionism within me go.  
It turns out I'm not alone with this, and Amy shared her top tip to overcome perfectionism when drawing.
"What works for me and part of what I talk about in Draw Yourself Calm is that I work in a very layered way, in series and often very small. These are three things that, for me, really lend themselves to creating more art, more frequently and taking the same idea and iterating it.
"So looking at it and asking a lot of 'what if' questions, like, what if I took this pattern and I did it in a different pen? What if I added watercolour? What if I used my nondominant hand? What if I combined it with this other pattern? What if I made it really, really big instead of really, really small? Then the pressure on any one of these pieces goes down so much because I'm not gonna be like, 'oh, I stink. I can't do it', because it's just number three of eight or whatever it is."
Creating a habit
Since receiving Amy's book, I've started using mindful drawing as a tool to switch off from work at the end of the day. By my desk at home I have my sketchbook and pens, acting as a visual reminder to do some drawing. I'm really enjoying taking a few minutes to step away from screens, putting on some calming music and letting myself get lost in a pattern for a while.
Amy recommends making a portable art kit you can take with you anywhere, so you can dip into some mindful drawing whenever the mood strikes.
"I keep mine even just in my house. And so if I have a few minutes while the water is boiling or, you know, my son is doing homework and I'm helping him, but he doesn't need me a hundred percent, I could work on a pattern like 'flock' where it's little marks and a little bit less engrossing so I can come in and out of it.
"I do definitely make chunks of time too, because it's a much more nourishing thing when I take half an hour, an hour, or more than that throughout my day. And I think the more you practice it, the more you get those rewards. The more you want to do it, and the more you get curious about where the art piece is taking you, right?"
Right. Everytime I open my sketchbook, whether I'm working on a bigger piece or experimenting with something new, I feel that tickle of curiosity at the back of my mind, encouraging me to sit. Breathe. Slow down. Draw. And see where it takes me.
---
Learn more about Amy's work at Mindful Art Studio, follow her on Instagram and pick up her new book, Draw Yourself Calm.
Learn more about mindfulness and connect with a therapist at Counselling Directory.