LIFESTYLE
Dopamine dressing: discover the trend that is encouraging us to live life in colour
---
It's the technicoloured trend of 2022, but is there more to colourful fashion than meets the eye?
On the third Thursday of every month, the Old Spitalfields Market in Shoreditch, London, is infused with colour, pattern, and joy. And we're not just talking about the treasures that can be found on the flea market stalls. Cue the regular gathering of vibrant spirits and creative souls – people who love, and live in, full, bold, bright, wonderful colours.
The Colour Walk, as it is today, has been led for the past five years by upcycling fashion designer Florent Bidois, and was inspired by the life and work of artist Sue Kreitzman, who could, be reliably found in her technicoloured glory each Thursday at the flea market.
"Sue is the constant inspiration behind the Colour Walk. To me, she is the face and I am the arms," Florent explains. "In December 2016, I organised my first Colour Walk as we know it: a monthly gathering of creative people who love to dress up and love colour.
"I have committed to organising it every month ever since, apart from a 16-month hiatus due to Covid. It's about supporting the market, expressing ourselves, and just having fun."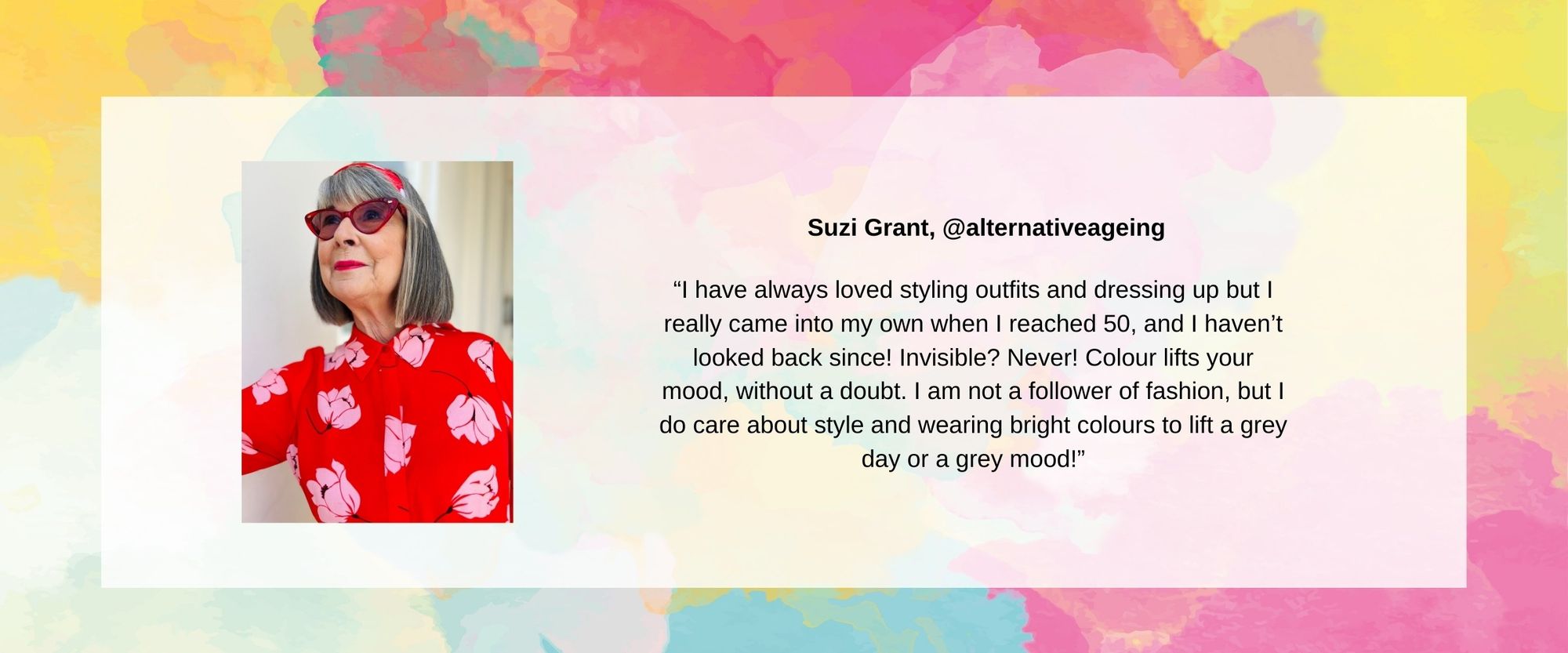 Here you will find a feast for the eyes, a multicoloured spread of prints, patterns, frills, and flare. Thrifted, crafted, savoured, and celebrated – below the kaleidoscopic surface, the Colour Walk is a safe space to express yourself as you truly are, and Florent shares that he's often told about deep feelings of 'belonging' experienced by attendees. Here 'Colour Walkers' find their tribe, a supportive group of people who gather together to experiment with style and with colour.
While the Colour Walk is a concentrated culmination of self-expression, these days, more and more of us are beginning to add a bit of buzz into our everyday wardrobes – and if you've walked into any highstreet clothing store recently, you might have noticed the prevalence of a certain trend. Dubbed 'dopamine dressing', bright, bold colours, statement prints, colour blocking, and neon are all the rage in 2022, and retailers are chomping at the bit to deliver on our desire to infuse some joy into our lives. After all, following the hard times we've been through recently, it only makes sense.
But the idea of boosting our mood with colour and with fashion isn't anything new. In 2012, a study from the University of Hertfordshire found that when participants wore clothes of symbolic value to them, their confidence increased. And, all the way back down the timeline, the emperor Charlemagne – born around AD740, near Liège in modern-day Belgium – wore red shoes at his coronation, as a symbol of his authority.
Colour has a huge impact on how we respond to the world around us (think marketing campaigns, and what the colours used are trying to get us to feel about their product), but they also do the same with how we relate to ourselves, and on what we tell others about the people we are. Momtaz Begum-Hossain is a colour theorist, author of Hello Rainbow: Finding Happiness in Colour, and also an attendee of the Colour Walk – who was, in her own words, born colourful. Consequently, this is a phenomenon she knows intimately.
"Every colour radiates its own particular energy," Momtaz tells us. "These energies make us feel a certain way, and that's why colour can impact our mood. For example, red is a high-energy colour, it makes us feel alert and awake. On the other hand, a soft lavender shade is the opposite, it has much lower energy, creating a calming effect.
"Spending some time understanding how colours make us feel means we can turn to them when we need their help. So, if particular colours make us feel more confident we could wear them in situations where we need to boost our confidence, or, if we want to relax and de-stress, we can incorporate colours that make us feel calm."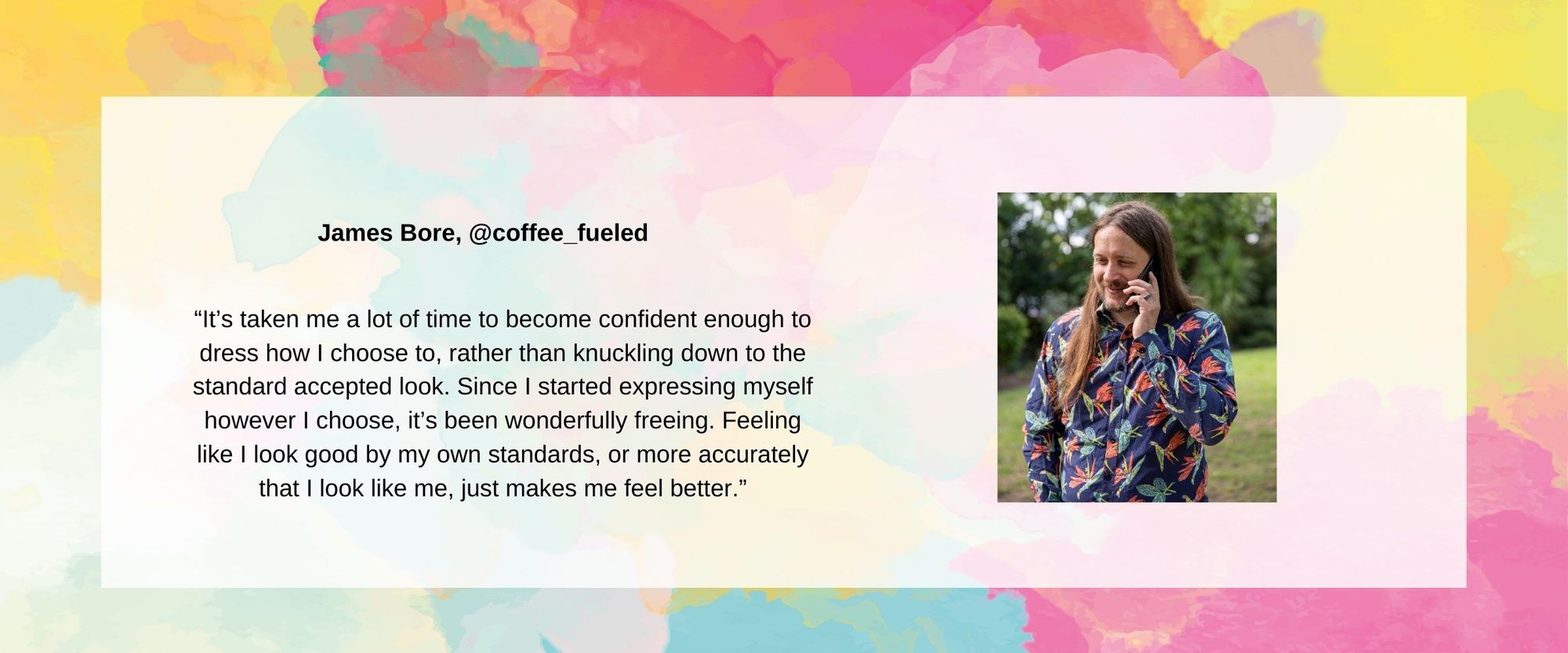 The study of colour, also known as chromatics, has a lot to say about which particular colours can be used for what – with one study, published in the journal Color Research and Application, going as far as to seek to establish how specific colours and patterns could be used in mental health environments to support patients – but, ultimately, our responses are subjective, and while a clear blue might soothe one person, another could find it energising. That said, there are still some guiding principles for you to follow in your colour discovery journey.
"As part of my work as a colour theorist, I've created a philosophy about how we can use colour to boost our mood and mental wellbeing," Momtaz explains. "It's called 'Hello Hue', and it's all about saying 'hello' to colour and welcoming it into your life, by encouraging you to prioritise colour every day. It starts with your mindset and being conscious about all of the choices you make.
"So, next time you have to make a decision, go for the more colourful option – this could be that you need to buy some flowers for a colleague so you choose the most colourful bunch you can find, you want to buy some cushions for your bedroom so you go out of your comfort zone and opt for a colour you wouldn't normally go for, and in your wardrobe you start to experiment with new colour combinations."
'Dopamine dressing' and expressing yourself should, of course, be about more than just following a brightly coloured trend that's bound to fizzle out by the next season. If it sounds tempting, note that it's not about going out and buying a whole new wardrobe, and should be about being authentically you, and using clothes and colours to guide your mood and self-expression. And you don't have to go 'all-in' at once.
Take fashion designer Florent Bidois, for example. Today, he can be spotted sporting eye-catching outfits, the kind of thing you could never pick off the rack, but he shares that his journey began with a pair of Topman skinny jeans.
---
"My first piece of advice would be to start small; one accessory, socks, a detail," Florent says. "My second would be to look for your people, surround yourself with like-minded spirits and cheerleaders. Because if you feel comfortable, you'll allow yourself to take more risks, and you'll become the example. Then everything's a ripple effect."
So, what do you want to tell the world about yourself? And, perhaps more importantly, how do you want to feel? Playful, creative, sophisticated, sexy, grounded, bold, calm, assertive, fun, cheerful, romantic, plucky – or that unique combination that makes you you? Whatever that may be, this is your sign to come as you are.
---
Looking to introduce a fresh perspective into your life? Connect with a professional using the Life Coach Directory.