LIFE
Corinne Fisher and Krystyna Hutchinson: Exploring sexuality (one wisecrack at a time)
---
With their popular anti-slut shaming podcast, comedians Corinne Fisher and Krystyna Hutchinson are redefining what it means to be a sexually-empowered woman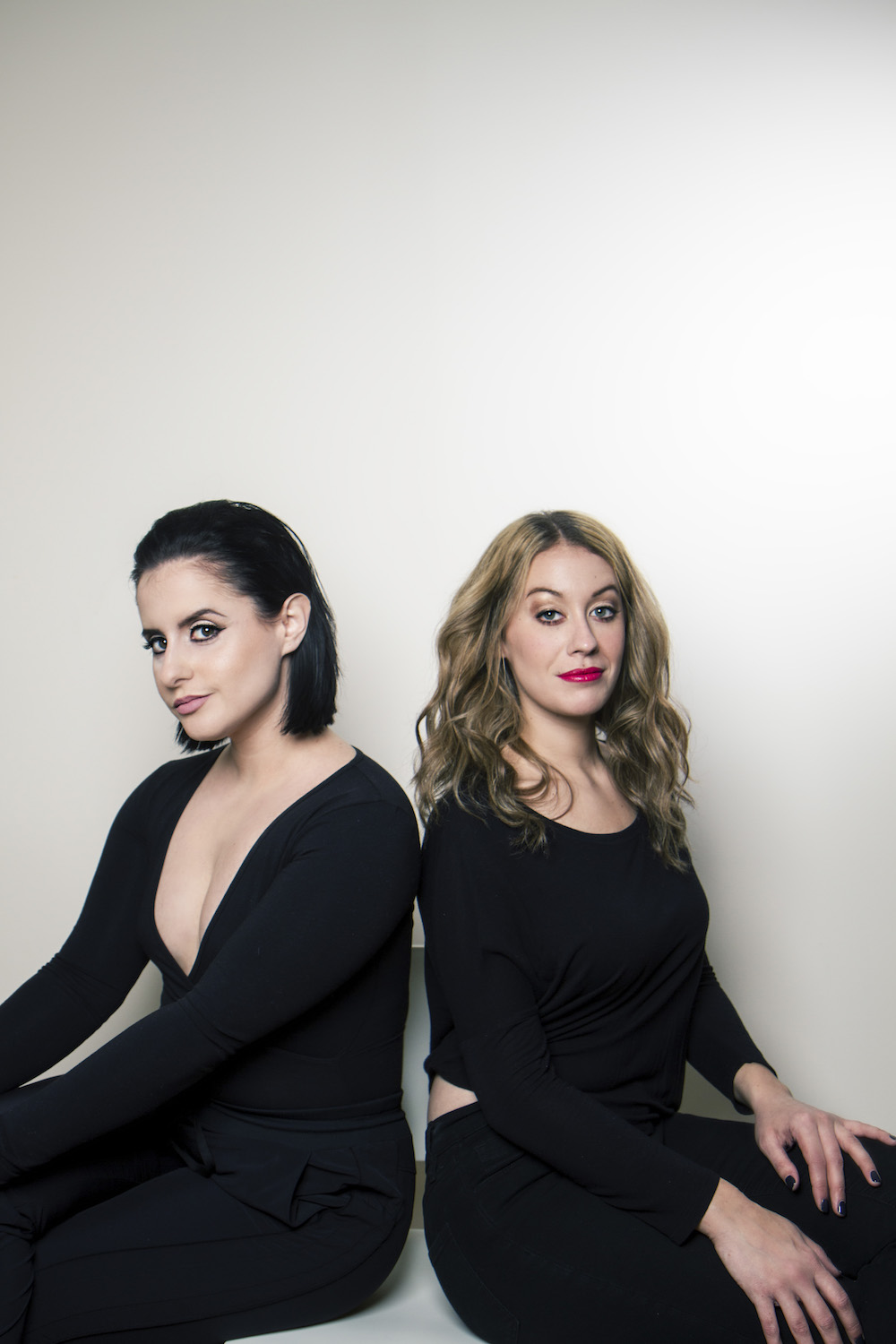 While working the New York City stand-up circuit under the double-act name Sorry About Last Night, Corinne Fisher and Krystyna Hutchinson gained notoriety for their risqué, yet relatable comedy. But it was in 2013, following a difficult break-up, that Corinne approached Krystyna with a new venture: a podcast where they interview the men they'd slept with.
What began as a jokey concept soon developed into something extraordinary. Among the butt-plug gags and the stories of one-night stands gone wrong, the duo started taking on the heavier side of sexuality, addressing everything from consent to abuse.
Inspired by hundreds of listener-submitted questions, their latest endeavour, the book FUCKED: Being Sexually Explorative and Self-Confident in a World That's Screwed, is a mixture of raw anecdotal chapters and scrupulous essays.
With an astounding 38.5 million listeners, sold-out live shows, and 325k subscribers on SoundCloud, Hutchinson and Fisher are undeniably the f-bomb-wielding voices of progression and female liberation.
We caught up with the duo to find out what makes them do what they do:
Firstly, who is your book for, and what do you hope they take from it?
Corinne: Our book is for anyone who has ever been made to feel bad about who they are or what they want sexually. It's for feminists ready to step outside the echo chamber, straight men who want an uncensored look into the mind of the women they pursue, members of the LGBTQ+ community who have said "fuck the status quo", and parents who want to raise kids who will love themselves first and worry about romantic relationships later.
Amazing! Do you take your own advice?
Krystyna: I do! It was a difficult adjustment to make from my previous years of ignoring my own advice. But you just have to remember to take a second and ask yourself: "What would I tell me to do?" We usually know the solution to our own problem, but getting to a place of accepting that takes practice.
Corinne: I have to constantly remind real life Corinne to think like "podcast Corinne". We're pretty much the same person, but real life Corinne is a little more of a party animal so she makes worse choices.
Did you learn anything surprising from interviewing all these guys?
Corinne: I was surprised by the positive things people had to say about me! I think I'm a great person and a thoughtful girlfriend, but I also know I'm a tough person to be in a relationship with because I expect so much of my partners emotionally. Unsurprisingly, I like choking people in bed.
Krystyna: For me, the biggest surprise was when we interviewed my ex, Adam. I swore that he dumped me, but after talking to him on the podcast he informed me that I was the one who did the dumping. That's a pretty big brain fart.
Since starting the podcast, who has been your favourite guest so far?
Krystyna: Stand-up comedians have a way of talking about dark subjects with a sense of humour, so I'd have to say those are my favourite kind of guests. Troy Alan, Wendi Starling, Blair Socci, Alyssa Limperis and Farah Brook come to mind. When you can make jokes about horrible things, it can be extremely cathartic. One of my favourite moments of the podcast was when we interviewed comedian Jessica Kirson and she told us about the time she was date raped in college. After hearing the story, we asked Jessica: "Why do you say 'date raped'? You weren't on a date!" There was a brief pause and then Jessica started cracking up. "I guess it was just regular rape then, huh?"
Where do you get your confidence from?
Krystyna: For me, confidence came with age. Having a comedy partner who is a genuinely confident woman also helps. Oh, and surrounding yourself with female friends who are supportive, kind and unstoppable in their chosen career fields! My girlfriends mean the world to me and being in their presence is always a confidence-booster because bad-assery is contagious.
And you, Corinne?
Corinne: Target.
The beauty industry is counting on people to hate the way they look. But don't fall for it
What about body confidence?
Corinne: Your body is the vessel that's holding your soul and your soul is the part that really matters, that's the part you really need to love. It's not for other people to comment on. And it's not there to make you feel bad about yourself. Start with the inner confidence and work your way out.
Krystyna: Don't beat yourself up. The beauty industry is counting on people to hate the way they look, but don't fall for it. Eat healthy and exercise but also realise that your body type is your body type and that's not something one can easily change without extreme exercise or surgery.
Even so, we all have insecurities – how do you deal with yours?
Corinne: I try to work on myself so that anything I feel insecure about becomes "better". I always love myself, but I certainly often expect more or better from myself. I'm not into just accepting myself as I am. There's a happy medium between pushing yourself and being proud of yourself.
When we boil it down, is everything just about exploring our curiosity?
Corinne: Not at all. I think everything is about self-confidence, loving yourself, and feeling free from shame. Those things allow you to allow yourself to explore your curiosities, but the exploration of the curiosities are not the foundation in my opinion.
Krystyna: I disagree. I think it is! Jon Ronson told us in an interview we did with him that when you stop being curious about people and ideas, you stop growing intellectually and emotionally and I couldn't agree more. To me, curiosity means being open to understanding anything even if you don't agree with the ideology. Curiosity is also what makes Corinne and I decent interviewers.
What advice would you give parents who want to talk to their children about sex?
Krystyna: Using the correct anatomical names for body parts is a good start. Kids shouldn't be forced to call their vaginas a "butterfly" or their penises a "wee-wee" because that sends a confusing message.
Corinne: And start early! Sex shouldn't be one anxiety-riddled talk that happens one time when your kid is 13. If educational sex talk is always present in the household, both parents and children will feel much more comfortable when heavier topics arise.
In these modern times, anyone can access porn. Do you think porn is a force for good, or evil?
Krystyna: I don't feel any extreme way about the porn industry because I've been educated on both the positive and negative aspects of the world of porn. Interviewing porn actress Asa Akira made me understand that it's possible, albeit uncommon, to have a truly wonderful experience in porn. But as far as how the industry treats its performers, watching the Netflix documentary Hot Girls Wanted made me realise how the porn business takes advantage of young women.
Corinne: Yeah, the porn "industry", like most industries, ain't good. I'm not going to say evil, but the industry itself mostly lacks respect for the welfare of its performers. The art of porn, however, I think can be good, depending on how it's made. I definitely consume porn, but I do so responsibly, meaning I don't do it every day and I also don't expect porn behaviour from my partners in my actual sex life.
Why did you start reading out emails, and then working on your listeners' problems on the podcast?
Krystyna: Listeners started writing us and asking for advice without us prompting them to do so. I think that's because they heard us talk so openly about our lives and about how much we don't know, so we unknowingly created a judgement-free zone that people felt comfortable lending their personal stories to.
Do you get feedback too?
Corinne: All the time! The podcast helps people to be more confident.
Krystyna: Whenever I'm feeling down about the state of the world, which has been frequent as of late, I'll stop reading the news and start reading emails from our listeners. Knowing that we help people to overcome a traumatic event is beyond anything I could have ever hoped for.
What advice do you have for couples looking to spice up their sex lives?
Krystyna: Figure out what turns you on. A lot of people, mainly women, don't allow themselves to explore their own body and figure that out. I tell women "think from your pussy!" From there you can entertain role playing, mutual masturbation or hell, even a three-way!
Corinne: Also, kiss more.
---
Subscribe to the Guys We Fucked Podcast on iTunes and Soundcloud.
'Fucked: Being Sexually Explorative and Self-Confident in a World That's Screwed' is out now (Little, Brown, £12.99)