CHILDREN
Body Positivity and Self-Acceptance: We Caught Up with Laura Dockrill About Her Teen Novel, Big Bones
---
We spoke to author, illustrator and performance poet Laura Dockrill about her latest book for teens and young adults, Big Bones.
A body-positive book for the next generation, Big Bones follows Bluebelle, aka Big Bones, aka BB. A bold, beautiful, confident girl who accepts herself for who she is - wobbly bits and all - Dockrill's most recent novel presents teens with an inspiring young woman we all wish we had been.
---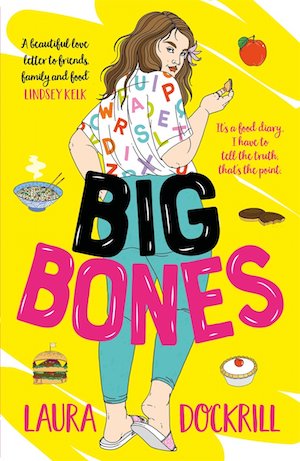 What inspired you to write Big Bones?
It's a bit of an apology and a love letter to my younger self as well as a conversation with my younger readers. I wanted to apologise for being so mean to myself as a 14 year old, so I wrote Big Bones as an endorsement of body positivity, food, confidence and womanhood. Things I needed to hear when I was 14. Enjoy yourself! Be proud and live out loud! I know it takes some personal bum kicking to get out of bed some days but you can be in charge of that and make stuff happen.
What inspired you to cover this side of the body positivity debate?
I've visited hundreds of schools and I've been shocked to see how young people are bullying themselves, and others, to look a certain way. Low body confidence can really impact your mental health.
I've seen kids at schools asking for 'likes' for Christmas - it's a scary time to be a teenager, so much time wasted on wanted to be 'adult' we forget to be young, we forget to be ourselves because we wish it all away. I realised I could maybe write a character that actually genuinely positively loves herself and her body.
I wanted to reach out to these young people, to give them a chance to defend themselves from the toxic world of Instagram filters, dieting and stupid unrealistic thigh gaps. These are all inventions created by media and brands to make us buy into our insecurities, to aim for a look that is unacheivable because it doesn't actually exist. This is your lot and you can be proud of that, now go and put your favourite clothes on and jump around.
Was Bluebelle based on anyone you know, or any personal experiences?
She's basically the girl I wished I was when I was 16. She's a part of me I had ignored for so many years and I loved getting to know her - and make up for all the food I pretended I didn't want to eat in the meantime!
What made you choose a diary format for Bluebelle?
I don't think BB's character would have otherwise written these things down if it wasn't in some sort of diary. BB could write as positively as she does about herself in a book because she believed nobody was actually ever going to read it. So it was actually genuine. She loves how she looks. There's a power and freedom in that.
Looking back at my old diaries in my mum's loft in research for the book they were so sad, full of self bullying and wishing I was somebody new. I thought, wouldn't it be amazing to find a diary from a teenage girl that actually liked herself? So that's what I did!
How important did you feel it was to show both sides of the body positivity movement - both the love and self-acceptance, and the health concerns around being overweight?
The book is not endorsing an unhealthy lifestyle in any way, BB is who she is and she's not ashamed of that. It's more an acceptance of what you are and being confident in that whatever you look or feel like.
Can we expect to see more of Bluebelle in future books?
Not Bluebelle herself but there will be more teenagers I can't wait to get writing about and finding out all about them...more on that soon!
What kind of reception/feedback have you had about Big Bones so far?
It's been completely amazing to see people react so positively to it and to Bluebelle. I'm delighted. I couldn't have imagined that I'd be standing next to a book like this when I was 15. I am patting my younger chubby self on the back.
Are there any more sensitive issues you'd like to focus on about for teens or YA audiences?
I do have some - especially for young women - and around the body. I'm cooking something in the old pot as we speak...
Do you think we're doing enough to promote body positivity to children and teens? What more do you think we should be doing?
Children are really struggling in this image-focused world. One thing that I really loved about my teenage years at Brit school was the way it allowed me to think like a child. It treated me like an adult but let me think freely, and be creative and just be myself, find myself without pretending to be too grown up and find the fun and beauty in the everyday.
If you could pass just one message about body positivity on to young people, what would it be?
Be kinder to yourself.
---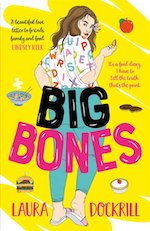 Big Bones is available in paperback and ebook editions now. Discover more about Laura, and keep a lookout for our review of her latest book in the June 2018 edition of Happiful Magazine in-store and online.
Photography Copywright Sonny Malhotra. With thanks to Tina M and Hot Key Books.