LIFESTYLE
12 I dos and don'ts to make your wedding day less stressful
---
When somebody says 'wedding', what comes to mind? Big poofy dresses, family, friends, sleepless nights, runaway budgets – wait, what?
A wedding is supposed to be the happiest day of your life. Yet so many of us feel stressed, overwhelmed, and unsure where to start when it comes to planning our big day.
When I got engaged back in 2017, it took months for the reality of it all to really sink in. Then, the nerves hit. Just the thought of people staring at us all day and being the centre of attention, let alone the thousands of tiny things that could go wrong, left me lying awake at night. But things don't have to be the same for you.
From a bride who's been there herself, here are 12 dos and don'ts to help make your wedding day less stressful, and, instead, the joyful occasion that you deserve.
1. Do… have big conversations early
Before you get swept up in dreams of a big white wedding and tropical beaches, make time to have 'The Big Conversation' with your partner. Setting a budget isn't sexy, but it's the foundation for everything that is to come. Sit down and talk about what you each want to get out of your big day, and what you can realistically contribute financially. You can't know what's best for your big day until you start communicating. Once you have a clear vision of the budget and what's most important to each of you, decisions and compromises along the way will become much easier.
2. Don't… break your budget
Once you've got a figure in mind, don't give in to temptation. Bigger bouquets, designer dresses, higher-tier wine packages, an extended honeymoon… there's always going to be something bigger, shinier, and more appealing. But that doesn't mean you should risk blowing the budget for each new idea that catches your fancy. Keeping a close eye on your finances can save you energy, stress, and money, and means you're spending only on what really matters to you.
3. Do… take time to create a vision board
Creating a vision board isn't just about how you want your day to look. It's all about how you want your day to feel. What do you want your wedding to embody? Is it about you as a couple, or a chance to feel close to your family? Will the guest list be in the single digits, or is everyone invited? Ensuring your vision matches up with your partner's can help the decision-making process to feel more cohesive, helping you feel less overwhelmed when it comes to all those little details along the way.
4. Don't… try to please everyone
Everyone is going to have an opinion about your wedding. Whether that's insisting that the next-door neighbour's daughter just has to come, critiquing your food choices, or questioning your colour palette. And, chances are, nobody's going to think about how sharing that opinion (often loudly) is going to affect you. Before you start to feel the pressure of so many different voices, try to remember: this is your big day. Ultimately, the decisions are down to you and nobody else.
5. Do… prioritise self-care
Having a sustainable self-care routine isn't about getting rid of the bags under your eyes or getting that perfect 'wedding glow' for photos. It's all about making small changes to boost your wellbeing. Try experimenting to find out what works best for you. That could mean sitting alone with a cuppa before the day has begun, or spending the last 15 minutes curled up alone with a good book and no social media. Give different techniques a try to help optimise your me-time.
6. Don't… worry about doing everything right now
The average engagement lasts 18 months. You may want to dive head-first into planning, but try to be gentle with yourself. Unless you've got a final payment deadline looming, or are about to lose the venue of your dreams, chances are, you can take a step back and put off selecting the perfect shade of green for another few days if you're in need of a breather.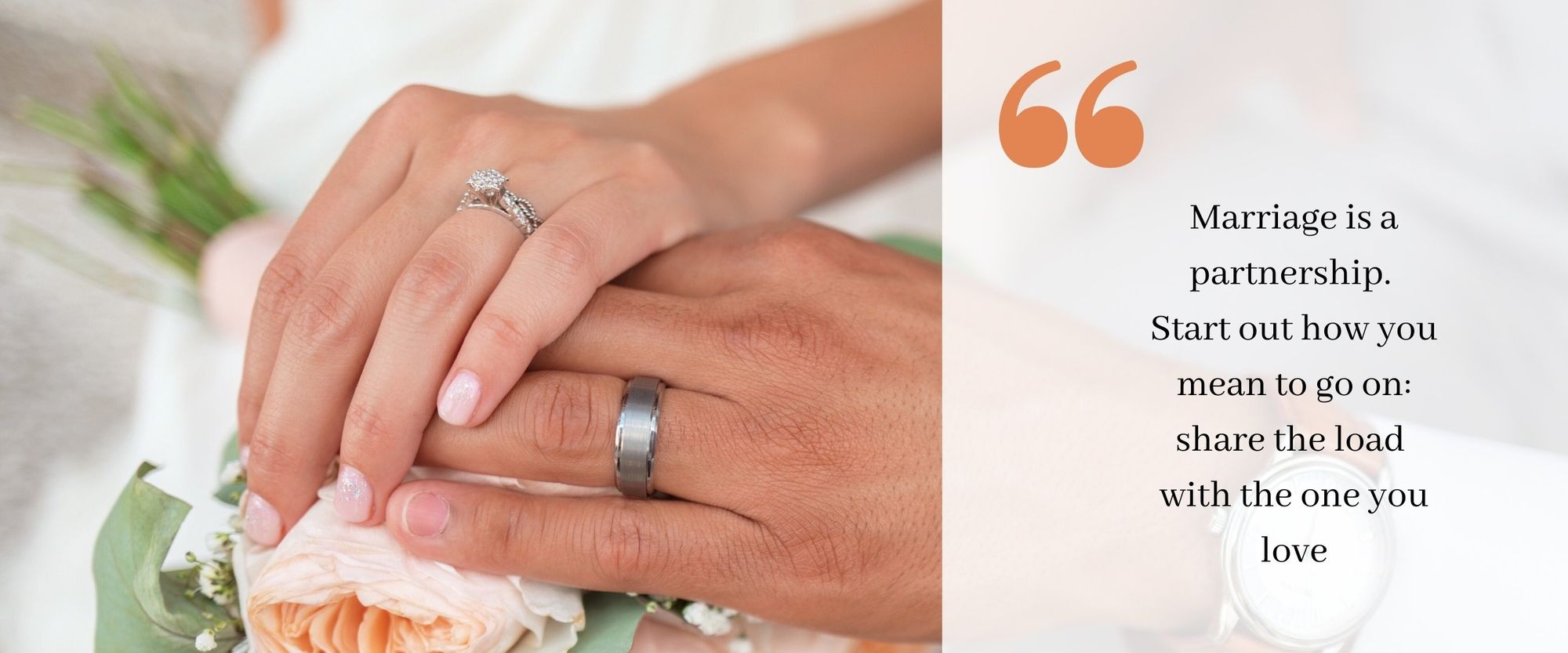 7. Do… take time away from planning
It's easy to get caught up in the excitement, but that initial buzz can turn into an uncomfortable pressure if you aren't careful. Setting expectations too high for yourself, or approaching it as something to please others and appear 'perfect' is going to turn it from a fun celebration into a chore. Making time to enjoy yourselves as a couple can help to ease any growing anxiety, and remind you both of what's really important: spending time together.
8. Don't… worry about being selfish
People like to throw around the terms 'Bridezilla' and 'Groomzilla', but the thing is, this is your day. It's literally a celebration of your union as a couple. As long as you aren't putting unreasonable financial or emotional pressures on loved ones, it's OK to focus on what will make you both happy, and forget the rest.
9. Do… speak with an expert
If your nerves are really starting to take a toll, there are numerous avenues of support to help you boost your confidence or rediscover some calm. Hypnotherapy can be a great tool if you feel as if your anxiety is getting out of hand, helping you to uncover what's causing these deep-seated feelings, and to learn healthy coping mechanisms to get you through it.
10. Don't… do a diet/detox
The wedding industry may be obsessed with dropping a dress size, but, honestly? That mentality just isn't healthy. Preparing for your wedding is stressful enough without the additional pressure of counting calories. If you want to reevaluate your relationship with food, working with a nutritionist can help you to find a more balanced, varied diet, and to boost your energy levels. Don't rely on quick fixes to try to get a specific 'look'. Focus on your health and wellbeing first.
11. Do… remember you have the final say
This is your big day. That means you get to decide on what happens. It's never too late to change plans, ditch table decorations you're having second thoughts about, or tweak the guest list to invite just one more friend for the evening. But you shouldn't feel pressured to make changes for anyone other than you (and your partner).
12. Don't… risk looking back and having regrets
Is there anything that you've been hesitant about? Are there any areas you're worried may be missing, or you wish could be different if only…? Building in time for reflection can help you to identify if there is anything you are clearly going to regret doing or not doing. You're already spending so much time and effort planning your wedding. While it's unrealistic to think that everything will go off without a hitch, it's OK to take time to think about the big picture and to make any changes while you still have time.
Admitting that you're feeling anxious, worried, or even scared about wedding planning doesn't mean you're scared of commitment. It's OK to reach out and ask for help and support. Marriage is, after all, a partnership. Start out how you mean to go on, and share the load with the one you love.
---
Learn more about the power of hypnotherapy and how it can ease anxiety ahead of your big day through Hypnotherapy Directory