SOCIETY
Writer and Mental Health Campaigner, Bryony Gordon Chats Sobriety and Learning to Love the Skin You're In
---
Writer and mental health advocate Bryony Gordon is certainly not one to shy away from baring her soul, as we've discovered in her first two books and award-winning podcast, Mad World. But in the past year, she's fully embraced exposing herself – both mentally and physically – by running the 2018 London Marathon in her underwear to champion body positivity, managing her own mental health as she works on her sobriety, and chatting with the rather charming Prince Harry in an interview that propelled mental health into the spotlight. With her third book, Eat, Drink, Run, out now, we catch up with the unforgettable Bryony, to talk running, recovery – and being unapologetically ourselves
Bryony Gordon is having her hair and makeup done for the Happiful cover shoot as we start to chat, her "looks" hanging on the rail behind her. This is not something that she feels altogether comfortable with.
"If you'd asked me to do the shoot in my underwear, I would have been happy to. In a way, it would feel more natural to me than this," she laughs.
Minutes later, she is showing us a hole in the bra she is wearing, which has created "a mini third boob", before photographing it and posting the picture on her Instagram. When I check the post later, there are more than 2,000 likes, with one follower commenting: "And this right here is why everyone f**king loves you."
It's obvious from the multitude of comments that people really relate to Bryony, no doubt helped by the realness of her posts, like this one, her warmth and chatter in the Telegraph's Mad World podcast, but mainly, I think, it's her willingness to share the dark (as well as the light and funny) moments of her day-to-day life.
Bryony has shared even more in her latest book Eat, Drink, Run. It follows her decision to run the Heads Together London Marathon in 2017, her training, the run itself, and how she came to interview Prince Harry about mental health – an interview that garnered international exposure, and helped to set the tone for many of the discussions around mental health that continue today.
Her latest book also explores some of Bryony's toughest times during that period. What we couldn't know from the images in the press is that Bryony was struggling badly on the day of the Heads Together launch in 2016, or that her obsessive compulsive disorder (Jareth, she has named "him" after The Labyrinth's Goblin King) was raging, and that just getting up and out of the door, took the kind of effort required to run an actual marathon.
It's two years exactly since that launch day, so in the same words Bryony uses at the start of every Mad World interview, I ask her: "How are you today, really?"
"Fine," she shoots back, and bursts out laughing.
"Just joking – I am fine, I'm feeling quite perky today actually. I've been out for a run this morning and I'm happy to be here."
But Bryony now recognises that how she feels can change from day to day, and some days will be, in her words, "crap".
"The greatest thing I've learnt over the past few years is that the way I'm feeling now, isn't the way it's always going to be," Bryony notes. "I used to have breakdowns, get stuck in a funk, and I couldn't ever imagine not feeling that way. Now I know that it will pass, and I just need to hold on."
The sentiment reminds me of British author and journalist Matt Haig's weather analogy: we are the sky, and the clouds (moods and depressive periods) come and go. "Ideally we're all aiming to be like St Lucia," Bryony quips, "and sometimes we get Scunthorpe."
Eat, Drink, Run ends with Bryony completing the 2017 marathon, but as it's been just three weeks since she completed her second marathon, I ask her how she feels having run not one, but two, in just under a year.
"The first one, I found easier – physically – and the second one I found tougher – it was 10 degrees hotter though," Bryony says. "I thought that because I was sober now, it would somehow be easier than the first – perhaps I was a little complacent."
Reminiscing over the test of endurance, Bryony smiles broadly. "They were just totally different experiences, but still amazing. I could not believe the support we got. People we didn't know made banners, and runners came up to us to say thank you for what we were doing."
Bryony and her running buddy, model Jada Sezer, ran the 2018 London Marathon in just their underwear and trainers – a feat of personal and physical strength, given that Bryony went on to pull a muscle in her chest from doing so.
Once you expose shame to the light, it dies. It's completely liberating. I don't feel shame about anything now, because I think it's the most dangerous emotion
"We never planned to do it [in our underwear]. When I first met Jada, she wasn't aware that people like us – not a size eight – could do marathons. We agreed to run it together, and as we got further along on training runs, we thought, 'Why don't we do this in our underwear to prove that runners' bodies come in all shapes and sizes?' The response we got was phenomenal, and it really helped our confidence too – it was great for body positivity."
If running two marathons wasn't epic enough, in the year between the first and second run, Bryony interviewed Prince Harry for the first in her series of Mad World podcasts (she also recently commentated on his wedding for ITV, as well as having a private audience with Meghan Markle for an article which ran in the Telegraph the week after their nuptials), started her recovery from binge-pattern alcohol addiction, and wrote Eat, Drink, Run. It's a huge amount to pack into 12 months – so how does she feel looking back over that?
"It's incredible, but it's all been very accidental. It feels like the most wonderful, weird thing that I've taken this negative and turned it into a massive positive. It's all come from admitting to the stuff going on in my head," says Bryony.
This confession leads us to discuss Bryony's OCD – a disorder we have in common – and both agree that sharing experiences about our mental health can help to dispel the shame we can feel. And it's at this point that Bryony becomes serious. "Shame is the biggest, biggest feeder of mental illness. It keeps you silent. I always think that mental illness works a lot like abusers in that they want to operate in silence – they don't want you to tell anyone – because then the secret is out and things might happen to counter it."
"Once you expose shame to the light, it dies," she continues. "The reaction is never as bad as you think it's going to be, and it's completely liberating. I don't feel shame about anything now, because I think it's the most dangerous emotion."
And shame is a topic Bryony is passionate to make accountable for what it is, as an aid to dispel it taking a hold of so many of us. She says: "Shame just means that you don't realise that there are plenty of other people out there just like you. For a long time I thought I was the only mother in the world who drank too much, and drank to black out. Now I realise that I'm absolutely not and, in fact, there are lots of other women going through the same thing."
Full interview out from Thursday 14th June in the July issue of Happiful Magazine
---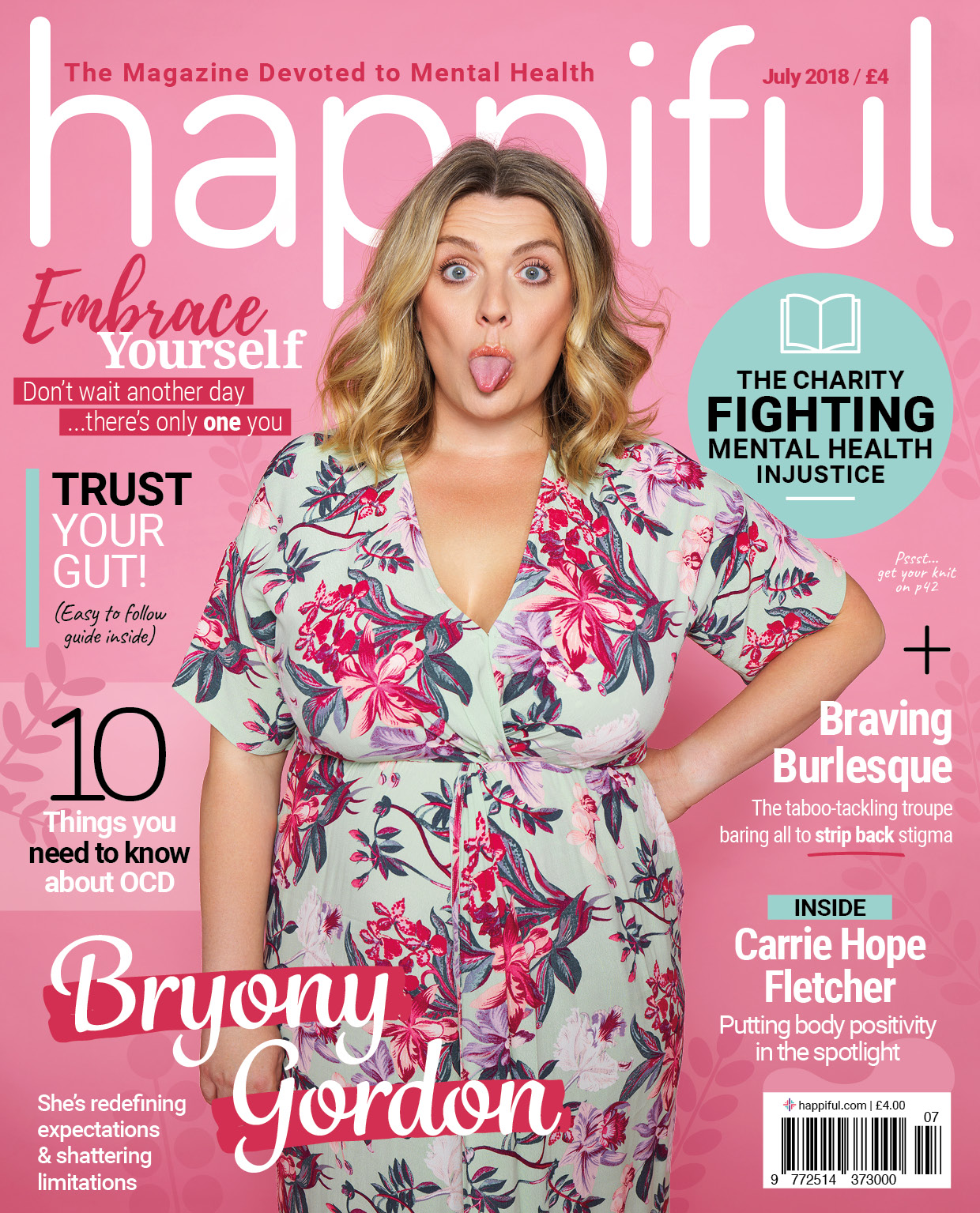 To read more of Bryony's exclusive chat with us, pick up the July issue in all major supermarkets this week.
3 Ways to Get Happiful Magazine
In-store: Pick up your copy in Waitrose, Tesco, Sainsbury's, Morrisons or Asda. Find a store near you.
Online: Happiful is completely free to read digitally. To get July in your inbox this Thursday, subscribe now.
Happiful Shop: Can't see your copy of Happiful in a store near you? Head to our online shop.