NEWS
Worried about a loved one's mental health this Christmas? How to help
---
More than half of us are concerned about someone's mental health this festive season. Here's how to start the conversation and show kindness
Christmas can be a wonderful time of year; it's a chance to see loved ones, create memories and exchange gifts. But, it's not always the most wonderful time of year for everyone. And, especially with a pandemic at play, for many people, the weeks ahead are feeling uncertain.
According to a survey of more than 2,000 UK adults by the Mental Health Foundation, over half (54%) are worried about the mental health of someone they know this Christmas. As we enter the festive season, significant numbers of people are expressing their concern for the mental health of relatives (38%), friends (31%), partners/spouses (27%) and children (28%).
With news of a vaccine, there's a taster of hope on the horizon; two in five (42%) said they are feeling happy, hopeful or excited about the season. Yet, despite this, nearly a third (31%) reported feeling anxious or stressed as we approach Christmas.
Reflecting on the findings, Mark Rowland, Chief Executive of the Mental Health Foundation said: "We will remember this year for a cruel pandemic and how it exposed deep inequalities in our societies, but also for the public outpouring of kindness in our communities as we faced great challenge. These findings show that compassion is still alive in the UK, with more than half of British adults concerned about the mental health of someone in their lives.
"Now is a time for re-discovering the power of kindness. Research shows that an act of kindness demonstrates our concern for another's vulnerability. It can help someone feel appreciated and has the power to reduce stress, improve mood, self-esteem and happiness. It's a gift that has the potential to protect our collective mental health."
So, if you're worried about a loved one's mental health this Christmas, now's the time to start a conversation. It's not always easy to talk about, but encouraging someone to open up about how they're feeling and helping them to access support is a wonderful act of kindness. In our book, that trumps any gift under the tree.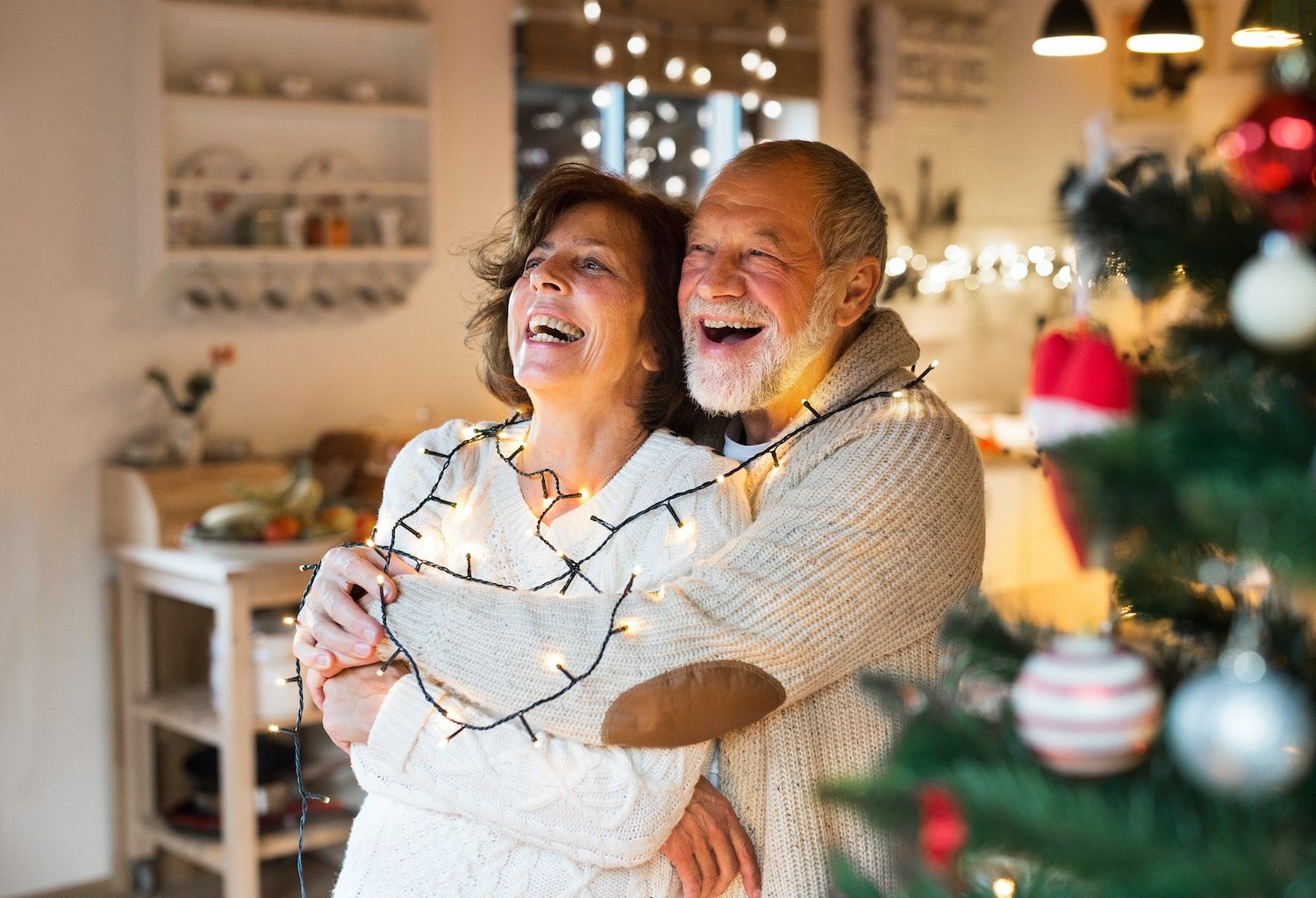 How to talk to someone about their mental health
How do you bring up the topic of mental health with someone you're worried about? What if you're not used to talking about such personal things with them? What if talking about it makes the situation worse?
It's normal to feel apprehensive about having an important conversation. But, the best thing you can do is start talking.
If you're not sure how to begin a conversation about mental health with someone you're worried about, here are some tips to help.
Reach out
The first step is simply to ask how they're feeling - show that you're available to talk. Ask how they are. Tell them that you're concerned or you've noticed them acting differently lately and that you want to help, if you can.
Particularly with social distancing restrictions, isolation or loneliness are more prevalent this year. By arranging a phone call, video chat or posting a note or a card, you can help to combat this loneliness and make a big difference to how that person is feeling.
I would say firstly it's ok not to be ok right now. Check in with them, ask what they need from you if they're struggling. Offer to talk or just listen. Be guided by them.
We all need connection it's human nature. Use the things that we've adapted to this year, zoom, FaceTime,

— Sam Adams- The REAL LIFE Coach (@ThisIsSamAdams) December 8, 2020
Environmental Psychologist and Wellbeing Consultant Lee Chambers adds, "Be encouraging, and consider how you can share an activity or give them the space to talk. Listen and be present if they engage you, and if they don't, let them know you are only a phone call away."
"Just being kind in the festive period is a powerful way to bring joy to others around us, but also ensuring that anyone who is finding things challenging knows that it is OK to feel that way."
Pick your moment carefully
With all the hustle and bustle of the festive season, it can feel hard to find a quiet moment. Just make sure you approach the conversation with the right intentions and try to keep as open-minded as possible - even (or especially) if you feel out of your depth.
Don't bring up the topic during an argument and try to choose a time when you're both getting along. That might be over a cup of tea or when you're out for a walk together. "Try to get them to embrace nature," says Lee. "The mental wellbeing benefits of the outdoors are considerable, and people so often feel rejuvenated by icy wind and winter scenery.
"Don't pressure them, and give them space to come as they are and how they are feeling at that present moment. The lack of judgement will support them to feel acceptance, which is vital in feeling valued and appreciated."
Whatever the problem is and whatever your relationship is with the person you're worried about, just approach the conversation with kindness and sensitivity.
Listen carefully
While you may be desperate to make the situation better, don't try to offer your advice straight away. Even if you have first-hand experience of mental illness, or know someone who does, that's not helpful right now. At first, you just need to listen to them.
Asking open-ended questions like 'How do you feel about...?', or 'Why do you think that is?' can help you to understand a little more.
Be encouraging
Try to pinpoint the things they're doing right and give them hope. Say they're doing a good thing by talking to you about it and show them a clear path ahead.
"Offer an empathetic ear and make them heard without offering advice e.g. 'That sounds tough', 'I'm sorry you're feeling that way', 'I hear you'. Sometimes people just need to be heard; they do not need advice," says Life Coach Directory member Nick Hatter.
"Remind them that whatever they are facing now is temporary, even if painful."
Give them resources
Send them links to useful websites where they can read up about potential mental health problems, share their experiences with other people and find out how to get help.
"Do suggest professional support if they are really struggling - Counselling Directory and Life Coach Directory have various vetted professionals," says Nick. "And remind them that it's not a sign of weakness, but strength and humility."
If you think they might benefit from seeing a verified counsellor, point them to Counselling Directory and encourage them to browse counsellor profiles to get a better idea of what it all involves.
Make sure you're looking after yourself
Nick offers a word of warning: "We can become codependent in trying to help those who have poor mental health, and we may end up becoming frustrated or exasperated in trying to help - especially if they don't follow our suggestions.
"Thus, remember to practice self-care, and if you feel overly drained, burdened or resentful, you may have to set boundaries or detach with love."
The saying is true, you can't pour from an empty cup. If things are hard right now, prioritise some 'me time', so you can relax and reflect on how you're feeling. Christmas should be an enjoyable time, so make sure you're showing yourself kindness, too.
---
If you or someone close to you is in distress or having suicidal thoughts, phone Samaritans on 116 123, text 07725 90 90 90 or email [email protected].
For further advice, Counselling Directory has an Instagram guide on how to support someone with their mental health. Or, the Mental Health Foundation has a guide on how to talk to someone about their mental health and how to help in a crisis.