WELLBEING
What are the wonderful wellbeing benefits of Lego play as an adult?
---
Despite the popularity of Lego for childhood play, it might not be the first hobby that comes to mind when you think of a therapeutic activity for adults. But, could this enriching and playful pastime form the building blocks for better wellbeing?
It's no surprise that Lego brings wonderful learning opportunities for both adults and children, but apart from the commonly known benefits like teamwork and communication, more and more research is focusing on the wellbeing benefits that come into play as well. According to Lego Group's Play Well Report 2022, 93% of adults regularly feel stressed, while 86% of adults claimed that play helps them to unwind, and, as a Lego fan myself, I can certainly vouch for this.
Clicking together shiny, coloured bricks for an hour after work each day was an unexpected, but welcome, joy that I'd never planned to indulge in. Don't be fooled, I'm no pro Lego creator. And, truth be told, I was never drawn to Lego as a child like others were. In fact, it was only a few months ago that I really became fascinated by it and truly understood the appeal. I briefly mentioned to a friend that I was in need of a new hobby, and to my surprise she gifted me a wonderful 756-piece flower bouquet set. Since then, I have found it to be a great toolkit to managing stress and helping me switch-off.
Whether you're an adult re-awakening your childhood passion, or just discovering the fun of creating and building from scratch for the first time, I'm not alone in finding joy, as well as a wealth of wellbeing benefits, in this newfound hobby. Since the launch of the 18+ Lego kits in 2020, more and more adults are heading to stores to alleviate themselves from the stressors of everyday life, and it's pretty easy to see why.
So what actually are the benefits of Lego play, and how can it be used to rebuild your wellbeing?
Mindfulness
We know that mindfulness can sometimes go amiss in the hustle and bustle of our daily lives, but practising mindfulness through a hobby can certainly make it that much easier. The next time you construct a Lego build, notice what your hands are doing while you interact with each brick. Consider the colour of the bricks and the shape of them. How does it make you feel? Ready to give this a proper go? Visit lego.com to read their step-by-step guide to mindfulness.
And if you want to delve further into the art of mindfulness with Lego, Build Yourself Happy: The Joy of LEGO Play, by author Abbie Headon (£9.99, DK Publishing), is the delightful self-help book with 50+ building activities and tips, specifically designed to help you find your mindful moment.
Relaxation
Activities like painting and crafting induce a naturally calming effect on the brain, and it's no different for Lego. In an article by Well+Good, psychotherapist Melissa Lapides expresses the benefits of using it to reduce stress and anxiety. She says: "When you're focusing on creating something, you're pointing your mind in the direction of what you're creating. This doesn't leave room for unwanted thoughts to penetrate your brain."
She goes on to explain that the hand-eye coordination required for this creative pursuit helps to induce the brain into a meditative state, reducing uncontrollable thinking, which can help to decrease anxiety.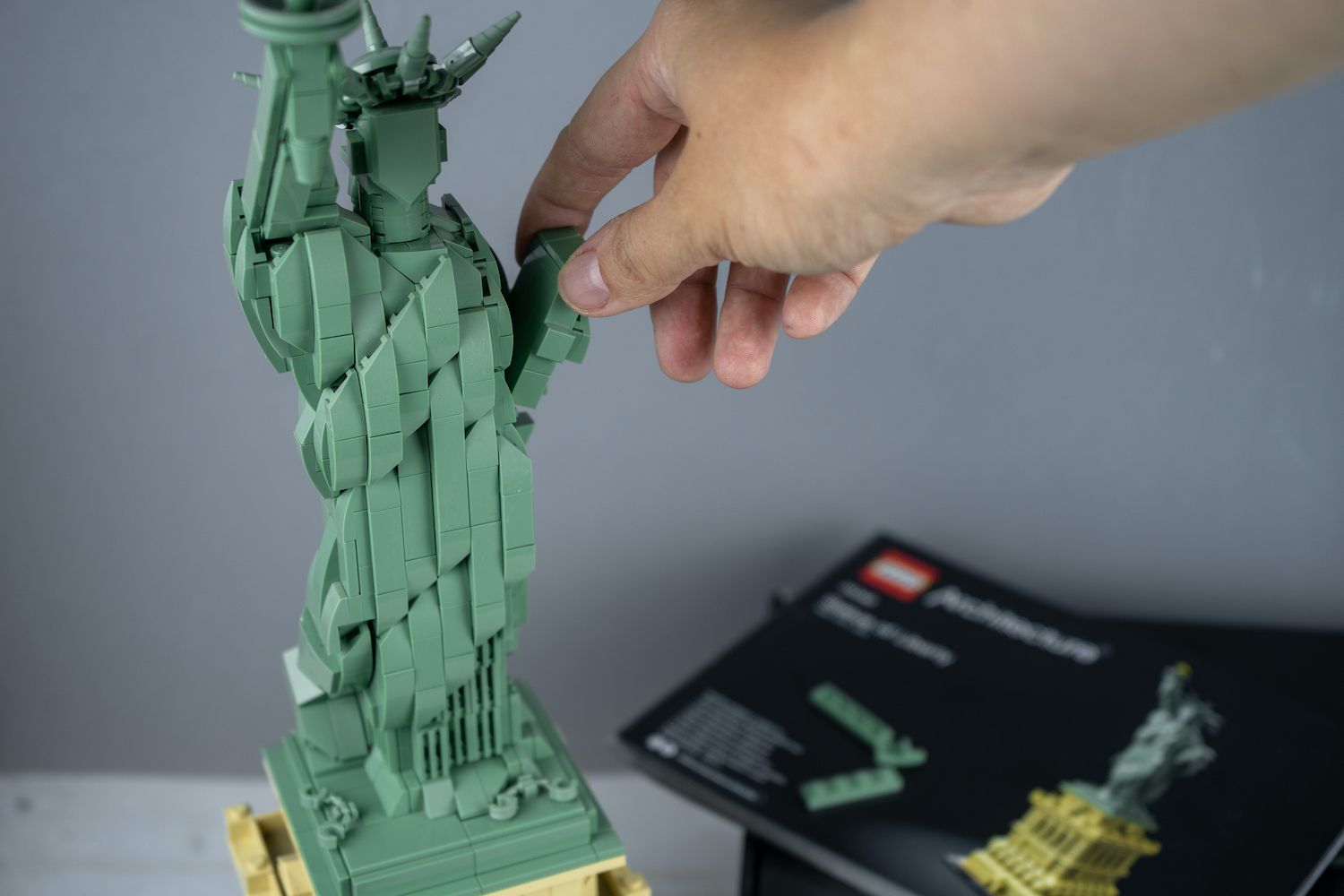 And if this isn't enough to convince you, Lego has also created a soundtrack called 'LEGO White Noise' which is specifically designed to promote relaxation using the calming effects of, well you guessed it… white noise. If the gentle, rhythmic clicking of Lego bricks being joined together soothes you, or even the sound of thousands of bricks being poured at once, head to Spotify to give it a listen and induce a moment of serenity.
Self-esteem
According to the Lego Play Report 2018, 95% of parents claimed Lego helped to nurture their child's confidence, and if you've ever felt the sense of accomplishment that comes with completing a task, you'll understand why. This rewarding feeling you get from finishing a Lego build can provide a dose of encouragement when your self-esteem is running low, acting as a friendly reminder of your capabilities, and can build your confidence as a result. It's a very literal metaphor of what we can build when we take things one step, or brick, at a time.
Dopamine burst
Dopamine is a neurotransmitter that creates feelings of pleasure and reward when it is released. And though meditation and exercise are more widely known to help stimulate this feel-good chemical, research from the Lego 2018 Play Well report shows a clear link between regular play and happier, healthier families. This suggests that the time spent creating and accomplishing together in a playful environment helps to release this surge of dopamine from the brain, ensuring that sense of achievement impacts the whole family.
---
Image credit | zkolra / Shutterstock.com
---