BLOG
The revolutionary power of getting to grips with your full range of emotions
---
In need of an emotional release? It's time to explore the full spectrum of your feelings – and learn how to accept them all
It's funny, really: emotions are the very essence of being human, and yet we don't devote much time to truly contemplating them.
Most of us take feelings at face value, or shy away from those with seemingly 'negative' connotations, without really thinking about what they might be trying to tell us.
What is behind our frustration that we're too afraid to voice? Why is it that our eyes mist up when a joyful moment takes us by surprise?
Emotions are complex, and multi-layered, and sometimes expressing them can come with a lot of stigma.
But when we withdraw from facing how we truly feel, we risk not recognising the signs that our needs are not being met.
This special edition is dedicated to understanding the full spectrum of our emotional experience, from the powerful ways joy can help counter burnout, to the enlightment we can get from connecting with other generations.
Many of us will have first-hand experience of wanting to hide away from so-called 'negative' emotions, but we want to emphasise the fact that there is no such thing!
From our columnist Michelle Elman's personal experience with survivor's guilt, to coping with triggering situations, and redefining our perceptions of rage, there should be no shame in whatever it is you are feeling.
Plus, this emotions special, our issue 70, print edition includes:
• Enlightening features including a spotlight on seasonal friendships, myths about success (and how to really succeed), the truth about aphrodisiacs, and liberation from the need to be liked.
• Life-changing hacks on how to handle jealousy, morning rituals to improve your sleep, and anxiety-busting weekend activities.
• Expert advice on topics such as lovebombing, accepting your relationship with your body post-baby, and how to deal with resentment.
Every emotion has value, and the ability to teach us something. Recognising the full range of our moods allows us to appreciate the light and shade of life, and truly value all aspects of the human experience.
Without moments of sadness, we couldn't grasp the infinite value of love and contentment.
So, wherever you are on the emotional scale, know it won't last forever, and there should be no shame or secrecy. Allow yourself to feel it all.
As Yogi Berra so artfully put it: "Whatever you do, you should do
it with feeling."
Happy reading!
Rebecca Thair
Editor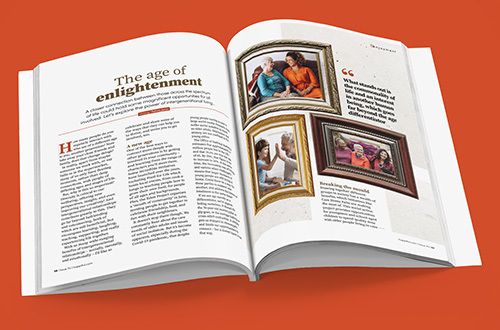 Happiful's mission
Ensuring that everyone has access to mental health and wellbeing support – with no financial or geographical barriers – is our goal. So, we've created a variety of ways that people can access our free content devoted to mental wellbeing, including our website, app, podcast, and digital magazine.
But, natually, creating this award-winning content does come with a cost. And it's thanks to our fantastic print subscribers that we're able to fund this – so we want to say a big thank you!
If you'd like to support our work and mission, please head to our online shop to explore our range of subscription offers, which include:
• Happiful delivered straight to your door each month
• Free postage and packaging to the UK and NI
• Exclusive early release for print readers
• Specially crafted guided journaling pages in each print edition
Plus, did you know that the magazine and it's packaging are fully recyclable, and for every tree used to create the mag, we plant two in its place?
Order your copy of Happiful today.