BLOG
The pursuit of progress: how to truly appreciate and celebrate our wins
---
It's easy to get so focused on the end result, or the next 'thing', that you forget all the positive steps you've already taken. But a little recognition goes a long way – you deserve to be proud of every achievement, and acknowledge each victory, no matter the size
Do you ever have days, or maybe months, where the challenges you're facing feel insurmountable? Time is passing, but you seem rooted in place, making no headway, no matter how hard you try.
The truth is we're so used to worrying about every stumble, or infinitesimal step back that we don't often look over our shoulders to appreciate how far we've come.
Last summer, alongside a group of friends, I climbed the three highest mountains in the UK in 24 hours for charity – and it struck me what a real-life metaphor this was.
Every ascension offered spectacular views, but we didn't dare take more than a swift glance around us to appreciate the passing beauty, due to the strict timeline.
As we progressed, that view became obstructed by clouds, or the path hidden behind outcrops, weaving between the folds of Mother Nature. And from the top? Elation at having actually made it, knowing we'd come a long way, but, in a literal sense, not being able to see it. Then, moving immediately on.
When bringing together this issue, our sixth anniversary edition, naturally it felt like a time to celebrate, to reflect on how far we've come. But in doing so, I realised how little we do that very thing in real life. How the passage of time sweeps us along, and we're so focused on that next step that we don't really appreciate all the ones we took to get there in the first place.
Climbing those mountains, every step was an uphill battle. I was bringing up the rear the entire way, worried about holding everyone back. But descending? I felt like I was flying down. Yes, I fell repeatedly, but did I get back up? Yes. Did I make it to the end? Yes.
Much like in life, we need to go at our own pace. We struggle and succeed uniquely, and above all, we'll all get there in our own time.
You'll get there in your own time.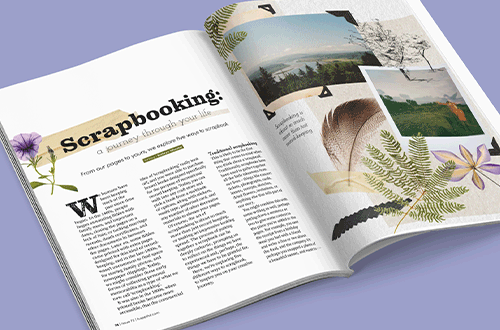 Alongside covering this theme of celebration and appreciating the moment, our issue 72 print edition includes:
• Engaging features such as an inside look at 'career cushioning' and why it's trending right now, breaking age stereotypes, and the powerful effect of the five elements of wonder.
• Effective hacks on re-establishing routines, recognising food allergies vs intollerances, self-care rituals, and supporting a friend through an infertility diagnosis.
• Expert advice on topics such as the importance of pronouns and how to respect them, moving past shame, and how to address cortisol hormone imbalance.
• Exclusive guided journaling pages helping you to recognise and celebrate your achievements.
If you take one thing away from this issue, know that you deserve to feel proud of every little win. That, much like the Japanese tradition of hanami teaches us, we need to relish the moment and celebrate our victories – we do ourselves a disservice to continue allowing time to pass us by without recognising them.
Happy reading,
Rebecca Thair
Editor-in-Chief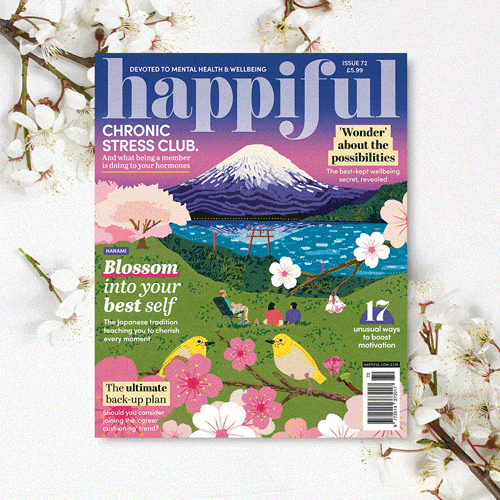 What does Happiful stand for?
As a certified B Corporation, Happiful is committed to using our company as a force for good. We want to create a healthier, happier society, and part of that is ensuring that everyone has access to mental health and wellbeing support – with no financial or geographical barriers. With that in mind, we offer several free ways that people can access our content – via our app, website, podcast, and digital magazine.
We're eternally grateful to our amazing print subscribers whose paid subscriptions allow us to fund this – so we want to say a big thank you!
If you'd like to support our work and mission, please head to our online shop to explore our range of subscription offers, which include:
• Happiful delivered straight to your door each month
• Free postage and packaging to the UK and NI
• Exclusive early release for print readers
• Specially crafted guided journaling pages in each print edition
Plus, did you know that the magazine and it's packaging are fully recyclable, and for every tree used to create the mag, we plant two in its place?
Order your copy of Happiful today.