SOCIETY
The Power of Sport Helping Men Talk and Share Experiences of Mental Health
---
Sport Relief funded initiative, Kick into Action, is engaging older men in walking football, offering them a space to return to the sport on their terms
When Gerry's GP told him he was suffering from depression 15 years ago, he didn't understand what it meant. He knew he was feeling low, that he'd struggled with suicidal thoughts, but it took some time for him to come to terms with the diagnosis.
Gerry went to see a specialist where he was able to talk through his feelings. While he found that medication helps him to keep on top of his mental health, 18 months ago he joined Kick into Action, a Newcastle United Foundation initiative which, with the support of funds raised by Sport Relief, is engaging men in walking football. Gerry says that getting back onto the pitch a decade since he last played has given him a new lease of life.
"I started at Walking Football 18 months ago. At first, I was very quiet because I only knew the guy I'd gone with, but after that first game, I went home full of the joys of spring. I loved every minute of it.
"Getting back to football has been brilliant because it's something I thought I'd never do again. I played from eight to age 60 and I've really missed it."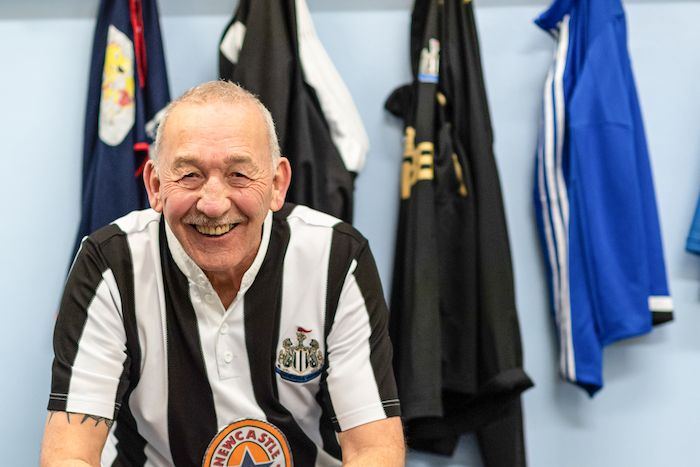 Speaking with Sport Relief, he explained that during times when he has felt particularly down, "the exercise, getting out and meeting your friends, takes your mind off other things.
"Everybody goes through struggles at one time, whether physical or mental. Depression is one of those illnesses that's invisible but very real," he said. "There's this feeling that you should 'man up' but that's really hard to do. I wouldn't wish depression on anyone, but it has made me more understanding and more open."
While the weekly activity has been good for his physical health, Gerry says that his mental health has benefited enormously from both the exercise and sense of camaraderie he has found amongst his teammates. He's also found that opening up to other players about his own battle has encouraged them to do the same which has been an enormous relief and source of strength to them all.
"We were in the changing room after the match and I said I suffered from depression. That led another lad to open up and say he did too, and another told us he had Parkinson's. Talking really opens up the door and it's such a relief to know you're not the only one going through something.
"Walking football makes me feel young again, the game itself, the changing room banter.  It gets me out, meeting people, building friendships which make it easier to chat. I always leave feeling uplifted and when you find yourself going down a bit, you get back on the pitch and you're lifted again. I look forward to it."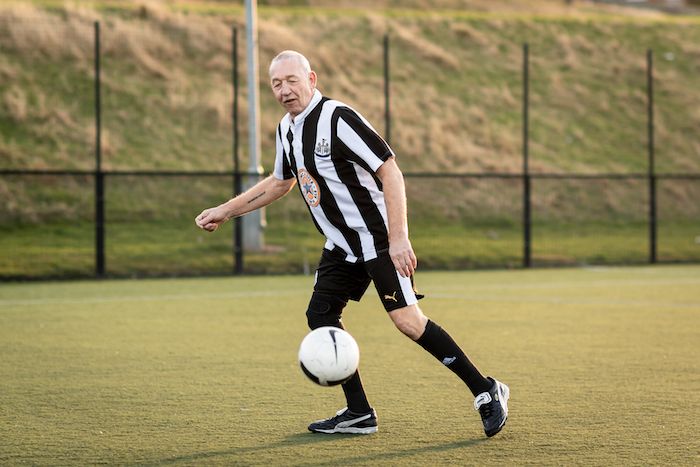 Sport Relief
Sport Relief brings the UK together to get active and raise life-changing amounts of money through the power of sport. Money raised by Sport Relief is used to help people like Gerry, to support projects tackling mental health, domestic abuse, homelessness and child poverty both in the UK and around the world.
Sport Relief is back on our television screens on Friday 13 March, 7pm on BBC One or catch it later on iPlayer. To learn more about where the money goes, or to donate, visit the Sport Relief website.
Kick into Action
Kick into Action brings the Newcastle United Foundation together with Age UK in Newcastle, Gateshead and North Tyneside to run a comprehensive new physical activity and social action project for less active older men. The project engages the men in walking football and then works with them to identify and address issues in their local communities. The investment pays for promotion staff and venues for the project as well as training for the participants. By getting inactive older men engaged in positive physical and community activity, the project will improve their health and build greater community connections in the areas where they live.
If you're based in the North East of England, you can find your local walking football game on the Newcastle United Foundation website.
Image Credit: Richard Lee / Comic Relief
---