WELLBEING
The Power of Social Media in Helping Women Embrace Their Bodies
---
What happens when 65 women come together to celebrate body positivity?
Magic. That's what happens.
We're big fans of the body positivity movement here at Happiful. So, when there's an opportunity for us to meet other like-minded people in the industry, we're never ones to pass up the chance!
Last night, I attended a special event - a first of its kind in the wellbeing sector - to bring 65 women together as a community, to create a positive body image culture amongst young women. The event fell at a particularly poignant time in the wellbeing awareness calendar, of course - during Eating Disorders Awareness Week.
It was only last year that a study by The Royal Society for Public Health reported Instagram as the worst social media platform, in terms of its impact on young people's mental health. However, with the tickets for this event advertised and sold via social media, it's a reminder of the positive impact social media can have, in bringing a community of like-minded people together - and bringing them away from their screens.
Just had the loveliest time at @bodyimagemvmt's #EmbraceYou event run by @Rhitrition, @PhelanWell, @curvyliving, and @tallyrye! So many inspiring women - a little overwhelmed! #edaw #neda #EatingDisordersAwarenessWeek #mentalhealth #femalefounders pic.twitter.com/Zkl4J7PNyF

— Prezzroom (@prezzroom) February 27, 2018
What was it?
We were treated to an exclusive screening of Embrace, a documentary which has sparked an international media frenzy and has been seen by over 100 million people worldwide. The best thing is, with every screening of the film purchased and shown, the money goes towards a free schools programme to help combat poor mental health, body image problems and eating disorders which devastatingly affect over a million people in the UK alone.
Embrace tells the story of Taryn Brumfitt and her journey from body loather to body lover; an Australian wife and mother who embarks on an international crusade to change the way we think and feel about our bodies. This powerful documentary uncovers why poor body image has become a global epidemic and what women everywhere can do to have a brighter future.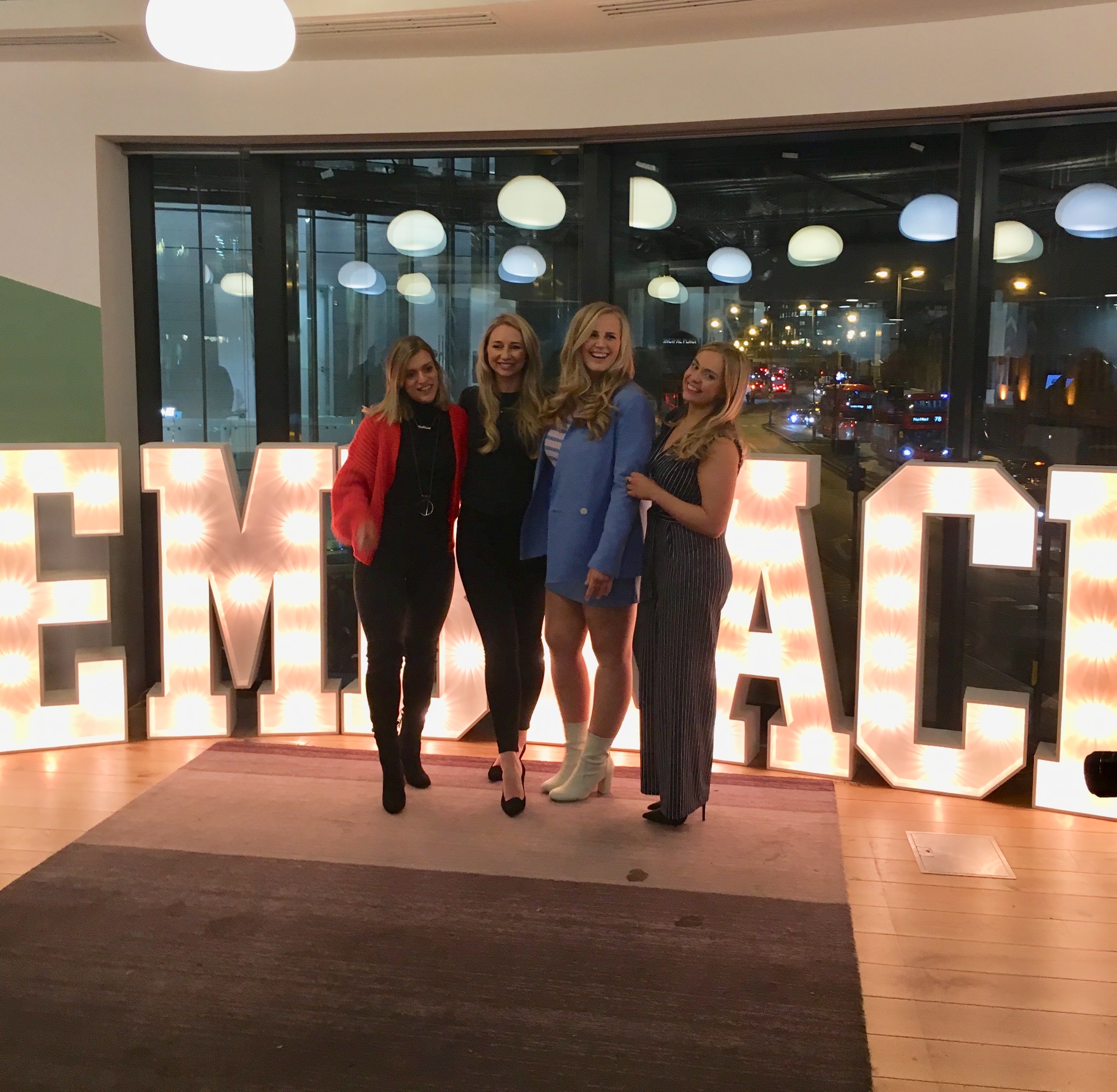 As we watched the film, the room was filled with pure love - love for a movement that's lifted people from a place of feeling unworthy, to a place of confidence and empowerment. There was hardly a dry eye in the house.
The film was followed by a workshop, all about giving women the tools to be more body positive, have a better self-image and to truly embrace their own skin. We were joined by a fantastic group of people, who embrace who they are inside and out. Speakers included Girl Gains Founder Tally Rye and Re-Nourish Author Rhiannon Lambert, as well as other special guests, including body positive and wellbeing influencers.
There was also a raffle on the night, to raise money to support anyone affected by eating disorders.
About the hosts
"We are all the same, different but the same, let's embrace and celebrate this for a change."
Laura from Phelan Well is this month's Happiful Unsung Hero, and it's easy to see why. An ambassador for Beat and a mental health trainer for Mind, Laura dedicates every spare moment she has to supporting others. Only last year, Laura held her first not-for-profit, self-love event for young women.
Having suffered from anorexia nervosa as a teenager, Laura knows all too well how difficult the path to recovery can be. But, her guiding message for the evening, was how similar we all are.
Her co-host, Abby Russell aka @curvyliving on Instagram, is a curve model and self-proclaimed body confidence and self-love ambassador. Abby shared with the room that she has never felt pressured or worried about the way she looks - and it upsets her so much to see women body shaming themselves, when all she sees is everyone's individual beauty.
"When you're OK with yourself and how you look, you find so many other opportunities. Sure, I was the biggest in my class at school, but I loved myself the most - and I realised that I had a message to share."
What an incredible evening, and I'm so honoured to have been a part of it - in embracing the body confidence revolution.