BLOG
The power of patience: why taking your time is key for personal growth
---
Inspired by our exclusive interview with Joe Sugg, nature's our greatest influence – teaching us about the value of the moment, and gradual growth
Dear Happiful readers,
What is it that Ferris Bueller says? "Life moves pretty fast. If you don't stop and look around once in a while, you could miss it."
It's funny to think this classic pop culture reference could really be advocating mindfulness (along with taking a much-needed 'day off'). And while we wouldn't encourage you to mimic all the exploits of the protagonist, giving yourself permission to have fun, take a break, and savour the moment are certainly traits worth embracing.
In this issue, we're encouraging you to take a leaf out of Ferris's book. We're calling for a respite from the relentless noise of the world, asking you to press pause, and revel in the journey, the experience, and not just the destination.
The patience of nature really epitomises this. Not only is the wilderness a place to marvel at and treasure the present, but it serves a valuable lesson. We might not be able to see growth before our eyes as it's happening, but day by day, change is there. And in a week, or a month, progress can be unrecognisable!
Our special edition cover star Joe Sugg is certainly on board with this. In our exclusive interview, Joe opens up about the value of taking your time – how we're so often in a rush, we don't appreciate the advances we're making. That, in particular, with our wellness, there's no quick-fix. It's about devoting the ongoing time, energy, and care to yourself over the long-term that matters.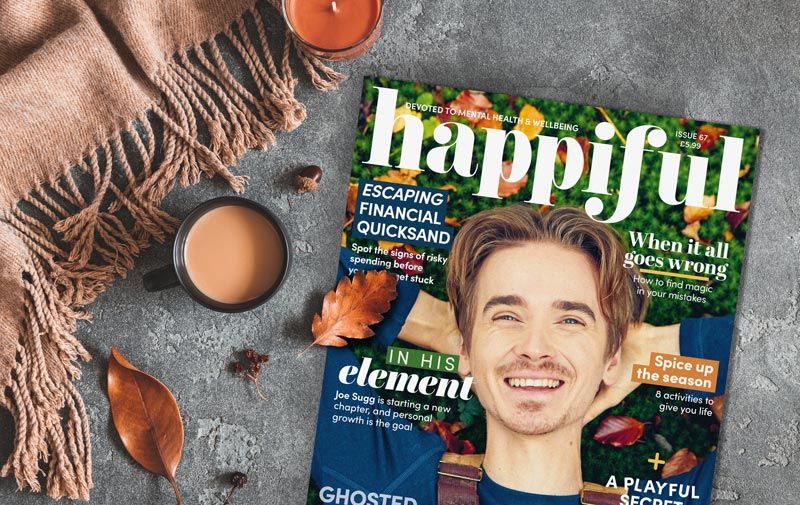 So, with that in mind, we've peppered this edition with a wealth of features to support gradual growth, and living for the moment – from setting ourselves free by joining the anti-perfectionist movement, to rediscovering our silly sides, and the power of adult play. Plus, our print-exclusive journaling pages are all about taking inspiration from nature to support our personal growth.
Let's move away from a life at full-speed, and instead try a change of pace. Take a step into the unknown, and let you heart roam.
Your wildest imagination is a wonderful place to be.
Rebecca Thair
Editor
---
Our mission
We firmly believe there should be no financial barriers to mental health and wellbeing information and support for those in need. That's why we work hard to offer a completely free digital magazine, ensuring anyone in need has access.
It's thanks to the wonderful people buying print subscriptions that we're able to fund this and continue our mission – so we want to say a big thank you!
If you're keen to support our work, head to our online shop to explore our range of subscription offers, and receive:
• Happiful delivered to your door each month
• Free postage and packaging to the UK and NI
• Exclusive early release for print readers
Plus, did you know that the magazine and it's packaging are fully recyclable, and for every tree used to create the mag, we plant two in its place?
Order your copy of Happiful today.