WELLBEING
The positive effects of friendship on mental health
---
Maintaining healthy, happy friendships can have a significantly positive effect on our emotional wellbeing
It's fair to say that I would be pretty miserable without my best friend. In fact, totally lost without my girl gang virtually cheering me on. The saying goes that "behind every great woman there is a bunch of other great women who have her back/a group text hyping her up" which to me is profoundly accurate.
I'm not just talking about women, but anyone who has ever felt the familiar warmth of a shoulder to cry on, a welcoming ear to hear them out or even a simple text message of positivity, confirming that your friends are listening.
Some friendships appear out of the blue, some have been long standing and some, fleeting. But they often leave their mark, treasured memories that run deep. And real friends, the ones who stick by you through the good, the bad and the ugly are key relationships that carry us.
Kim, who recently entered thortful.com's competition to find the nation's best BFF in honour on International Friendship Day, cited her best friend as her 'compass'. She said, "If I ever feel worried, indecisive, insecure, vulnerable, or simply out of sorts, I call her or better still, I visit her and her beautiful family to recalibrate my compass. She is a superhero in my eyes."
Much like Kim, I often feel a little lighter when I've put the world to rights with my bestie. In an article published by Life Coach Directory, the art of connection in a friendship is deemed key to our overall wellbeing, something I can wholeheartedly vouch for.
"Connection with others is so often a source of positivity in maintaining our emotional wellbeing. Having friends to talk with, laugh with, be vulnerable with adds so much to our lives (accepting differences for extroversion and introversion)."
Now more than ever, friendship is to be treasured. With 2020 challenging everything we once held true, our relationships have been put to the test and we've had to get creative when keeping and making connections. But in the end, it's always worth it. In fact, it's been scientifically proven that friendships are essential for both our mental and physical health.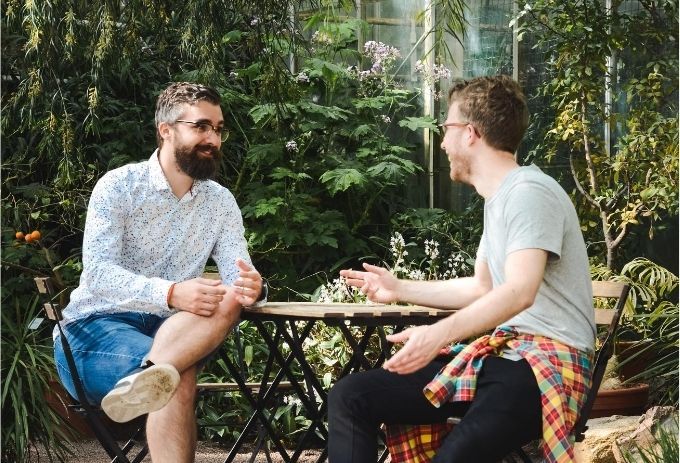 In a 2009 study on the impact of social relationships on health, it was found that of the nearly 300 participants, the individuals with the fewest social ties were the most likely to suffer from heart disease, anxiety, and depression. This is not the first study of its kind and many have followed suggesting the power of friendship invaluable to our mental and physical health.
Pablo Vandenabeele, Clinical Director for Mental Health at Bupa UK, agrees, and says that having a healthy, positive relationship with friends is an important factor when it comes to maintaining our emotional wellbeing.
"Friendships teach us lots of things, including acceptance, trust and gratefulness. A good friend accepts you the way you are, no matter what. Being thankful for the support your friend has given you can teach us about gratefulness, and how important it is to feel appreciated. We often talk to our friends about sensitive issues we may not feel comfortable talking to anyone else about.
"Trusting others with something you may feel worried about can help you feel confident, protected and supported."
Five mental health benefits of friendship
Pablo details the top five benefits of friendship that can contribute towards your positive, emotional wellbeing.
Lift our moods
Friends can boost our mood by being there for us, whether it's virtually or socially distanced. During these past few months, it's completely normal to feel anxious, worried or sad. Even with lockdown restrictions lifted, it's still a testing time for many of us, so it's great to know that good friendships can give us a pick-me-up when we need it most.
It can be a relief to speak about how you're feeling. A  good friend can give us advice on what's on our mind and offer any support we need. Friends can also provide a distraction; a good laugh with friends can not only boost our mood, but release endorphins (feel-good hormones) into our bodies.
Increase our self-love
We all have times when our confidence may be low. Whether it's a compliment about a nice outfit or how we've worked hard on a project, friends can help us feel more confident about ourselves. Friendships work both ways too, so dishing out a compliment to our pals and being there for them can give us a sense of purpose and boost how we feel about ourselves.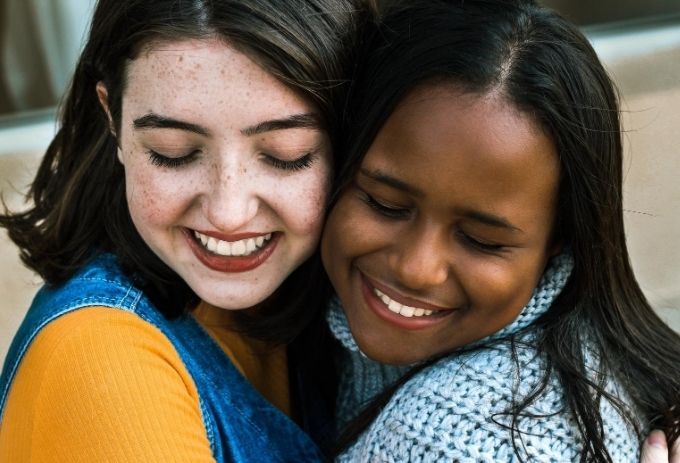 Avoid feelings of loneliness
It's normal to have felt lonely over the last few months; especially if you've had to shield during lockdown. Whether it's through virtual catchups, socially distanced walks or weekly zoom quizzes, we've all had to get creative. A chat with a friend can reduce the stress of feeling alone and provide us with a much-needed distraction.
Keeps us motivated
Many of us set goals during lockdown, like exercising more or taking up a new hobby. Research has shown that learning new skills can improve our mental wellbeing, help us connect with others and boost our self-esteem. We're more likely to stick to our goals if we share these with our friends or loved ones, as it helps us stay motivated. It's also more fun to complete and get a little competitive about these goals with a buddy!
Support us when we need it most
A good friend can help cheer us up and offer us support and guidance when we need it most. If you're struggling at the moment – whether it's feeling anxious, stressed or worried – speaking to a close friend can help ease these feelings.
---
The power of true friendship can be invaluable, but at times, we need a little extra help. If you've been struggling and need someone to talk to, it might be helpful to contact a professional counsellor with Counselling Directory, or a life coach via Life Coach Directory. You can search for professionals in your local area, or find one who offers online support. As Pablo says, "There is always support out there."
Find a professional therapist in your local area on Counselling Directory