Summer Special: Things to Do 'Out There'
---
"There's a starman waiting in the sky..."
There's a whole world to out there explore... New experiences to embrace, new friends to make, and experiences beyond your imagination. Here are just a few ideas to take your mind on an adventure this summer.
Summer Volunteering
For those lucky enough to still get six-week summer holidays but who don't know what to do with all that free time, there's opportunities to make a difference abroad. Plus, it's great work experience for your CV.
Projects Abroad can help 16–19 year-olds redefine their outlook on life with opportunities to get involved with humanitarian or conservation work across the globe. Animal lovers can explore the Peruvian rainforest in the heart of the Amazon. The two-week schedule includes opportunities to observe the wildlife, including spider monkeys, and helping animals in the rescue centre ahead of their release back into the wild.
If you're more of a people person, head out to Fiji and volunteer with the local community. The immersive experience will help to renovate the island schools and allow you to see traditional Fijian culture up close. As well as all the good work you'll be doing, there's also a chance to laze on those powder-white beaches.
The fees for overseas volunteering can be steep to raise in just a few weeks, but you could plan for 2018 and use the summer to kick-start your fundraising campaign closer to home.
Virtual Meditation
No cash for a holiday? Now you can turn your home environment into a sanctuary bubble with Mostly Human Studios' Just Relax: VR Paradise. The surrounding virtual reality experience transports you instantly to a paradise beach where you can breathe deeply and relax to the subtle sounds of waves lapping the shore. It's digital bliss.
GLOBAL PET SITTING
This might sound too good to be true, but you better believe it: Trusted Housesitters allows pet-owners to travel the world guilt-free, safe in the knowledge that someone with a passion for pets is taking good care of their furry bundles of joy. All you have to pay is membership to the site, but the adventures abroad and all that animal love? Completely free.
Why I love Cycling
happiful reader Italo explains the mind-cleansing thrills of the open road
"For me, cycling is the best opportunity to clear my mind and explore my own personal limits. Cycling on open roads requires concentration in order to stay safe, and if you're competitive (as I tend to be), it helps you keep an eye on maintaining a level of speed and heart rate during the journey. I am concentrating but at the same time I am soaking up the countryside, enjoying the freedom of the open roads, breathing in lungfuls of air and experiencing the different smells drifting across open fields. It's a wonderful and mind-cleansing experience.
During my ride, I will not give a single thought to work or some of the issues that can occasionally keep me awake at night. Some of the world's greatest positive thinkers maintain that the best way to solve a problem is to stop thinking about it – your mind will subliminally deliver the solution when you least expect it. As someone who loves the clearness of the open road, I can truly say that this does work, not every time and not immediately, but it does work."
Stargazing
Stargazing reminds us of our place in the world. We live on a small rock spinning around an unremarkable star in a measureless universe. You can tune-in to this vast cosmos any time you wish, by stepping outside at night. Find a place with low light pollution (if it's your back garden, dim the house lights). Don't worry if you can't see anything – it takes about 15 minutes for your eyes to adjust to the night sky. Ah, but what things you'll see! Meteor showers, bright constellations, a full moon on 9 July, a glimpse of Saturn with the naked eye, and the majesty of the Milky Way (if you live rurally). Remember to dress up warm – an hour of stargazing can leave you chilly. And don't forget the great celestial event of 2017 – a glimpse of a total eclipse of the sun on 21 August.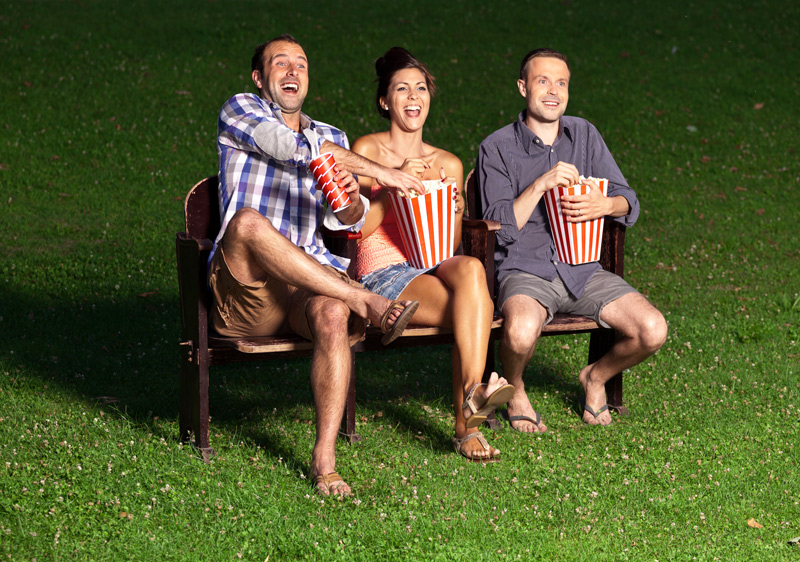 Catch an Outdoor Movie
The Luna Cinema allows you to get out under the night sky and open your mind as you're immersed in a moonlit movie. Cuddle up with your friends and family in camping chairs and picnic blankets as JK Rowling leads you though her magical world of Fantastic Beasts, or if you want the night to never end, how about the classic Groundhog Day.