LIFE
Summer Special: Things to Do in the Country
---
"Laying back, head on the grass. Chewing gum, having some laughs..."
Combine harvesters, wellies, and the scent of freshly spread cow excrement, who doesn't love the English countryside?
Whether it's escaping from the hustle and bustle of the city to enjoy some peace and serenity on a walk through the wilderness, or getting an adrenaline rush with the backdrop of spectacular scenery, heading to the countryside can provide endless hours of entertainment for all.
Specialist Summer Festivals
We all know Glastonbury, Reading and Leeds Festival, and Party in the Park, but there's an abundance of more specialist festivals across the UK for those looking to experience something truly mindful.
The first ever Trew Fields Festival (known as Trewfest) will commence this year at a beautiful farm location in Surrey, on 8–9 July. The best thing about Trewfest? It's a cancer awareness and holistic health festival. The fest features morning yoga and meditation to get your mind and body set for a day of fun, along with music, comedy, workshops, happiness and healing around a pretty lakeside setting.
At Soul Circus you can live out fantasies of being a nomadic entertainer as you run away with the circus. The yoga and wellness festival in the stunning setting of the Cotswolds takes place from 18–20 August, with opportunities to the skies as you experience aerial yoga, chill out in their indulgent spa, or dance the night away during the DJ after-party in the woods. Sounds like a midsummer night's dream.
For those with eclectic tastes, the Chap Olympiad is the perfect place to hone your British etiquette while having a rollicking good time. Set in one of England's green pastures – Bedford Square in London – on 15 July, eccentrically dressed people gather to celebrate Britain's sporting ineptitude. For the daring, there's jousting on Boris Bikes; for the rest us there will be picnic hampers galore. Don't worry, the only sportswear you need are cricket whites. This being England, points are awarded for immaculate trouser creases.
Thrills & Spills
Summer is a great time for adrenaline junkies. For those who know no limits, how about visiting Zip World Velocity: it's the home of the fastest zip line in the world, and the longest line in Europe, where you zip over Penrhyn Quarry in Wales at more than 100mph. As Buzz Lightyear would say, "This isn't flying, this is falling with style!"
For water babies, how about taking some friends to the New Forest's Aqua Park? At 80m long and 40m wide, it's an enormous aquatic playground for both kids and "big kids", with inflatable trampolines, monkey bars, hurdles, rollers and plenty more. It sure beats getting grass burns from your back garden slip-n-slide.
How well do you know your British birds?
Sighting these uncommon species can lift the spirits
Bearded Tit
There are now at least 772 pairs of bearded tits in the UK – their highest level since records began. Management of habitats by the RSPB is helping these birds bounce back.
Bittern
The bittern, a type of heron, was declared extinct in the UK last century. Today, numbers have increased to at least 161. They are mostly found in Somerset, Suffolk, Norfolk and Cambridgeshire.
Crane
A record-breaking 48 pairs were recorded across the UK in 2016, with a total population of an estimated 160 birds. Cranes can be spotted in Norfolk, Suffolk, Yorkshire, Somerset, Wiltshire and South Wales.
Red Kite
Once labelled "vermin", the red kite suffered from intensive human persecution. However, by 2003, there were more than 350 breeding pairs listed. Their future looks very bright.
Try Agroforesty
Mixing things together can produce astounding results. Agroforestry is the fusion of growing agricultural crops in the same space as trees. Twenty years of research has proved that agroforestry is more effective and beneficial in almost every way to keeping forestry and agricultural monocultures. The Agroforestry Research Trust runs courses and tours to help you create your own ecosystem Eden
Ramble & Wander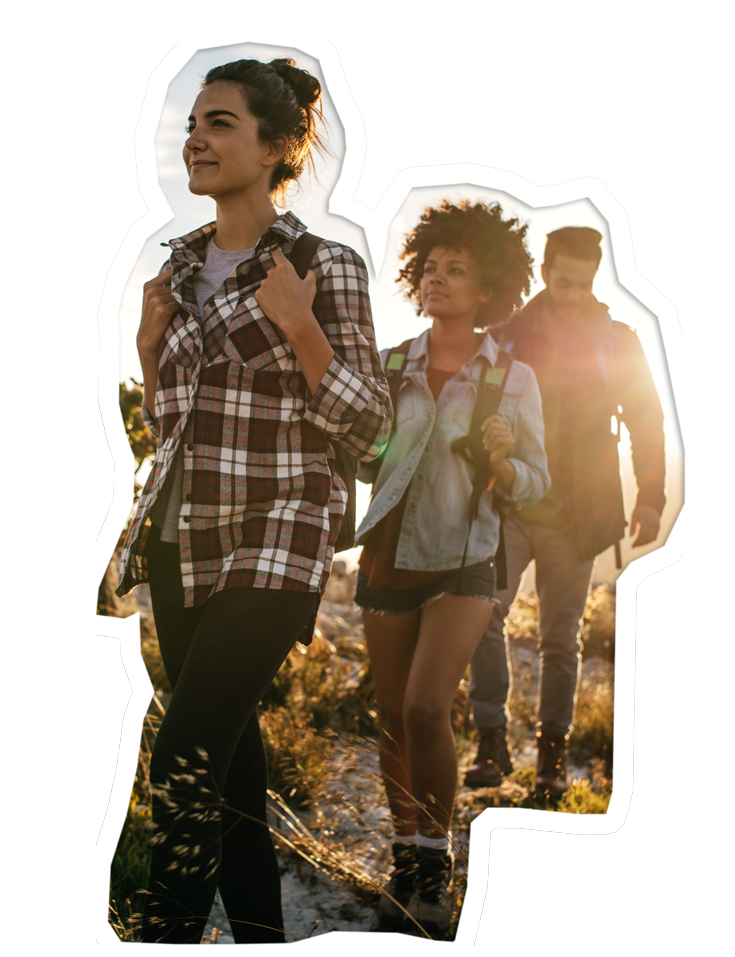 Want to re-connect with the natural world? Try exploring the great British countryside in all its glory. Rambling is massive in the UK, with more than 500 groups and a combined membership of 100,000 walkers.
It's both a sociable activity and a tonic for your health. In physical terms, walking doesn't require a lot of practice but has a wealth of benefits in keeping you fit and healthy with a strong dose of clean country air. Regular walking has been proven to help reduce high blood pressure, and lower the chances of heart disease, strokes and type 2 diabetes. Additionally, rambling can have a great effect on your mental health and wellbeing, boosting your self-esteem and mood as you reconnect with nature and unplug from the technological world (leave your smartwatch at home). What's more, rambling and wandering can be almost meditative, and the opportunity to interact with friendly new faces can broaden your horizons, both literally and figuratively.