YOUR STORIES
Suicide, grief and becoming a 'champion': Katie's story
---
"Why I became a Mental Health First Aid Champion": Katie shares her story of grief, and how this led her to want to not only learn more about the importance of mental health, but support others, too
As a self-professor of "I want to change the world", my world turned upside down when, at Christmas, I experienced a suicide. It left me with the feeling of helplessness, paramount in my guilt.
So, when my monthly read of Happiful turned up and I came across the Mental Health First Aid (MHFA) England training courses, I was enlightened. I was in-between work at the time - a conscious choice to find my dream job in health and wellbeing. The MHFA England course focuses on bringing mental ill health awareness into the workplace, a workplace I was determined to get into.
With so many people either unaware, or seemingly remaining unaware by choice, of mental health and mental ill health, I knew something had to give. The startling fact that one in four people experience mental ill health every year didn't sit well with me, and I wanted to be part of the change.
I naively grew up thinking suicide was an alien word that couldn't possibly happen to me or my family, but it did. Right under my nose. So I had to ask myself: in what way did I want to change the world? In this case, I wanted to help people. The most important people in my life had lost a member of our club, so my mission altered from saving the world from ourselves, to protecting ourselves from the inside out.
I decided to attend the one-day course, achieving 'champion' status. We were led by a brilliant teacher, Matt, who made us feel at ease by divulging some of his own and his family's mental ill health.
What you'll gain from this important course is an understanding of how to approach a potential mental ill health situation, before it reaches crisis. You'll learn how to have open and honest discussions about suicide and discover an approach to mental ill health that you can develop. It's about respect, approach, thought and care.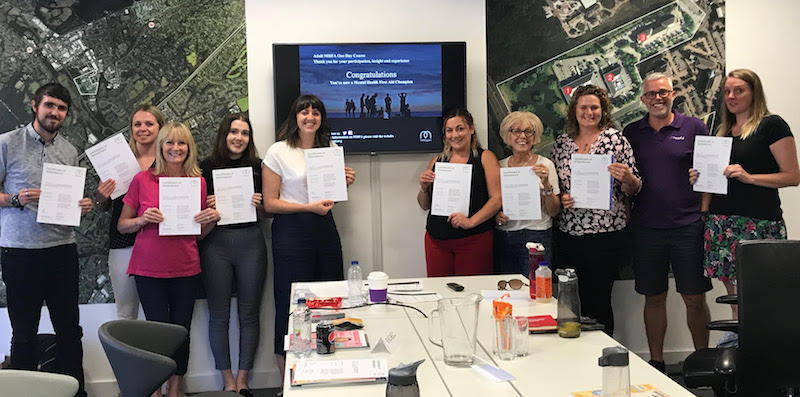 As a Brit, I'm all too good at saying, "I'm fine thanks." But, am I really fine? And do I want to let someone else know that I'm not really fine at all?
What I learned is to simply ditch the British attitude and be brave. That actually, it's OK not be to OK - even if you are at work. You can't possibly know why a manager is a little grumpy this morning or why a colleague is skipping lunch, without knowing their history, their home life or their own personal struggles. But what you can offer is an ear, a friendly voice, a smile or some kind words.
You can offer an intervention in someone's darkest days, whether it's to simply listen, or to carefully offer some helpful, professional recommendations. It's about bringing humanity back into the workplace, a concept lost in recent years. That's the thing that surprised me most about the course; I'd hoped it would be insightful and interesting, but I really wasn't prepared for the feeling it left me with. The feeling of comradeship.
When I returned home the evening of the training, I said to my boyfriend, "Do you think you have mental health?" His response came as, "Maybe. I think I have in the past."
What he was referring to was mental ill health. A startling discovery that a young man of 28, in a society that (thank goodness) is starting to recognise mental health as having the same importance as physical health, thought 'mental health' only recognised ill-health. It's a perception I have since tested on many friends and family.
What the MHFA Champion day course teaches you is to be confident and brave enough to speak up when you're worried because, actually, many of us are in the same boat and, perhaps, the concept of mental health won't then always be associated with negative health.
Yep, I cried - it's an emotional course - but it's also an awakening that the more people that are trained as Mental Health Champions and First Aiders, the less impact communities, families, friends, colleagues and neighbours will feel if one sign is spotted; when a tipping point is caught and a life is continued to live.
---
For mental health information and to find a professional, visit Counselling Directory.
What is Mental Health First Aid? Read more about MHFA training.