NEWS
SANE Campaign Highlights that Mental Illness Doesn't Stop at Christmas
---
Mental health charity SANE has launched a Christmas campaign, using wrapping paper to remind people that Christmas is not "the happiest time of the year" for everyone
The wrapping paper, featuring traditional Christmas images of smiling Santas on the outside, is a very familiar sight during the festive season. However, when the parcel is opened, it reveals a less happy version of the character on the inside of the paper, alongside the headline "You don't always know what's going on inside".
A typographic version of the wrapping paper uses type in the shape of a Christmas bauble and reads: "It's The Most Wonderful Time Of The Year". Then, on the inside, it reads: "It's The Most Difficult Time of The Year".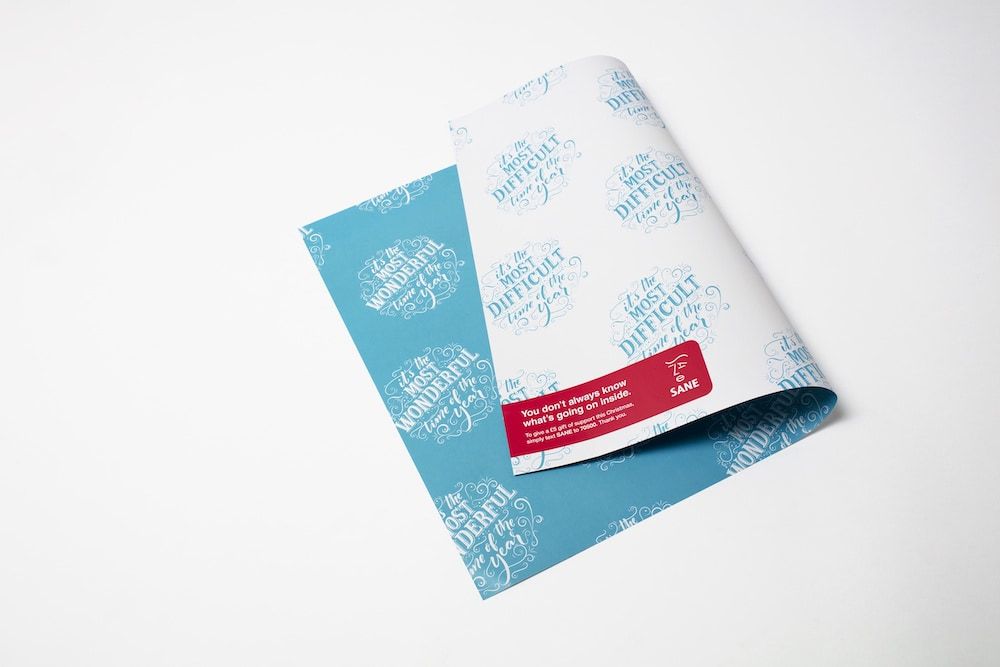 The campaign serves as a reminder that we don't always know what others are going through; we can all be deceived by appearances - fooled by someone putting on a brave face. Whether you live with mental illness or not, you may recognise that the festive period can intensify feelings of loneliness, increase financial worries and put pressure on people to have the 'perfect' Christmas.
You don't always know what's going on inside. Our Christmas campaign this year uses wrapping paper to remind people that the holiday season is not "the happiest time of the year" for everyone. Read more: https://t.co/tOrl1qQBCi #mentalhealth #charitytuesday pic.twitter.com/lrlunfT2UW

— SANE (@CharitySANE) December 18, 2018
Marjorie Wallace, chief executive of SANE, said: "The holiday season is meant to be the happiest of the year. There is intense pressure, exasperated by images in media, for Christmas to be wonderful and we are expected to be upbeat and full of joy. But this can contrast dramatically with how some people are feeling inside. So, we want to remind those who feel left out or are finding it difficult, that we're here to provide them with support and help."
The campaign was created by students at Watford College in collaboration with Iris who produced SANE's #LetMeTalk campaign earlier this year. Iris creatives Matt Weston and Pete Sanna who created #LetMeTalk said: "The guys showed us their Christmas idea and we knew that the team at SANE would love its simplicity and the powerful message it delivers, so we got some designers involved and presented it."
The campaign is an important reminder that, although the holiday season is often one of enjoyment and companionship, it can also be a distressing time of year for those affected with mental illness. Mental health problems don't cease to affect people at Christmas and, in many ways, the festivities can exacerbate issues.
---
If you need some emotional support or some space and time to talk, you can call the SANEline on 0300 304 7000 every day of the year from 4.30pm to 10.30pm.
To give a £5 gift of support this Christmas, simply text SANE to 70500.