WELLBEING
To all the pets who've helped us cope, thank you
---
A study shows that owning an animal during the pandemic has helped the mental health of pet owners. It's time to show our animal friends some appreciation
If you're a pet owner – no matter whether your animal friend is furry, feathered or scaly – I'm sure you'll agree that they've helped you in some way this year.
Whether they've provided you with comfort and cuddles on a tough day, given you a sense of purpose and a reason to get out of bed, or been someone to talk to, it feels as though the value of a pet has never been more widely acknowledged than this year.
Certainly, as a cat owner who's been working from home since March, I've felt so thankful for my furry co-worker time and time again.
Why are pets good for our mental health?
Amongst many other benefits, animals can provide us with a sense of companionship and routine, and allow us to live in the moment. As counsellor and psychologist Philip explains, "Having a pet gives you space outside of your life schedule to show love affection and appreciation for another.
"In return, not only does your pet give you the same love that you have shown to them, but you also get a sense of responsibility and nurturing from the kindness that you show them."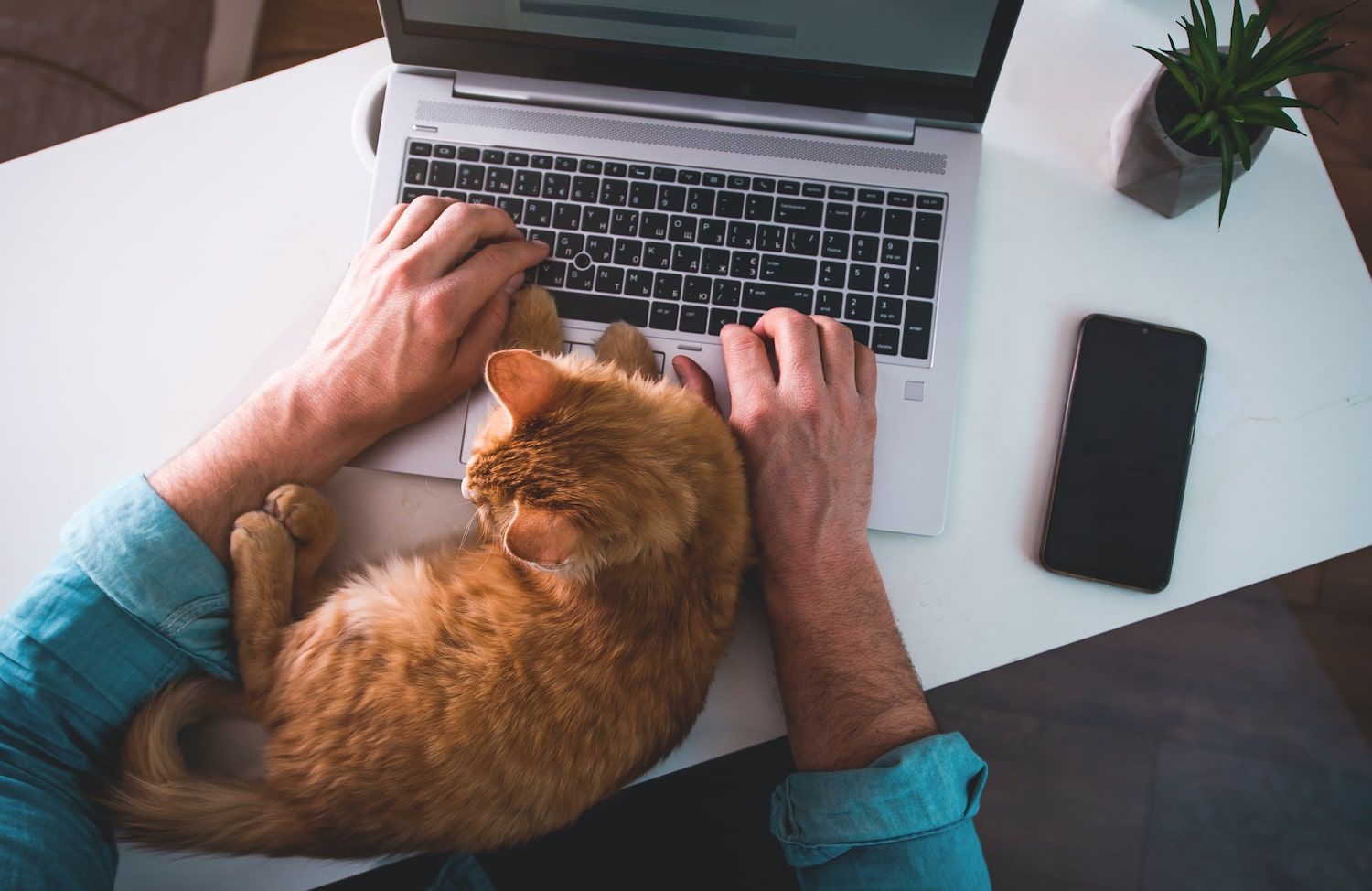 The simple act of stroking an animal releases oxytocin, a 'happy hormone' that floods our system and helps us relax. This is something that Happiful reader, Farrah, knows all too well. She explains how her cats, Billie and Bowie, have helped her this year.
"They have really helped my husband and I through this year by enhancing our practice of mindfulness; by stroking the cats, feeling the softness of their fur and listening to their soothing purring," says Farrah. "We've been working hard to live in the here and now this year, and our cats really help us do that."
Recent research suggests that, particularly during a difficult year like this one, we're all well aware of the benefits our pets have for our wellbeing.
A study of 6,000 people in the UK by researchers from the universities of York and Lincoln found that pets helped maintain the mental health of owners during the stress and uncertainty of lockdown. Results showed that 91% of dog owners and 89% of cat owners felt that their animals helped them cope emotionally with the COVID-19 situation.
And the data shows that these benefits appear to occur with all pets – not just dogs and cats. Yes, 86% who owned 'other' pet species acknowledged the same benefit.
It's thought that the social support that's associated with pet ownership can help to make owners more resilient in tough times, such as in the context of lockdown.
The power of pets in helping to combat loneliness and isolation during such a tough year is a key message in the RSPCA's latest Christmas campaign. The heart-warming film touches on the difficulties many have faced in recent months.
Chris Sherwood, Chief Executive of the RSPCA, said, "We all know that pets make fantastic companions but to know that not only do they help tackle loneliness but can also improve our mental health is truly amazing! It's, therefore, no surprise that during what has been a particularly tough year, we have seen a huge surge in people interested in adopting pets.
"We hope this Christmas video will tug on people's heartstrings and show people how rewarding it is to adopt from the RSPCA. We expect to rescue thousands of animals in need this winter and we can't do that without the generous support of our fellow animal lovers so we hope this touching film will also encourage supporters to donate to the RSPCA and help us continue our vital work."
---
We can't deny the overall benefits of spending time with animals, and this is something that Happiful readers know first-hand. Throughout this year, you've shared with us that you've been turning to your animal friends for support and comfort.
So, to say thank you for all they've done for us this year, let's meet some of our Happiful readers and their beloved pets.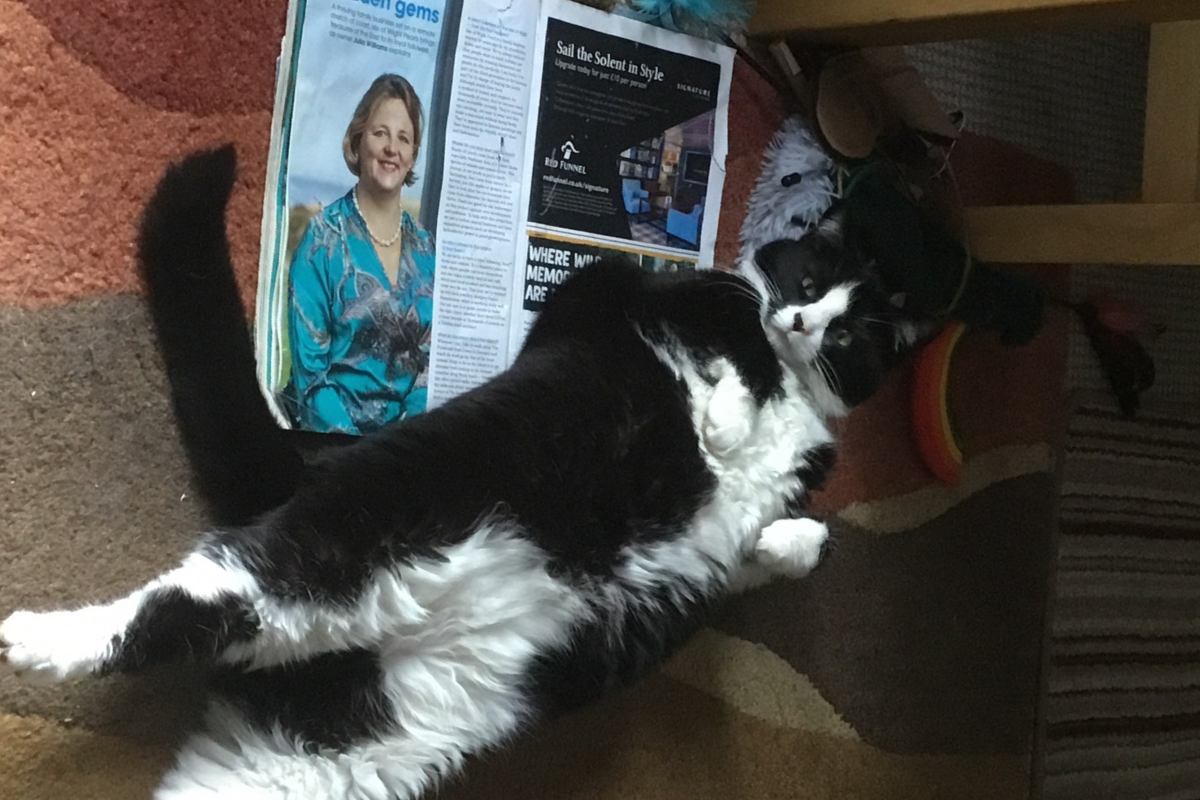 Tanya and EV
"We have EV the cat. She helped me keep my sanity as I only had my husband to talk to. OK, she didn't answer back but she listened. Some days she was the only reason I wanted to get up in the morning. That's 'her' magazine she's laying on."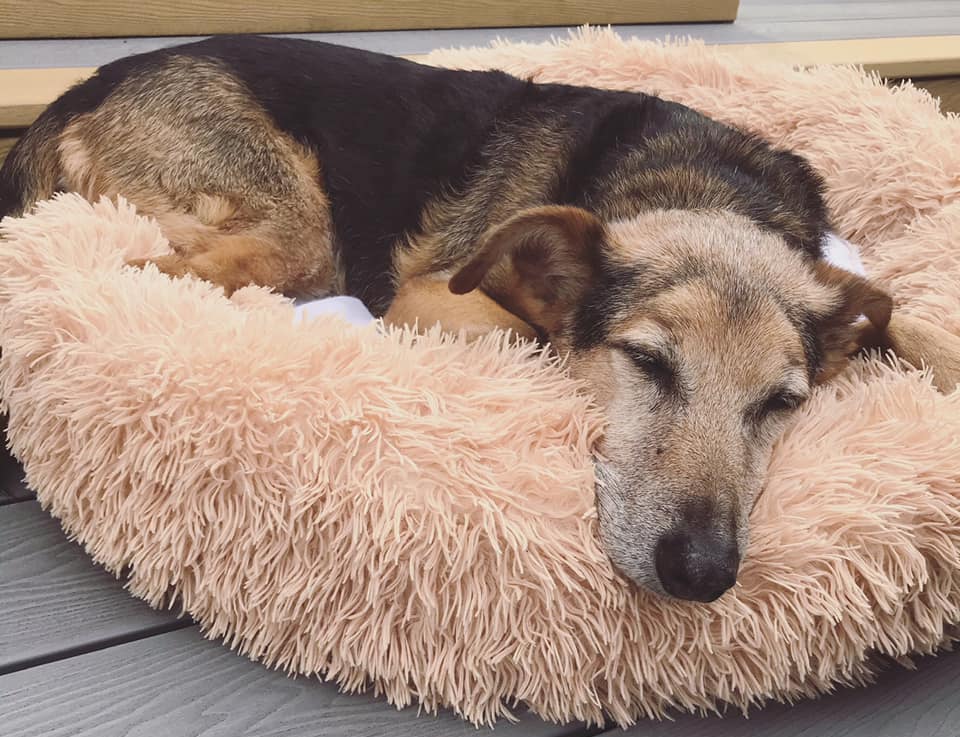 Nicole and Scooby
"This old man was my loyal friend. He always made me smile and loved affection. He made the first lockdown more enjoyable; we would enjoy sunbathing in the sunshine together and walks outside in nature.
"He was always there to pick me up or make me laugh when I'd had a bad day and made the first few months of lockdown easier. Unfortunately, we lost Scooby in May, but I will always appreciate the memories he brought me over so many years."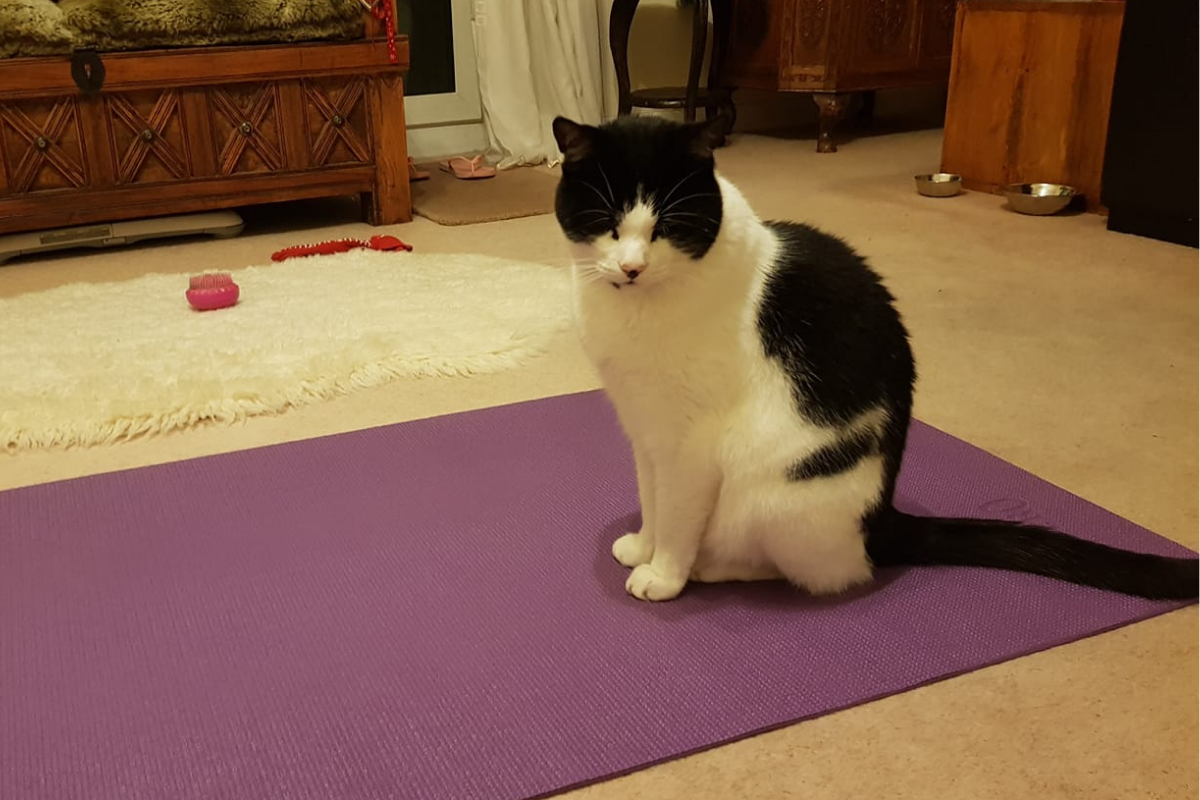 Smita and Sam
"Since I started working from home at the beginning of the first lockdown, I have been doing yoga every day to keep my brain sane and my body in some sort of order.
"Here is little Sam checking out my yoga mat and reminding me to get on there! He comes to sit by me sometimes and shows me that he is more flexible. He (and I) especially love it when he snuggles up during relaxation and meditation sessions."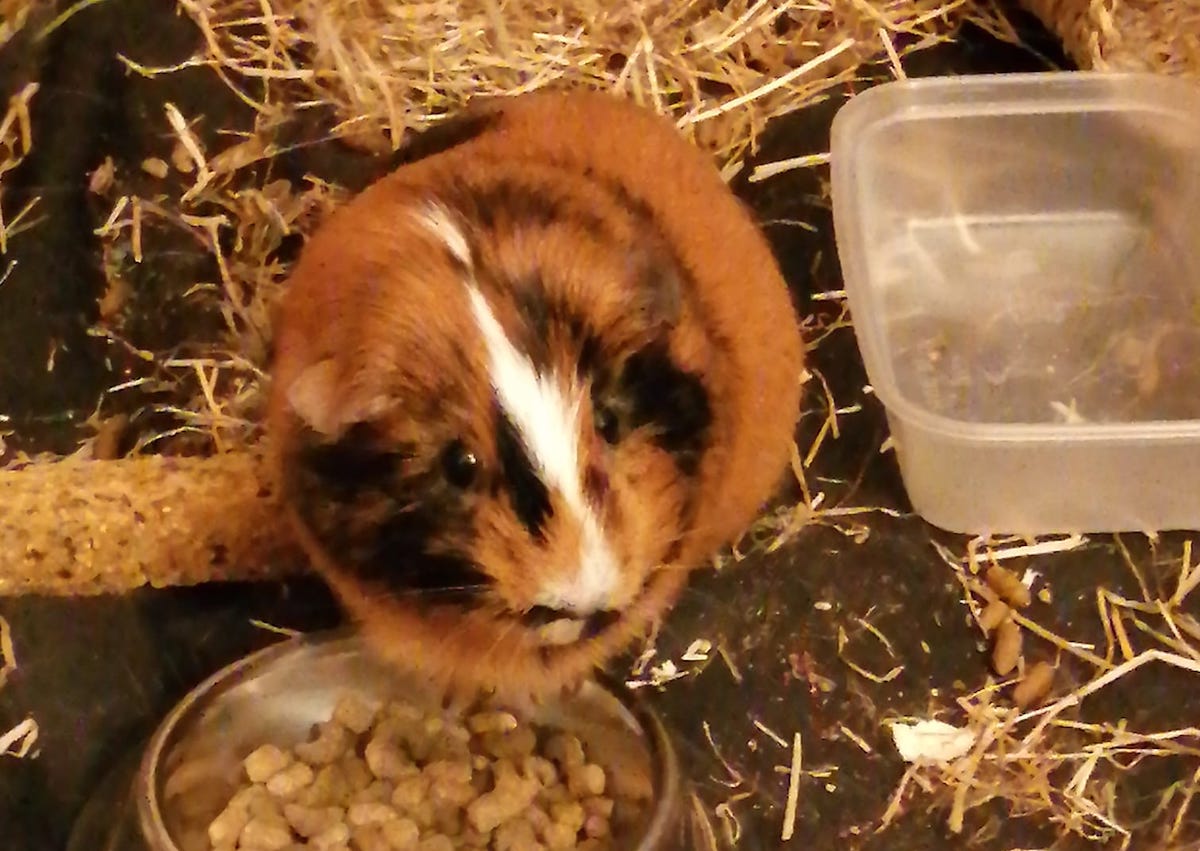 Angie and Gizzy
"This is Gizzy my Guinea pig, I was only supposed to be fostering him but he's permanent now. He lives indoors and he's quite a little character, always makes me chuckle. All animals are our lifesavers I think."
---
Even if you don't own a pet, you can experience the mental health benefits that come from being with animals. Equine therapy – a type of therapy putting people and horses together along with a therapist – can be incredibly helpful for promoting emotional growth and learning.
Used to help with a variety of mental health issues from addiction to low self-esteem, this therapy type is becoming increasingly popular in the UK. You can find out more about equine therapy and search for a counsellor who offers this treatment at Counselling Directory.