Four recipes to up your sprout game, and leave your guests green with envy
Like Marmite, sprouts will divide families. But whether you love them or hate them, it's likely you'll have one or two slipped onto your plate to accompany your Christmas dinner. Personally, I'm very much in the 'sprout love camp', and I want to encourage you to be brave and give our little green friends another chance.
There are so many ways you can introduce these small but nutritious vegetables into your daily meals – it just takes a little imagination, bravery and a dash of salt, pepper and well, anything else you want to add.
Say goodbye to soggy overcooked sprouts, too. Here we have four ways to use sprouts – from the most simple, but delicious recipe, to the more adventurous and frankly genius Brussel sprout pesto. Give them a go this Christmas and beyond – sprouts are too good to be around just once a year.
Roast Sprouts, Apples and Pancetta
Serves 8
800g Brussels sprouts
3 cox apples
140g pancetta
Olive oil
Fresh rosemary
Heat the oven to 200 degrees, gas mark 6. In a pan of boiling water, cook the sprouts for 2–3 minutes until tender. Drain and set aside. Slice the apples and in a large roasting tin, toss the apples and sprouts with olive oil. Scatter over the pancetta and sprigs of rosemary. Roast for 30–35 minutes, stirring halfway through. Serve when the pancetta is crisp.
Nutrition coach Susan Hart says, "Sprouts are closely related to kale and cauliflower, and are the perfect accompaniment to many winter dishes. They pack a hefty nutritional punch too – high in fibre, low in calories, and full of vitamins K, C and A.
I would always try and steam the sprouts as it preserves more nutrients. The apple brings additional sweetness and fibre, making the dish more filling."
Simple Sprouts
Serves 4
450g Brussels sprouts
600ml water
1 tsp salt
3 tbsp Extra Virgin olive oil
Black pepper
Add the salt and water to a saucepan, and bring to a boil. Add the sprouts and cover for one minute. Remove the lid and cook for 3–6 minutes until the sprouts are cooked through, but still have a bite. Drain. Heat the olive oil in the pan, rolling the sprouts until covered. Season with salt and pepper. Taste and serve.
"It doesn't get much simpler than this. The flavour of the sprouts will really come through and be enhanced by the simple seasoning and olive oil. For a different texture, try slicing the cooked sprouts before they sauté in the oil. For an extra kick, add some dried chilli flakes," Susan says.
"All of these recipes can be made vegetarian or vegan with some simple alternatives. Substitute the pancetta for vegan ham or some walnuts. Swap parmesan cheese for a vegan hard cheese, and use vegan spread instead of butter."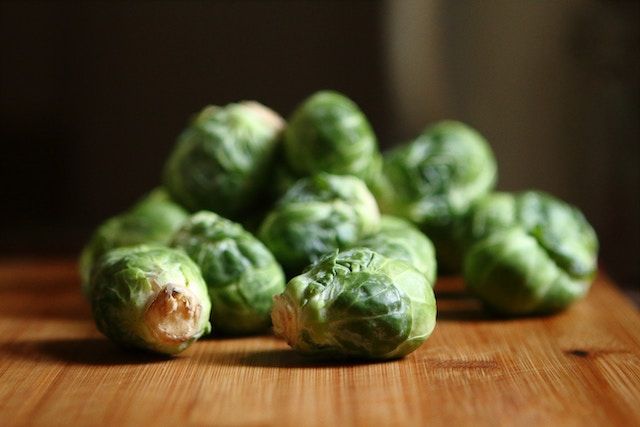 Brussels Sprout Pesto
Serves 2
250g Brussels sprouts, sliced
1 garlic clove
40g hazelnuts
25g parmesan cheese
Olive oil
Lemon juice
Salt and pepper
Heat the oven to 180 degrees, gas mark 4. Toast the hazelnuts for 10–15 minutes. Cool and remove the skins (you can usually rub them off). Add the nuts to a blender or food processor. Pulse until finely ground. Add the sprouts, parmesan, garlic and a squeeze of lemon juice. Pulse until ground.
Slowly add the olive oil, blending until smooth. Pour in a small bowl and season to taste. Serve with fresh pasta. Delicious.
"This is a great recipe, and no one will know brussel sprouts are the key ingredients! It is bursting with goodness from the hazelnuts and olive oil. Both contain good amounts of vitamin E, which is great for the immune system. Use an Extra Virgin olive oil for a greater flavour, and a better nutritional profile," explains Susan.
Orange Sprouts with Chestnuts
Serves 8
800g Brussels sprouts
40g unsalted butter
Orange zest
Orange, juiced
200g chestnuts, cooked and peeled
Parsley, finely chopped
Mix the butter, orange zest and parsley in a bowl until smooth. Cover and chill for 15 minutes. Wash the sprouts, removing any damaged leaves. Bring a pan of water to the boil and add the sprouts. Cook for 3–4 minutes. Drain and set aside.
In a frying pan, melt the orange butter. Add the juice, sprouts, chestnuts and cook for 3 minutes until tender. Season and drizzle the remaining orange butter. Serve.
Susan says, "I love the sound of this dish. You can buy vacuum-packed chestnuts that are so easy to use, and they are much lower in fat than other nuts."
---
Susan Hart is a nutrition coach and speaker. As well as delivering healthy eating advice to individuals, Susan hosts regular workshops and runs vegan cooking classes. Learn more about Susan on Nutritionist Resource.