LIFE
Love Island's Olivia Buckland Discusses Her Battle with Anxiety, and Finding Happiness at Last
---
Before finding fame on Love Island two years ago, Olivia Buckland was on a mission of self-destruction and was consumed by anxiety, distrust and anger. As the must-see ITV2 reality show returns this month, Olivia tells Happiful how fame has brought her a second chance in life, and why her fiancé Alex Bowen is the true love she has been waiting a lifetime for…
When I meet Olivia Buckland, she is a compelling vision of metallic navy blue lipstick, five-inch platform boots, and a T-shirt shouting "Pretty Woman" on the front. As reality stars go, she is not one to comfortably go unnoticed.
It's been this way for two years, since Olivia, 24, fell in crazy, high-speed love with her now-fiancé Alex Bowen on the second series of ITV2's Love Island. Following a six-week romance, the couple finished second, and simultaneously earned the title of the series' most insatiable couple, after racking up the most sex sessions (on screen, no less).
There are, it seems, no regrets. The pair moved in together within a few weeks, got engaged after four months, and have won a string of endorsement, modelling and fashion deals between them. Former sales executive Olivia has presented on ITV1's This Morning, recently landed her own TLC show Second Chance Dresses, and has her own clothing collaboration with high street brand Quiz.
"This life isn't normal to most people, but it's now normal to me and I love it," she smiles. "When I was little, I wanted to be a model but I was too short – but now I'm doing it. Three years ago I'd have never thought I'd be on the cover of a magazine, but look at me now! I've gone through a bit of a nightmare, but I'm proof that what you've done in your past does not hinder you from doing anything in the future. I feel so proud."
I was shut down, I was the trophy, I wasn't allowed to speak or have an opinion. My confidence was in tatters
Olivia's appearance on Love Island is like the scene in Pretty Woman (maybe that's why she's got the T-shirt) when Julia Roberts' character arrives dressed to kill on Rodeo Drive, and her bad luck suddenly flips. From the moment Olivia set foot in the smash-hit show's luxury Mallorca villa, she was on a transformational upward journey, finally able to distance herself from a trail of destruction after a relationship with an emotionally abusive and cheating ex.
"I was shut down, I was the trophy, I wasn't allowed to speak or have an opinion. My confidence was in tatters," says Olivia, recalling the two-year romance.
"One New Year's Eve, I wasn't allowed to be with my friends and at midnight he said 'f***ing kiss me' then walked off. I was in love and blind to the fact that it was so wrong, and although I knew he was cheating I was scared to leave, scared of the rejection. When you feel so alone in a relationship, you cling on to the person even though they're not very nice. But at that moment on New Year's Eve something clicked. I knew I had to get out."
In the weeks that followed, free from the constraints of her controlling ex-partner, Olivia crumbled. The anxiety she had been suffering with previously spiralled and, unable to stomach food, she turned to meal-replacement shakes. Within three months, her weight had plummeted by two stone, although she denies that she had an eating disorder.
"It wasn't the relationship with food," she says. "I wanted to eat so badly, but I couldn't because I felt constantly sick because of the anxiety."
At an appointment with her GP, Olivia refused the offer of talking therapy – "I didn't feel like I needed help" – and was prescribed antidepressants. Then, after another fruitless stab at the relationship, she finally hit rock bottom.
"I started to go off the rails. Living on my own in a really emotional state, that was the downfall. I was out a lot, partying a lot and had no respect for myself," she says.
"I had a lot of kept-in aggression and was very irritable and couldn't deal with things. I wanted to destroy everything and I didn't want to see anyone, not even my family."
She adds: "At one point I was so bad that I wasn't invited to my brother's [Jacob, 26] birthday. I was such a nightmare that they didn't want me there. I just didn't have the tools to cope with my emotions."
Olivia's saviour was Love Island – the Caroline Flack-fronted reality show where singletons couple-up for £50,000, and anything goes. She applied after splitting from her ex "to do something different and have fun" and was, to her surprise, selected for series two.
One week before filming began, during "lock down" (a producer-imposed isolation period to stop reality stars' identities leaking to press) Olivia read The Chimp Paradox by psychiatrist Steve Peters – a mind-management programme, which helps you train the irrational, emotional side of your personality (the "chimp"). Professor Peters' method is so powerful that sporting elites, including the British cycling team, and snooker player Ronnie O'Sullivan, employ him to prepare them mentally for competitions. For Olivia, who says her chimp "Candy" is now better understood, the teachings were profound.
"Honestly, the book changed me as a person. I still get irritable and I get angry – if I didn't then I wouldn't be human – but I now control those emotions. I've learned that when I get angry it's not Olivia talking, it's Candy – the side that's a bit irresponsible and a bit irritating."
I enquire whether this is the first time Olivia has truly analysed her inner self. She nods. "The very first time."
Olivia's new mindful approach to thinking has also helped her manage the panic attacks that have plagued her since her first episode at 16, when after a vaccination she felt "hot and tingly", and passed out in her mum's bedroom, fearing she was dying.
Full Interview Out This Thursday 17th May in Happiful Magazine
---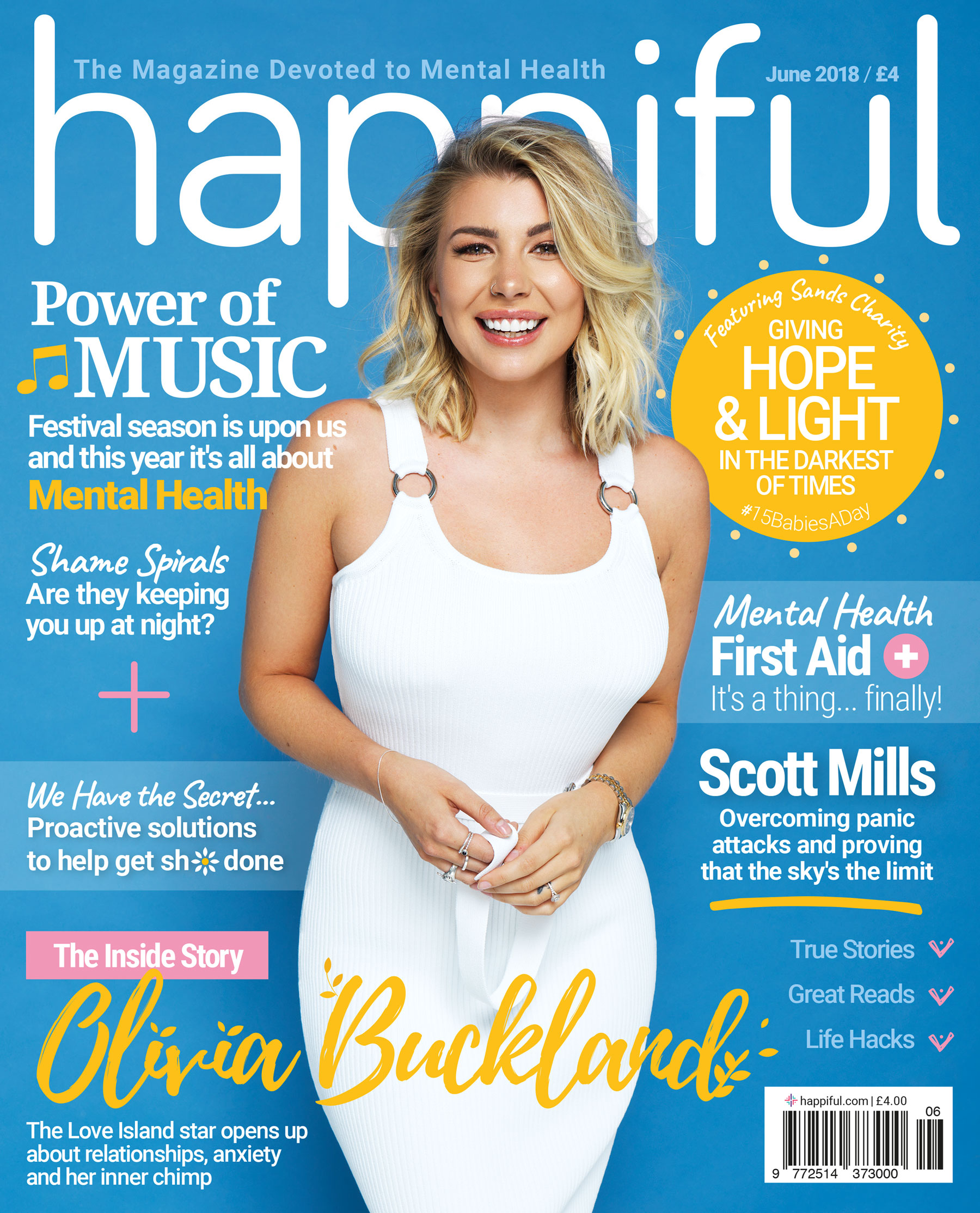 To read more of Olivia's exclusive chat with us, pick up the June issue in all major supermarkets this week.
3 Ways to Get Happiful Magazine
In-store: Pick up your copy in Waitrose, Tesco, Sainsbury's, Morrisons or Asda. Find a store near you.
Online: Happiful is completely free to read digitally. To get June in your inbox this Thursday, subscribe now.
Happiful Shop: Can't see your copy of Happiful in a store near you? Head to our online shop.