NEWS
Online initiative encourages candid conversations for women and mothers
---
Motherhood app Peanut takes a stand against judgemental, unhealthy social media environment
Peanut has launched a new initiative, Moments, after a survey revealed that 40% of women feel the pandemic has caused social media to become aggressive and a 'breeding ground for political debate and misinformation'.
Peanut's recent survey of its two-million-strong community discovered that 55% wished there was more support for each other on social media, 42% hoped for more genuine conversations, more than one in four women feel insecure about their life; and one in five fear they are not 'successful enough'.
As the survey suggested that nearly 80% of women use social media on a daily basis, and 65% go on multiple times a day,  an overwhelming urgency to challenge the status quo of traditional social media, and inject some much-needed positivity, was evident.
In direct response to these findings, Moments - dubbed the antithesis of 'doomscrolling' - was born.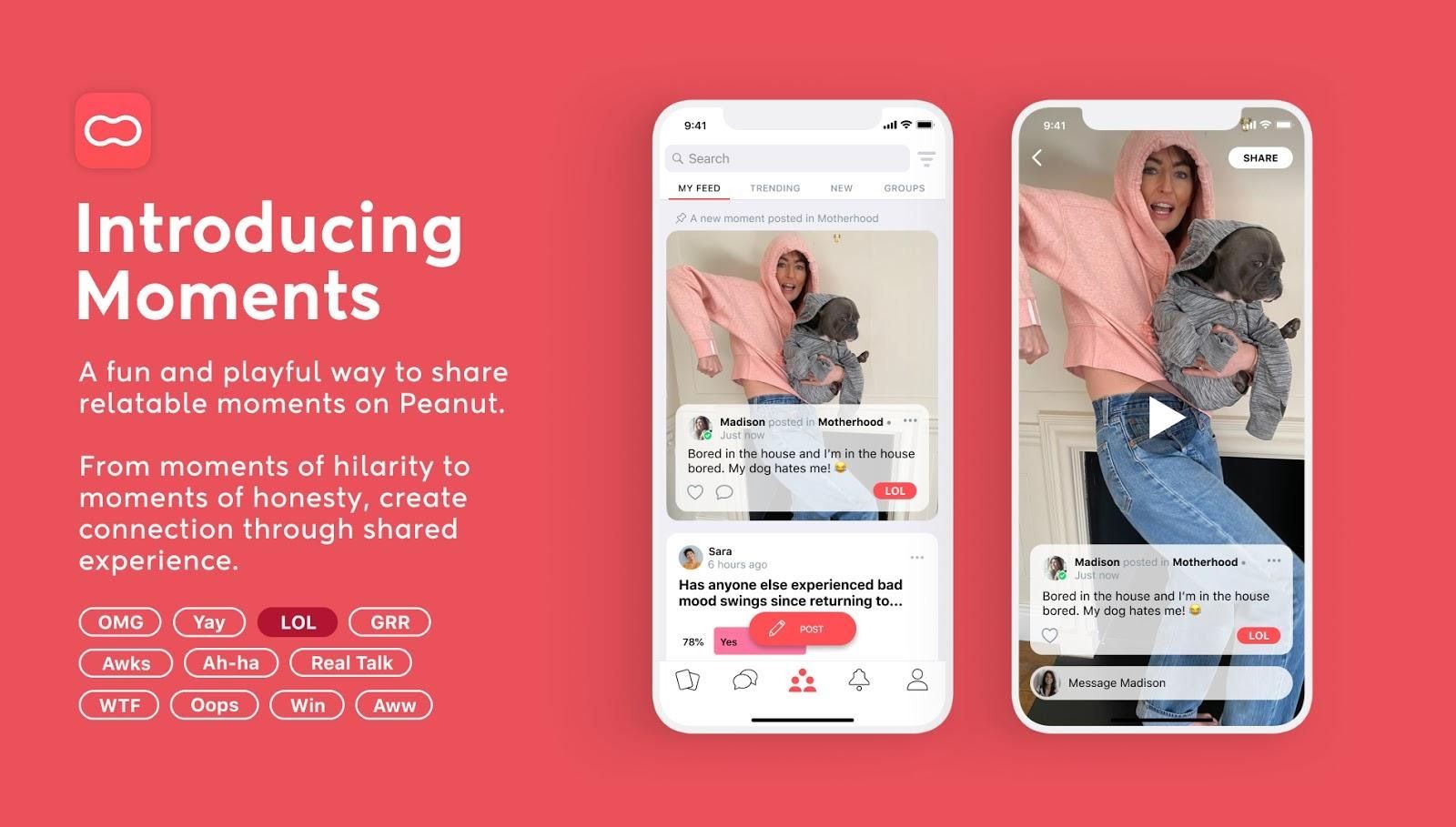 A continuation of Peanut's mission to create a safe and empowering space for women online, through all stages of motherhood, Moments' mission is simple: they invite you to 'share a photo or video, and tag it with an emotion such as "OMG", "WTF" or "OOPS".'
In a bid to give women freedom of expression without the fear of judgement, this feature aims to encourage mothers to share authentic stories, express themselves without fear of judgement, seek comfort in community and have candid conversations, the kinds of conversations mothers and women are missing out on in real life.
Peanut user Tara, 32, from Leicester said: "Since having my son five months ago, I've deleted, muted and unfollowed many, many accounts on other social media sites. And not just public ones, but friends too. Taking back my social media consumption and choosing my community has been liberating and rewarding. I've found myself less drained and more inspired when I am in control of my feed."
Founder and CEO of Peanut, Michelle Kennedy, said: "In this time of extreme uncertainty and isolation, technology and social media is our primary means of connection. Peanut is building a new generation of social media, for a new world based on care, collaboration and unity. The starting point for that? Some humour which can unite us all."
---
Support with social media
Social media can in many ways be a source of connection, inspiration and community. But at times when we find ourselves exhausted from the various daily challenges of living in a pandemic, perhaps highly anxious and isolated, excessive use of social media could negatively impact our mental health, self-esteem and confidence, and even perception of reality.
If you've often found yourself caught in a cycle of doomscrolling, here are six tips to ditch the doomscroll and put your phone down.
You might have noticed that both you and your partner are spending more time zoned out in front of your phones in the evenings, rather than chatting through your days. If social media is affecting your relationships, here's how you can take back control.
Lastly, social media does get a bad rep, but there is some good to be found. Here, writer and author Fiona Thomas shares how to use Instagram stories to combat social anxiety.