NEWS
Neonatal Mental Health Awareness Week Asks for Better Mental Health Practice for Parents and Staff
---
The awareness week aims to inspire neonatal wards to apply better mental health practice, give people courage to seek help and help people feel less isolated
The UK's first ever Neonatal Mental Health Awareness Week has been started by charity Leo's, which supports families in north east England through the neonatal journey. Leo's was founded and led by bereaved mum Lottie King, whose twins Oska and Leo were born extremely prematurely in 2015. Leo sadly only lived for a few hours, but his courage, fight - and the subsequent journey Lottie went on with Oska and his older brother Dax - inspired her to found a charity in his name to help other families going through a neonatal journey.
The charity is calling for appropriate and timely support to reduce the immediate and long-term impact on mental health and emotional wellbeing for families and the people who work with them.
"We launched Neonatal Mental Health Awareness week to help inspire change and campaign for funded mental health support in neonatal units," Lottie told Happiful.
"There's so many great initiatives going on across the country in neonatal units, from charities and parents, and we really wanted to highlight that and inspire others to either start something new or start something up."
Research carried out by the charity, via an online survey of parents and health care professionals, showed the long-lasting impacts on mental health for those involved in the neonatal care pathway.
The survey, which aimed to gauge the current feelings and perceptions around mental health issues in the neonatal care community, showed that 79% of parents admitted that they felt their mental health had been affected by the neonatal journey. 85% of mums and 70% of dads who experienced baby loss on the neonatal unit said they did not receive support around the trauma they faced.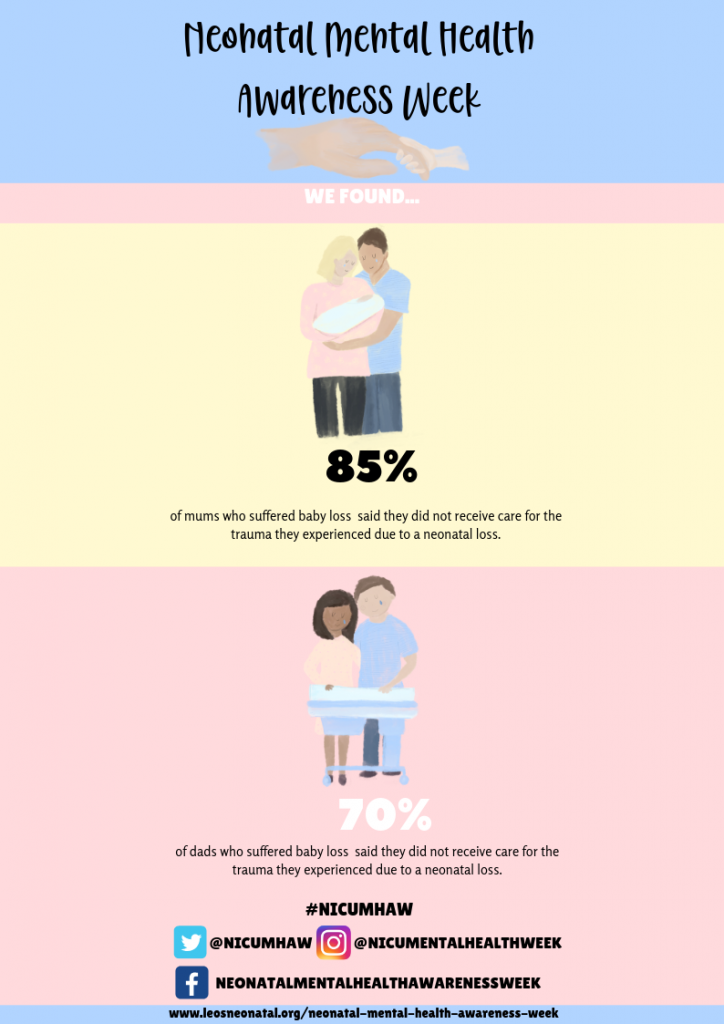 Other findings included:
41% of parents had self-diagnosed their own mental health conditions such as PTSD(Post Traumatic Stress Disorder), anxiety, grief, trauma, OCD, and panic disorders.
40% of grandparents similarly self-diagnosed.
54% of parents said their older child/children were affected by a neonatal stay.
46% of parents suffered relationship difficulty as a result of a neonatal journey.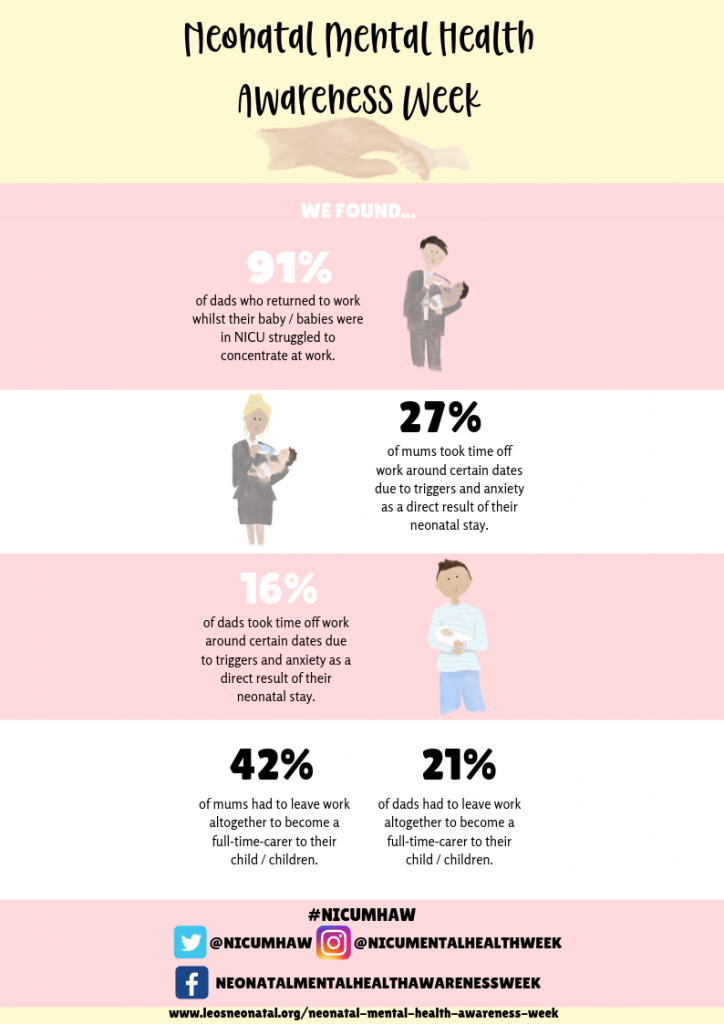 "As you can see from the survey results, the impact on families long-term is really profound and we need to start talking more about what we can do to help from the ground up," Lottie said.
Find information about the week, how you can get involved, assets to help you raise awareness and fundraise, including case studies and blogs, as well as information on a series of Twitter chats this week on the campaign page. Every Wednesday between 8pm and 9pm Leo's hosts #NICUHour on Twitter, where they discuss different themes around neonatal care. Search the hashtag on Twitter to join.
---
Photo by Peter Beukema on Unsplash