CORONAVIRUS
Concern for future of mental health as loneliness figures double in lockdown
---
A study published by the Mental Health Foundation raises concern over long-term mental health conditions, as figures show almost a quarter (24%) of all UK adults have felt lonely because of Coronavirus
The longitudinal study is tracking mental health over the course of the outbreak, and has revealed a major surge in people experiencing loneliness, stating that one in four adults said they felt lonely directly due to the COVID-19 outbreak.
The largest age group to be affected by loneliness due to the pandemic was the youngest tested, with 44% of 18-24 year olds struggling with lockdown loneliness. This details a significant increase,  as 16% of this age group reported loneliness in the two weeks before lockdown.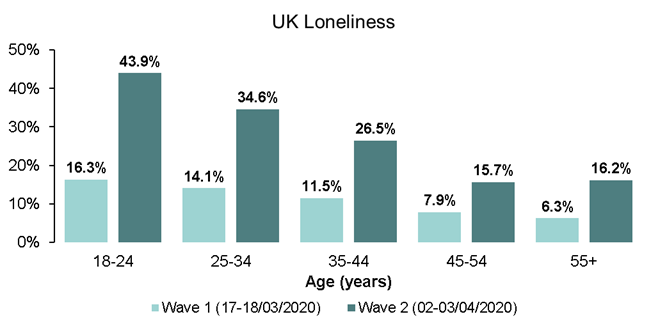 Often associated with the elderly, loneliness is now reported to affect people aged between 18-24 more than any other age group in the UK. In the wake of COVID-19, the Mental Health Foundation fears this could see a negative impact on mental health for years to come and is seeking to address mental health issues as they arise in the pandemic, in real time. The charity states,  "physical safety is the priority but mental health impacts must be part of policy development."
Dr Antonis Kousoulis, Director at the Mental Health Foundation, says: "The concern is that the longer the pandemic goes on, the more feelings become long-term. The impact of long-term loneliness on mental health can be very hard to manage.
"While the initial priority must be to prevent loss of life, we fear that we may be living with the mental health impacts of the coronavirus situation for many years to come. This is especially true of vulnerable groups and it is critical that governments and others are mindful of this in developing policy as we go forward."
❓What steps could we try to take to look after our mental health at the moment?

💡The ideas in our blog are intended to give you a start.

💚Whatever we can manage, and that feels OK, is good enough: #COVID19 #MondayThoughts https://t.co/cqZgACiAbo

— Mental Health Fdn (@mentalhealth) April 20, 2020
According to the study, one third of 25-34 year olds stated that the Coronavirus was the cause of their loneliness, meaning they were the second-highest age group to be affected by lockdown loneliness. One in six older people in the over 55 demographic said they had also felt lonely as a result of Coronavirus.
The study, called Coronavirus: Mental Health and the Pandemic, took place in early April, seeing 2,221 UK adults participate as part of a major UK-wide longitudinal research project, in partnership with University of Cambridge, Swansea University, University of Strathclyde and Queen's University Belfast.
---
Loneliness support
Feelings of loneliness have in the past been surrounded by stigma. But loneliness is more common than you might think and is nothing to be ashamed of. Now more than ever, the detrimental effects loneliness can have on our mental health are paramount.
The Mental Health Foundation has a dedicated Coronavirus hub, 'How to look after your mental health during the Coronavirus outbreak' detailing tips on working from home, parenting, nurturing relationships and how to manage through the pandemic, if you already have a mental health condition.
If you're struggling with feelings of loneliness and need support now, you can contact the Samaritans, a confidential listening service, on 116 123 open 24/7.
The Mix is a UK based charity that provides free, confidential support to young people under the age of 25. They offer a number of ways to reach out for support including their helpline 0808 808 4994, open from 4pm - 11pm every day, plus Live Chat, discussion boards and a Crisis Messenger Service.
Dedicated to helping older people struggling with loneliness, The Silver Line offers a free, confidential helpline 0800 470 80 90 open 24/7.