Samaritans volunteer, Roxy, shares her story of how navigating her own grief led to a journey of supporting others in their time of need
Two years ago, my journey as a proud Samaritan volunteer began. The decision to become a volunteer was deeply personal and driven by several significant difficult experiences in my life.
Samaritans played a pivotal role in supporting me during a challenging period, working hand in hand with my counsellor to help me navigate those tough times. Then, in 2020, the world stood still as my dear friend, Jess Leanne Norris, took her own life during lockdown. It was a devastating loss, not only for me but for so many others who cherished her presence and grace. The journey I embarked on as I grieved the loss of a friend to suicide was complex and uncertain.
I had experienced the loss of my grandfather seven years prior. While his passing carried its own heartache and sorrow, I could somewhat justify it by acknowledging that he had lived a full life, reached a ripe age, and left me with lasting memories. However, at Jess's funeral, a different kind of sorrow overwhelmed me, a profound sadness I couldn't fully comprehend. Talented, beautiful — she was always the life and soul of the party and was taken from us way too soon! I felt an urgent need to do something, to make a difference.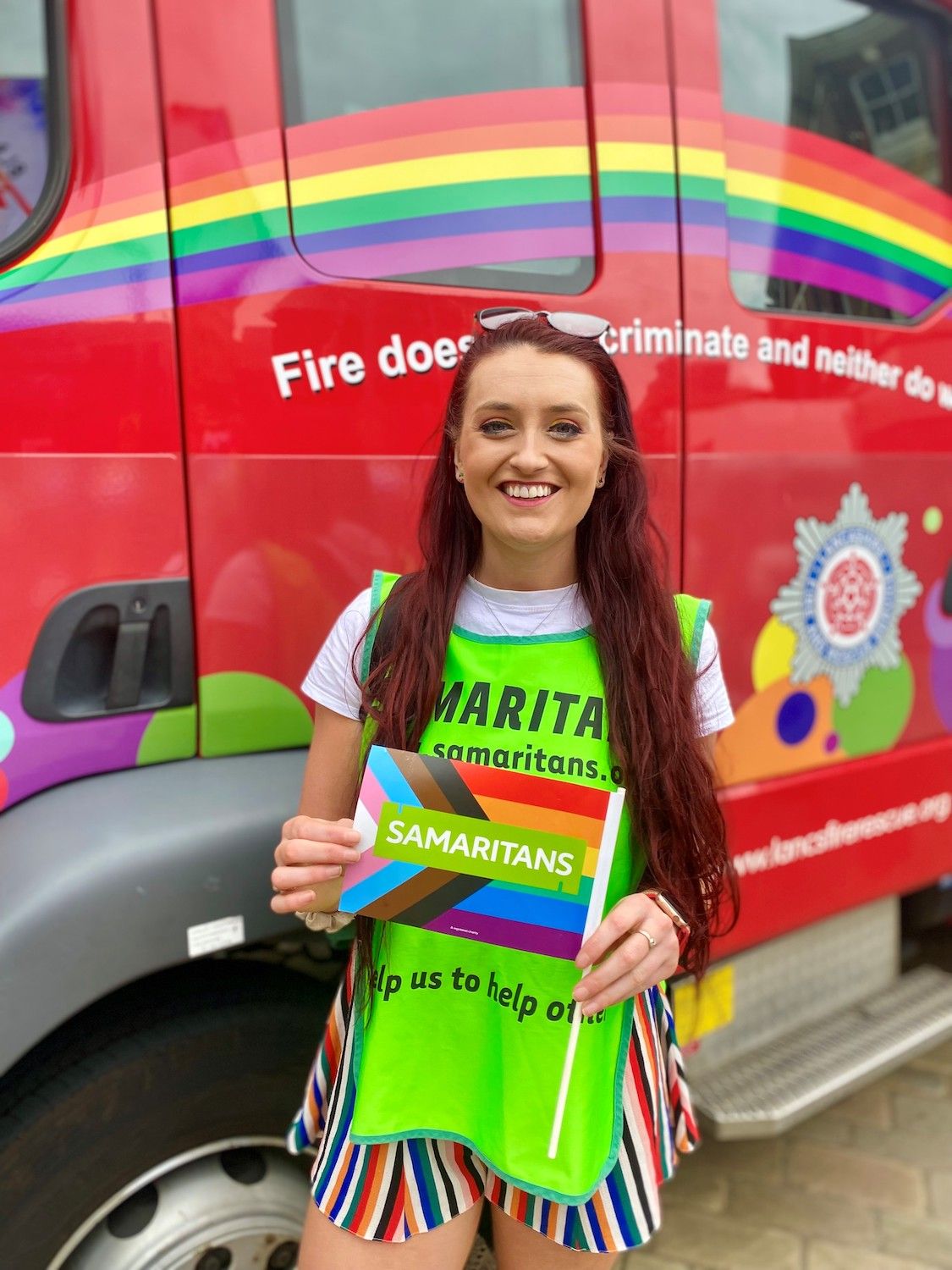 Inspired by a mental health initiative, I took on my own unique challenge in December 2020, aptly named 'Mental elf.' For an entire month, I dressed as an elf, creating the opportunity to spark conversations, raise funds, and break down barriers surrounding mental health stigma.
I wore that elf costume around the clock — at work, in the supermarket, even while riding my horse. After just one week, the impact was undeniable. People were engaging in meaningful conversations, and I found myself opening up about my own struggles. That's when I made the decision to extend the campaign throughout the whole month.
During this time, I also shared a part of my life I hadn't previously revealed — I had called Samaritans when I lost my grandad. Admitting this wasn't easy, but I realised that sharing this was an important way to break down the stigma associated with seeking help. My own journey had been fraught with challenges, including intrusive and suicidal thoughts. I felt compelled to share my experiences, to let others know that they weren't alone in their struggles.
Breaking the stigma around reaching out for help and to Samaritans is crucial. I consider myself a positive person, and I think some people were surprised to learn about my own struggles. However, I have no shame in acknowledging that Samaritans were there for me when I needed support. For many, sharing their true feelings might be hindered by the fear of causing panic in loved ones, making Samaritans a valuable resource.
I am proud of myself for how far I've come, and the positive changes made in my life, and now feel honoured to be there for others in their moments of greatest vulnerability and need
The turning point came when I started volunteering with Samaritans. At first, I wondered if I was mentally tough enough to do this given my previous experiences or even if I had the time to commit to volunteering. However, as soon as I began training alongside a number of remarkable individuals, I realised that this was something I needed to make time for. Despite my busy schedule, I make sure to set aside time for my Samaritans shifts, which serve as an anchor for me to take a break and focus on my own well-being. Every time I step into the duty room, I think of Jess and the possibility of helping someone in their darkest hour. This is what motivates me to volunteer week after week.
Throughout the training and now as a volunteer, I have felt incredibly supported and encouraged. My fellow volunteers have become an essential part of my life, and I know that I can turn to any of them for comfort and understanding. I often ring them to talk through personal or work struggles, and they always make me feel supported and loved!
A recent call reminded me of why I volunteer — a caller expressed gratitude after an hour of conversation, and it touched me deeply. During these calls, when you can sense you have made a difference in someone's life, it's a profoundly rewarding and honourable feeling. It brought me back to the core of why I chose to volunteer — to provide care and support to those who need it most. This path also led me to the career that I have now, working for mental health and wellbeing information platform, JAAQ.
Volunteering has provided me with a unique perspective on my own life. Even on what I might consider a bad day, it reminds me to be grateful and not take things for granted, like spending quality time with my treasured family and friends when I can.
To sum it up in the most authentic way possible, my journey from seeking help to stepping into the role of a Samaritans volunteer has been deeply transformational. A quote from Louise Hay recently really resonated with me, "Do the best you can until you know better. Then when you know better, do better."
It's been a journey marked by genuine personal growth, heartfelt gratitude, and self-improvement. I am proud of myself for how far I've come, and the positive changes made in my life, and now feel honoured to be there for others in their moments of greatest vulnerability and need.
---
Today is World Suicide Prevention Day, a day where organisations and communities across the world raise awareness of the topic of suicide and try and break the stigma around this subject. This year, Samaritans is reminding people that it's OK to ask about suicidal thoughts.
Check out Samaritans' website for information on World Suicide Prevention Day and advice about the language to use when talking about suicide.
Watch Happiful's video Starting a conversation about suicide - Advice from Samaritan's listening volunteers where Hannah and Heather share their advice about starting a conversation about suicidal thoughts and signposting help.
Images c/o Samaritans | Photographer Chris O'Donovan