FOOD & DRINK
Let's spice things up: The ultimate guide to growing your own chillies
---
Getting green-fingered isn't only for those with expansive gardens – there are plenty of plants that can thrive in small spaces, including chillies. Are you ready to feel the heat? Let's dig in!
If you're passionate about the prospect of growing your own, or excited about the thought of feeling earth between your fingers pursuing a new hobby, chillies are an excellent choice for beginners branching out into gardening. They can be grown indoors or out, thrive in pots, and don't need to take up masses of space. Sounds intriguing?
While they may not be considered a traditional garden crop, our palates have become increasingly accustomed to hot flavours, which makes these peppers a great addition to your green-fingered pursuits, as well as your exploits in the kitchen. Plus, you can pick from a range of different shapes, colours, and heat – from cultivars that give a delicate tingle to those with scorching firepower.
It is a chemical compound in the chilli – capsaicin – that stimulates the nerve endings in the mouth, skin, and eyes. The more capsaicin a chilli has, the hotter it is (so do be careful where you touch when cooking). This pungency is measured according to Scoville heat units, so, for example, a bell pepper has a score of 0 so without spice at all, pepperoncini is considered reasonably mild (100–600 on the Scoville rating), while a habanero, for comparison, is rated between 80,000 and 600,000.
Essentially, what this means is there is a chilli cultivar to suit every palate and cuisine, so have fun and experiment. Try growing 'Caribbean Antillais' for its small, aromatic fruits, or 'Fiesta', an ornamental plant whose fruits are very hot indeed. 'Demon Red' produces upward-pointing, bright red fruits that are used in Thai cooking. The beauty of buying seeds is the sheer variety available.
So, where to begin? Chillies are grouped into four types:
Annum – single white or purple flowers. Try 'cayenne' and 'jalapeño'.
Frutescens – Straight, spicy and small. Try 'tabasco', 'bird's eye' and 'piri piri'.
Chinense – Mostly very hot, small and round. Try 'scotch bonnet' and 'habanero'.
Baccatum – Wrinkly fruits and brown or green spots on flower petals. Try 'aji'.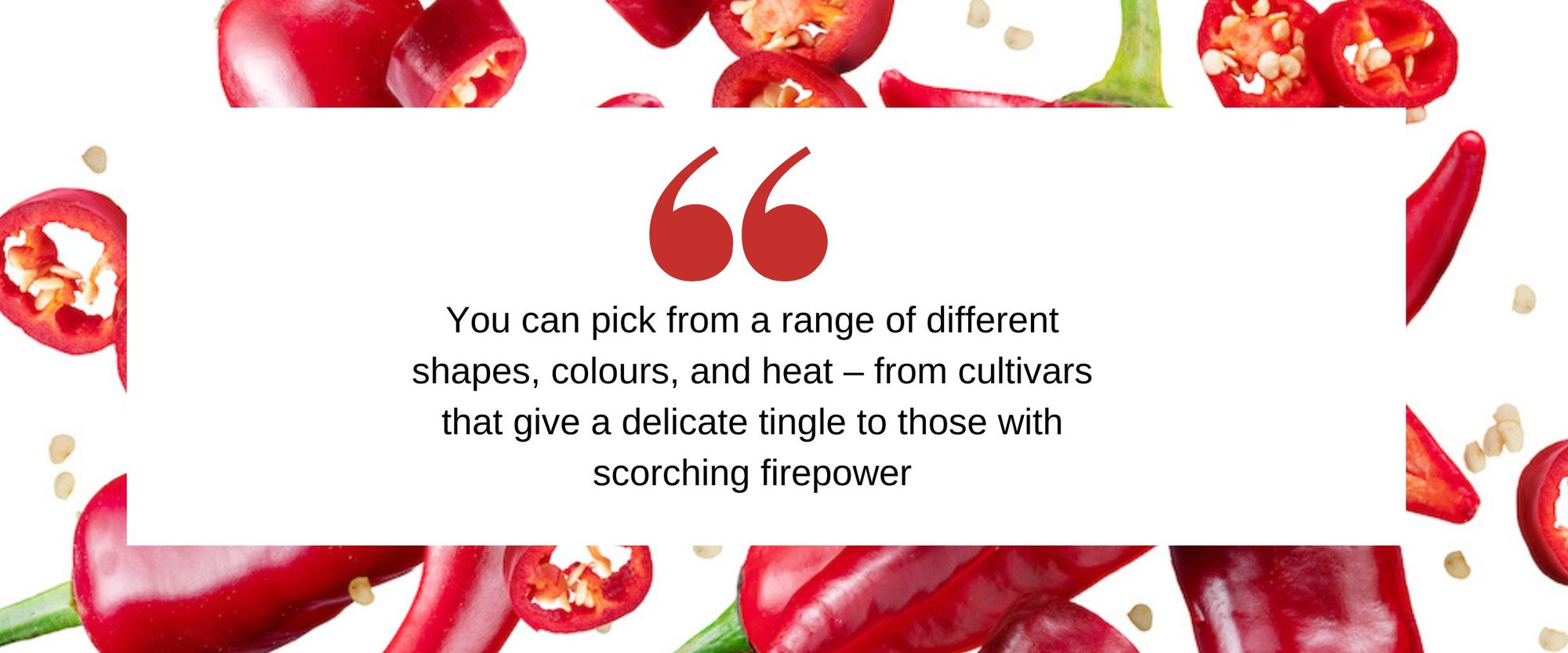 A guide to growing chillies
Sowing season: February to April (UK)
To begin, get some 9cm pots filled with peat-free seed compost, and place two of your chosen seeds in each one. Water a little, then cover with a clear plastic bag and place on a warm, sunny windowsill, or in an airing cupboard. Over the next few days, keep the soil moist, but not soaking wet. After a week or so, you should see the seedlings start to emerge, and it's at this stage that you can remove the plastic bag. Continue to grow your shoots indoors in a warm spot. If both seeds have germinated, remove the weaker of the two, giving the remaining seedling more room to establish healthy roots.
Once the chilli seedlings are about 10cm (4in) tall, it's time to move them into bigger pots – they will stop growing if not transplanted. Use dark-coloured containers as these are better at retaining heat, then place them in a sunny, warm spot. A mini greenhouse is best as this provides the warmth that chilli plants crave, and you can get narrow, compact versions that fit into the corners of small gardens. However, given a decent summer, most plants will do fine outside uncovered, direct in soil, as long as there's no chance of frost. To give your chillis the best chance of success, plant them in the sunniest spot in your garden, and space 45cm (18in) apart.
Keep watering to prevent the chilli plants drying out, but don't let the soil get waterlogged. Misting plants with a water bottle, especially those in a greenhouse, will help the fruit set, and keep pesky red spider mites away. You may want to occasionally feed with an organic fertiliser, such as kelp meal, when the first flowers appear.
If you choose to grow plants indoors, once the flowers appear, open windows to allow pollinators access. Or you can actually pollinate them yourself, by carefully dabbing the centre of each flower with a dry paint brush.
When the chillies are ready to harvest, from late summer onwards, use a knife or secateurs to cut them from the stem. The more mature the fruit, the more colourful and better flavoured it will be. But it's fine to pick a few of the chillies while they are still green, as this will encourage a larger crop.
Should you end up with more than you can eat, freezing is an excellent way to preserve chillies. Spread them out on a tray so they are not touching, and pop them in the freezer. Then you can enjoy adding an instant homegrown kick to your cooking for many months to come.
---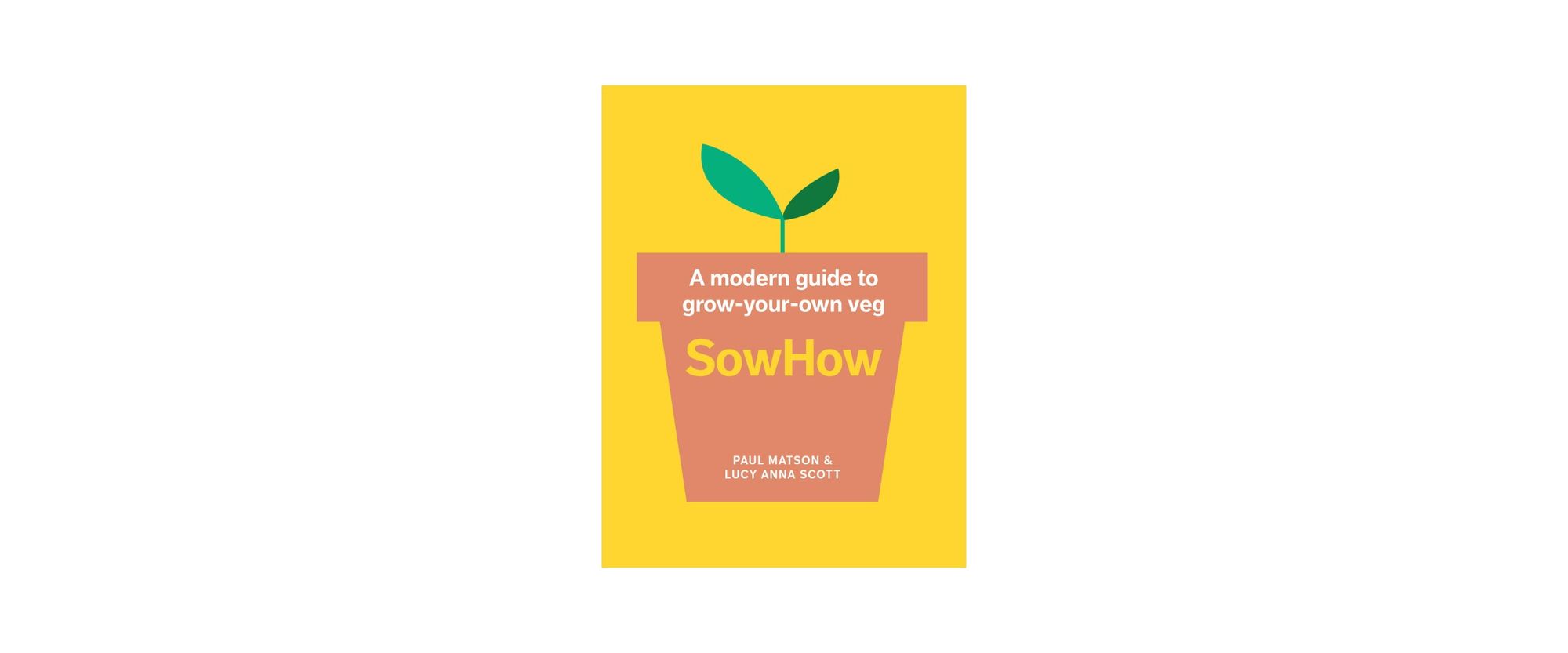 'SowHow: A modern guide to grow-your-own veg' by Paul Matson & Lucy Anna Scott is out now in paperback (Pavilion Books, £12.99).