Laura Brand is on a magical mission to help us all embrace creativity and welcome joy into our lives. Through her new book, The Joy Journal for Grown-ups, she's gifting us with permission to be curious and play, in the most beautiful and nature-inspired ways
Close your eyes for a moment, and think back to when you were a child. What type of playful, creative activity did you love? Now ask yourself: when was the last time you did that as an adult, and what is stopping you from doing it now?
When I did this exercise, I remembered picking up rose petals from the garden and storing them in a jar with water to make 'perfume', building elaborate sandcastles bedecked in shells on the beach, and creating a school holiday diary covered in a Smash Hits poster, crammed full of scribbles, postcards, and pictures of day trips and family visits.
Decades later, I know that the rose petal perfume probably isn't worth pursuing, but seeking out shells to appreciate their beauty, keeping a diary, or drawing pictures of moments that really matter to me? They sound like beautiful things to do.
Author and illustrator Laura Brand is dedicated to championing the benefits of engaging in creative play like this for people of all ages. Her personal adoration of creativity stems back to her childhood, and playtime with her own children, Mabel and Peggy, provided the catalyst for curating and writing two truly beautiful books on the subject.
"When my daughter was born I started to look for ways to be a little bit more mindful in parenthood, and in general adulthood, so I started engaging her with creativity and nature – my passions," Laura explains. Their discoveries inspired The Joy Journal for Magical Everyday Play, the publication of which prompted heartwarming reader feedback.
"I had so many messages," Laura beams. "From lovely parents, or the aunts, uncles, and grandparents in some cases, who said that getting outside with the children, using a little bit of imagination, and being permitted to play in a way that's a bit slap-dash, with an emphasis on 'have a go', brought about feelings of nostalgia and a feeling of being nurtured."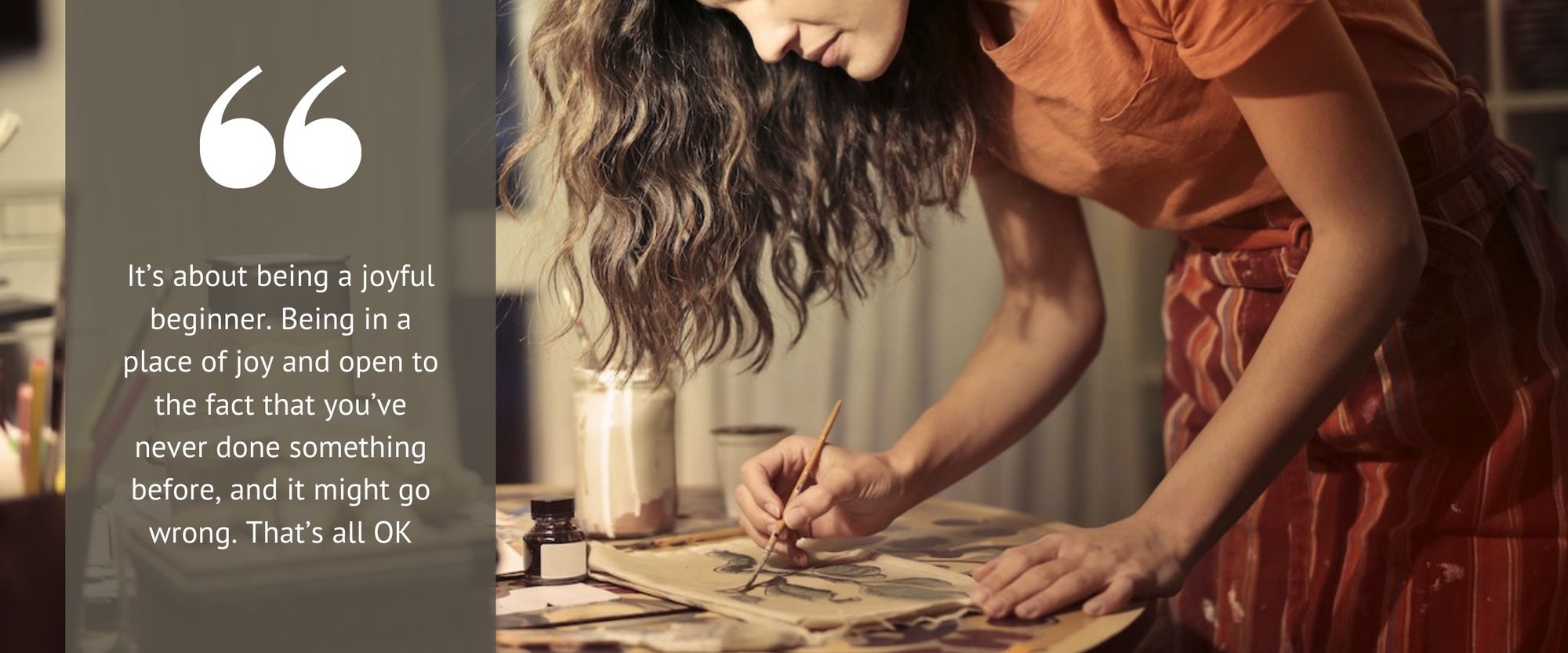 These comments inspired Laura to develop her new book, written for adults: The Joy Journal for Grown-ups: 50 homemade craft ideas to inspire creativity and connection. She focused on activities that she loved or wanted to learn, such as candle and soap making, creating wreaths for any occasion, and experimenting with painted glass – all beautiful, ways to slow down, find our flow, and welcome in some joy. Because, as she explains, that's a really great thing for grown-ups to do, too.
"We are still allowed, in adulthood, to play. It's quite hard to remember and do that, and to feel like we're making the most of our time. The idea is to invite people to try to get into a creative mode and play, and for it not to necessarily result in these big final products or projects, but just to have a go."
At the heart of Laura's latest work, is the gentle promotion of a phrase that she heard and instantly loved. "It's about being a joyful beginner," she shares. "Being in a place of joy and open to the fact that you've never done something before, and it might go wrong. That's all OK."
Laura's approach is a long way from the hustle culture or toxic productivity we can be susceptible to, where every new skill needs to be capitalised upon, shared online, or constantly worked at to exceed our own and other's expectations. Making time to create purely for the joy and the experience itself, is the only ask.
"In early-years learning, this type of creativity is often called 'process art'," Laura explains. "When you invite and encourage a child to make something, but you don't necessarily have an end product in mind. It's more the idea of what state they're in when they're doing it. It's about whether they are enjoying the play, and if they're not, then you let it go."
For adults who struggle with perfectionism or the need to excel at something, however, noticing any frustration around creativity and continuing, could be a good thing. "Surrender to it," Laura suggests. "If you feel like you're not good at what you're doing and it's causing stuff to come up for you, then you might have to push through – that process is important. It's fine that you might not be holding up a Picasso at the end!"
🕯️
Laura Brand's soy wax melts:

This is a brilliant way of repurposing candle ends, and it is also really simple and effective if making fresh with wax beads. I have chosen to use soy wax as it burns with less scent than beeswax and is much easier to clean up, but you can substitute this with the same measurements of beeswax if you want to.

What you will need:
1. Heat proof mixing bowl
2. Saucepan
3. 5 tbsp soy wax pellets (or ends of candles)
4. 1 tbsp coconut oil
5. 1 tsp essential oil (or try more than one scent)
6. Silicone ice cube or baking tray (ones with small holes are best for this)
7. Measuring jug
8. Jam jar with lid (sterilised and dry)
9. Optional: 1 tsp dried flowers

Method:
1. Set up a bain-marie by setting a heat proof mixing bowl on top of a small saucepan of water. Make sure the base of the bowl doesn't touch the water. Turn the heat on to get a rolling boil and then add the wax pellets or candle ends to the mixing bowl to melt. If you want to stir use a metal or plastic spoon, otherwise just leave it to melt.

2. Once the wax has melted, add the coconut oil and stir. If you are using one scent, put the essential oil in now and stir again. If you want to use a variety of scents, put a drop of essential oil into each hole of your silicone mould. You can add dried flowers at this point if you want, which looks incredibly pretty but won't necessarily give off a scent unless they are highly perfumed rose petals or similar.

3. Carefully pour your melted wax into the measuring jug as the spout will help you distribute the wax between the moulds. The wax will solidify very quickly, so after transferring into the moulds they will be ready in 5 minutes.

4. They will melt more slowly in your burner if you let them settle for 24 hours before using, so pop them out of the moulds and into a jar to keep or give as a gift!

If you are pregnant, please only use essential oils if you have checked their suitability.

How can you use this
I use my wax melts in a ceramic oil burner. I pop the shapes into the top well and light the candle, which will slowly melt the wax and diffuse the scent into the room. When I put the candle out, or if it burns out, the wax will harden and you can continue to use that the next time you are looking to add fragrance to your space.

When you want to clean out the diffuser, you can wait until it reaches the end of the wax and, while still warm, wipe with kitchen roll. Soy wax comes away easily with soapy water. Otherwise, pour boiling water in to soften the wax and catch the wax beads which will form on the surface with a piece of kitchen roll and dispose of the water.

Why I love it
These wax melts seem to make the scent in an oil burner go further and using soy wax means it cleans really easily. They also look good enough to eat in their sweet, small shapes and can be popped into a clean lidded jar to make a thoughtful homemade gift.

Making it your own
You can add dried botanicals to the wax melts, and because they aren't in direct contact with a flame, they will heat with the molten wax. Lavender has a relaxing aroma and looks very beautiful.

---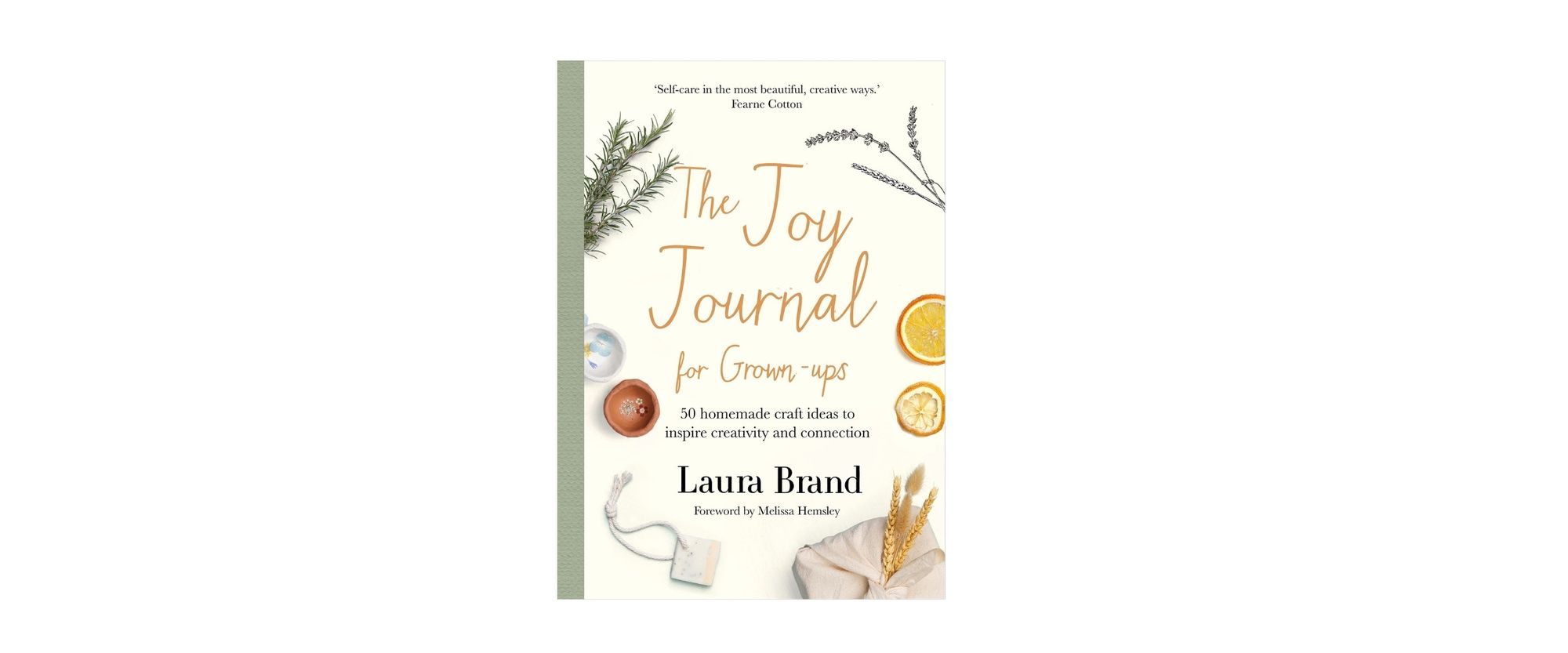 Extract from 'The Joy Journal for Grown-ups: 50 homemade craft ideas to inspire creativity and connection' by Laura Brand (bluebird books for life, £16.99), out now.
---