NEWS
Is 'Blue Monday' a Myth?
---
The 'most depressing day of the year' doesn't fall in January, according to data collected by leading mental health website Counselling Directory
While there has been growing hype (and consequently backlash) about 'Blue Monday' over the past few years, data gathered by the UK's Counselling Directory supports the notion that Blue Monday (on the third Monday of January each year) is actually a myth. In fact, their research suggests that the second or third Monday in November is actually the peak time people are searching for support.
Research suggests that November is the peak time people are searching for support
The website has revealed that it has received more than 3,030,000 visitors looking for professional support in November, since 2010.
The second busiest month with people looking for a counsellor was October, with 3,012,723 searches. March came in third, followed then by January in fourth with nearly 200,000 fewer visits.
While the notion that there is any single day that people might suffer from depression is damaging, the important thing to recognise is that these stats demonstrate the huge number of people needing help, but also actively seeking support – it's not exclusive to January, and certainly not just January the 15th.
"Blue Monday" was originally suggested by life coach Dr Cliff Arnall in 2005, after his formula assessed the weather, debt, time since Christmas, the failure of any new year's resolutions and people's general motivation levels. But since then, more and more people and charities are speaking out against the concept, with the mental health charity Mind calling it "misleading".
While "Blue Monday" might promote a false sterotype, it does highlight mental health and hopefully prompt some positive conversations that will genuinely help those experiencing mental illness – and are likely to have been for an extended period of time.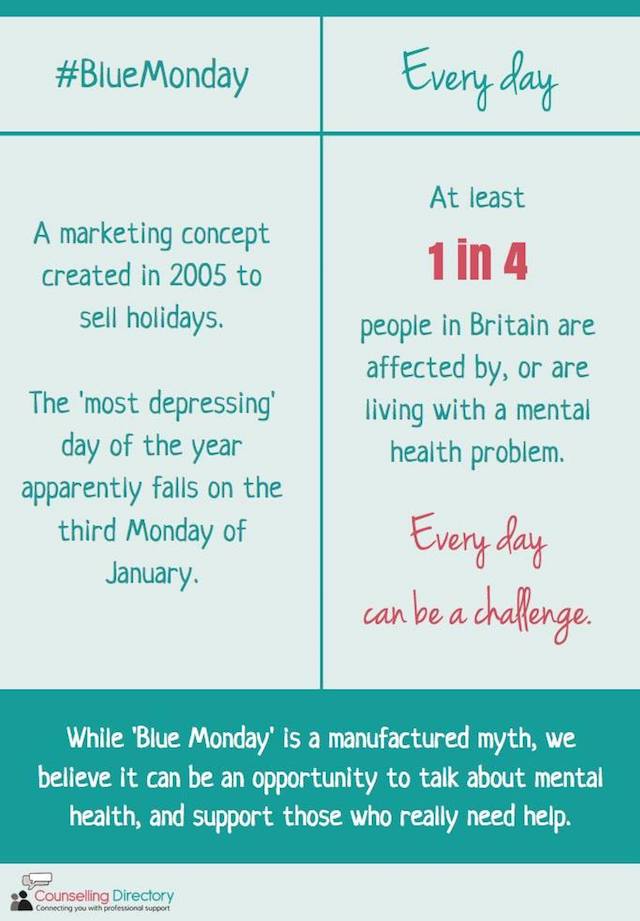 A Counselling Directory spokesperson has said: "Blue Monday is widely known to be a manufactured myth, but we believe any initiative, at any time of the year that encourages people to consider their mental health, to reach out and speak about their concerns – to a friend, family member, colleague or counsellor – could be beneficial, especially if those conversations continue beyond that one day."
And this year, we're seeing more and more people set up positive initiatives to encourage that conversation, to make the most of a notable (if not factual) day. Samaritans are celebrating Brew Monday and Rethink Mental Illness are running a Bright Blue Monday campaign, all in aid of prompting people to support each other's mental health, and think of ways we can improve it.
So whatever it is you're doing today, and every day for that matter, take a moment to reach out to someone you might be concerned about and ask them how they're doing. Depression isn't limited to one day or time. It can affect anyone, at any time. The important thing, is to be there to support each other regardless.