LIFE
Intergenerational living: what is it and how can it improve our social relationships?
---
A closer connection between those across the spectrum of life could hold some magnificent opportunities for all involved. Let's explore the power of intergenerational living…
How many people do you regularly interact with who are of a different age to you, another generation? Now take away your close friends and family, does that change things?
In reality, apart from maybe someone we work with, or say hello to in the supermarket, many of us only have fleeting moments, rather than deep connections, with people of differing ages and stages of life.
But, why is this so important? Diversity is critical to our wellbeing, offering new perspectives, insight, and even improving our creativity! And intergenerational relationships contribute greatly to this. They go far beyond befriending and volunteering, both of which are still beneficial, but encompass learning, laughing, teaching, supporting, and really experiencing life together.
With so many wide-ranging benefits of intergenerational relationships – socially, mentally, and emotionally – I'd like to celebrate and share some of the ways that they can help you to thrive, and invite you to get involved, too.
A new age
One of the best ways to connect more deeply with other generations is by getting involved in your community – and learning from the range of characters you'll meet there. Some incredible initiatives have launched over the years, including Food for Life which hosts local events, from cook-a-longs to teaching people how to grow their own food, for people of all ages and backgrounds. Plus, the Eden Project organises a 'month of community' in June, inviting people to get together to celebrate friendship, food, and fun with their neighbours.
It doesn't stop there though. We constantly hear about the care needs of older adults and issues of social isolation. But it's become apparent, especially during the Covid-19 pandemic, that despite young people having access to large social media channels, they suffer social isolation as much as older adults. Depression and anxiety are not confined to the young either.
The Office of National Statistics estimates that approximately 67 million people live in the UK, and that 18.6% are over the age of 65. By 2041, that figure is set to increase to 26%. At the same time, the increasing cost of living, and various other challenges, means that larger numbers of young people are still living at home. Could there be a way for these parties to support one another, and address the issues of loneliness at the same time?
If we see age merely as a differentiator, we're pigeon-holing ourselves. It doesn't fit the 70-year-old motorcyclist or gig-goer, or the teenage baking or cross-stitch enthusiast. It simply gets us trapped in stereotypes, and limits our opportunities to connect – but it doesn't have to be that way.
Breaking the mould
Drawing together different groups in society has a wealth of benefits, which initiatives like Care Home FaNs are making the most of. This social action project provides opportunities for youngsters and school-aged children to spend quality time with older people living in care homes, engaging in activities such as storytelling, digital media, and horticulture. With 4,000 people currently taking part, and each project lasting up to 18 months to establish deeper links, it certainly seems that everyone is appreciating the benefits of these new connections.
But intergenerational relationships aren't exclusive to projects – they can truly be found anywhere. I recently had the pleasure of speaking with Angela, who is in her 70s, who has enjoyed a close friendship with her former colleague Eve, which has spanned more than 20 years. Despite Eve being 15 years her junior, and life taking them in different directions, during these latter years, their friendship has really deepened.
Where once work or children bonded the pair, Angela and Eve now provide a listening ear for one another, enjoy dog walking, and even share sourdough bread. In some ways, Angela provides a mothering presence for her friend whose extended family are not close geographically, and Angela's younger friend is always there for her.
Eve also reveals that she volunteers as a befriender for two women in their 90s, and gains as much as she gives with these experiences. She enjoys hearing about the women's lives, their shared interests in singing, music, food, animals, and gardening, but the beauty is in simply having a chit-chat.
What stands out from these accounts is the commonality of life and an interest in another human being, which goes far beyond the age differentiator.
The future of friendships
Professors Timothy Brubaker and Ellie Brubaker conducted a study on intergenerational relationships which reiterates the similarities in values of human experience, above the things that differentiate us, such as age. They found that intergenerational relationships are enhanced when they exhibit the four Rs: respect, responsibility, reciprocity, and resilience.
While, initially, it might feel as though the young and older generations don't have that much in common, it's believed that through spending time together, the young will come to value the elder's life experience, and as relationships evolve there's a lesser sense of obligation or caregiving. Instead, responsibility becomes an appreciative, shared value. This strengthens relationships at all levels, and through the changing dynamics and stages of life.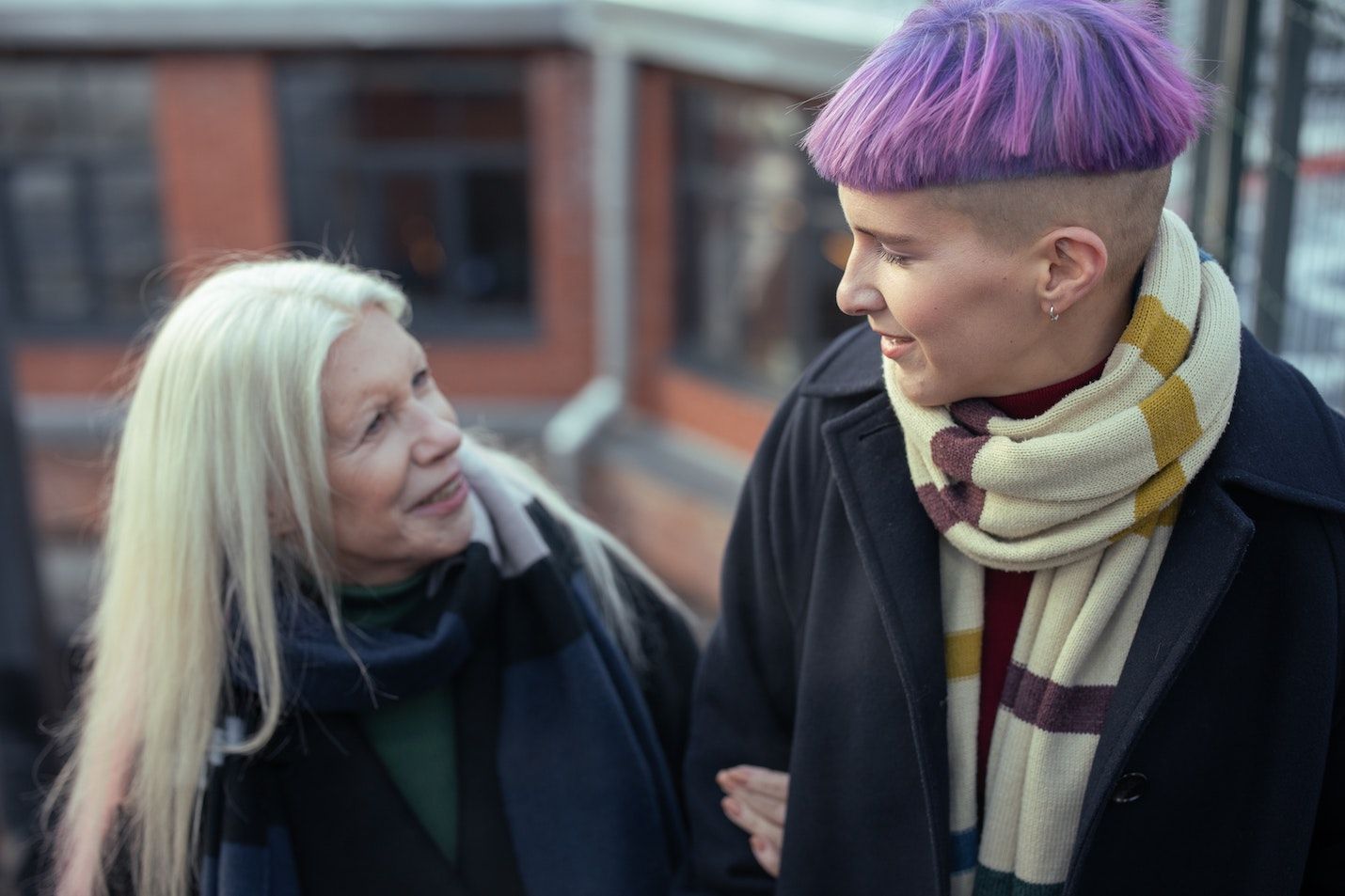 So, how do we take the next steps and make intergenerational living a common practice in modern life? Well, actually, many cultures around the world already do. Often grandparents might live on one floor, or in an annex, or next door to their children and grandchildren. But there are also initiatives to help those unable, or without family, to live in close quarters. Share My Home matches older people with a room to spare with "compatible companions", who pledge time each week to help around the home, and enjoy each others' company – improving the quality of life for all.
A social step forward
Intergenerational living is now recognised as a successful strategy for developing effective communities, and addressing society's wider health agendas. Some local authorities, supported by innovative designers, community groups, and the public, are making inventive responses to the way our societies are actually built in the first place.
The Tullkammarkajen project in Halmstad, Sweden, was specifically designed to consider shared living for people of different stages of life. Providing access for both disabled and non-disabled people, their designs incorporate areas for communal eating, sharing social activities, and taking part in horticulture. They even integrate a kindergarten in the midst of the housing projects.
Closer to home, Matter Architecture, a London based firm, are working with partners to establish housing that "supports and enables participation and sharing amongst residents of all ages". Their designs show integrated housing with open spaces and wheelchair accessible platforms, among green spaces for people of all ages to enjoy.
These schemes greatly support young parents struggling with childcare. They also give hope to young adults juggling jobs, and struggling to get into the housing market, as well as isolated elders wanting to be more involved in the community. They break down stereotypes and deepen understanding between people.
Interested in getting involved?
United for all Ages is a social enterprise supporting centres around the UK where people of all ages can meet to chat, as well as take part in activities and sports together.

Reengage holds regular tea parties for which they often need hosts.

The Together Project holds singing classes called 'songs and smiles'.
Whether your curiosity is piqued by one of these projects, or you have your own creative ideas in mind, know that simply reaching out and speaking to someone of a different age or stage is a great place to start. As Gertrude Stein said: "We are always the same age inside."
---