NEWS
Instagram and CALM unite to tackle taboo around male body image
---
Instagram has joined forces with Campaign Against Living Miserably (CALM) to launch a series of interviews with familiar faces to get more men talking about their bodies

'CALM Body Talks' - which kicks off this morning on CALM's Instagram feed - is in response to new research revealed today that over half (58%) of men feel negatively about how they look, a direct result of the pandemic. This has had a knock on effect on men's emotional wellbeing, with almost half (48%) revealing they've been struggling with their mental health because of their feelings towards their bodies.
The research commissioned by the suicide prevention charity and the social media platform sought to determine how Gen Z and Millennial men (aged 26-40) feel about their bodies, the societal pressures they face to change their appearance, and the damaging impact on young men's mental health.          
2,000 men were surveyed and the results paint a concerning picture, suggesting that body acceptance and body positivity for men, which has previously flown under the radar being a widely recognised and celebrated movement for women, is now having an increasingly worrying impact on men's mental health.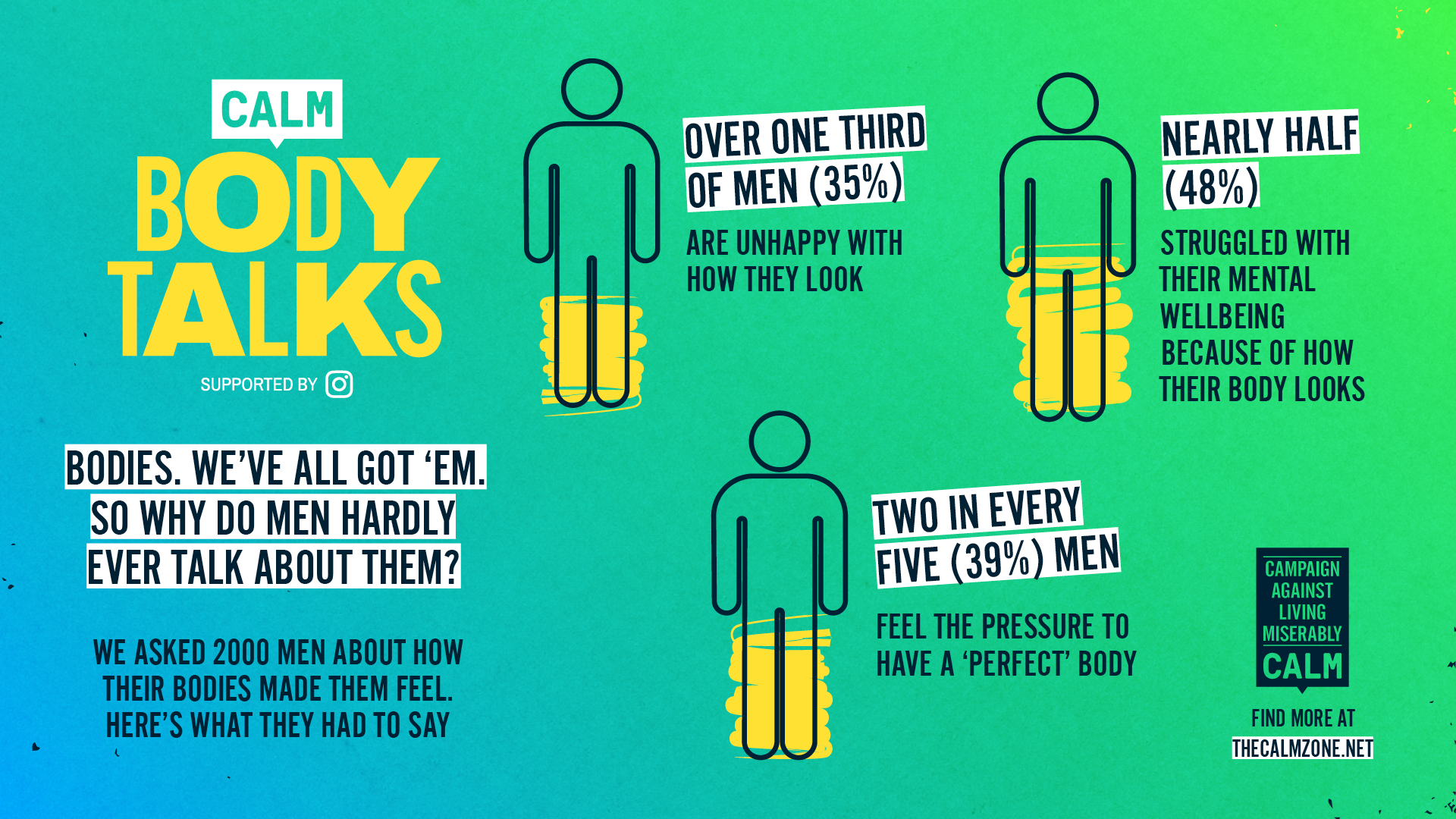 As the research found that only a quarter (26%) of young men feel happy with their appearance, and 21% wouldn't be comfortable sharing this with anyone, CALM Body Talks sees familiar faces Jamie Laing, Russell Kane, Leon Mckenzie and body acceptance activist Stevie Blaine, take to Instagram's stage to share their own experience with poor body image in the hope it gets more men talking about their bodies and challenge the damaging masculinity stereotype.
"Like so many men, I have experienced a variety of body image concerns in my life. From worrying about my weight when I gave up playing rugby as a teenager, to stressing about my hair loss in my late 20s, these are issues I struggled to talk about at first. Yet so many of my friends have gone through similar struggles", comments Jamie Laing.
"So I want to help Campaign Against Living Miserably and Instagram open up the conversation to show men they are not alone. We all have off days when we look in the mirror, but we can either learn to love what we see or make positive changes - the key is to do it for yourself and your mental health!"
Investigating the cause behind the negativity men feel towards their bodies, 39% said they feel pressure to have the 'perfect body' with half suggesting mainstream media, social media and celebrity culture as the main channels promoting unachievable and unrealistic body goals. Over half (54%) stated that the body types they are bombarded with every day are not representative of the male form in general.
Although social media can be fuel to the fire when it comes to unrealistic representation of the male form, it can also provide a space for a wider and more diverse representation of male bodies. Three in five men (60%) said they follow accounts like Jack Black, Joe Wicks and Joshua Anthony, who actively promote positive male body image.
CALM Body Talks is part of a growing movement online calling for more men to love the skin they are in. Watch the series on CALM's Instagram channel.
---
Body neutrality
We know that achieving self-acceptance let alone self love can be difficult for many, so we've put together some resources that we hope may help you find peace with your body:
Remember if you are struggling with low body mage and it's affecting your mental health and emotional wellbeing, support is available. CALM's helpline is open 5pm-midnight 365 days a year on 0800 58 58 58 or use their online webchat.
If you need to talk, you can find a professional counsellor via Counselling Directory who can support your worries.
Photos courtesy of CALM. Header image: Stevie Blaine