LIFESTYLE
How to set planet-friendly, sustainable intentions
---
Do you want to live a more eco-friendly lifestyle, but don't know how to make goals that will last? Here are some tips to help
Are you wanting to reduce your household carbon emissions but feel overwhelmed by the prospect of change? Do you start by feeling really motivated and then find it all gets too much? You're not alone.
Eco-anxiety is on the rise and more of us than ever are concerned about the planet and our future on it. And, if there's one intention we can all agree would have a real benefit this year, it's being kinder to the planet.
From switching your toothbrush to changing your bank account, there are lots of positive steps you can take this year. But, we know it can be easy for even the most well-intentioned of goals to fall by the wayside. So, where exactly do you start?
To give you a helping hand, here are some ideas to help you set meaningful intentions to live a life which is kinder to the planet this year.
Don't be afraid to try something new
You might be taking part in Veganuary at the moment and, if so, well done! You're in good company, as recent reports state that 500,000 people have signed up this year – double the number who took part in 2019.
Committing to changing your eating habits for a month is a great way to push yourself and try new things. And, you might find that you're happy to ditch many of your favourite meat meals, in favour of more plant-based alternatives.
According to new research commissioned by Merchant Gourmet, comforting classics such as beef burgers and chicken curries will no longer be on the menu for many of us in the future. Instead, more of us will be swapping them in for substitutes, thanks to the wealth of options now available in supermarkets.
So, don't be afraid to give it a go - trying a new vegan recipe, switching to a plant-based milk alternative, doing a meat-free Monday, or committing to Veganuary. You might find that it's easier to sustain than you first thought.
Make SMART eco goals
Perhaps you're aiming to reduce your household waste or decrease your carbon footprint. These big goals can keep you motivated and focused but, having a big goal without an action plan isn't conducive to success.
How will you know when you're wasting less or when you've lowered your carbon emissions if your goals are general or vague?
That's where the SMART principle can help – forming goals that are specific, measurable, achievable, realistic and time-framed. Doing this means that not only do we have a goal, but we will see our progress and know when our goal has been achieved.
We can break this idea down using 'reduce household waste' as an example:
Specific - reduce waste in the bathroom.
Measurable - convert to reusable/compostable/recyclable options for five bathroom items.
Achievable - those five items might be cotton buds, toothbrush, razors, hand soap and period products.
Relevant - I am responsible for household purchases and, therefore, can source alternatives.
Time-framed - I want to reduce bathroom waste (on these five items) within the next three months.
Not only does this method make it clear what you need to do, but you'll also be able to review your progress.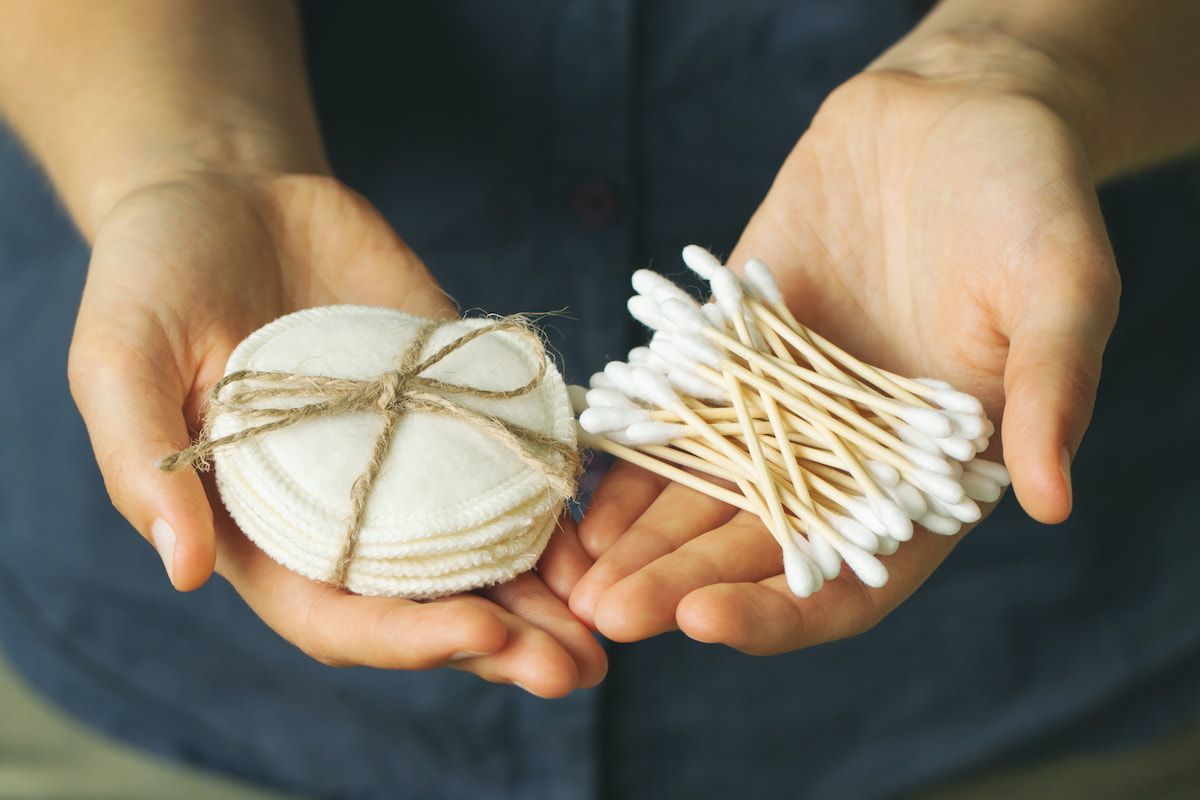 Remember, these goals don't have to be fixed – they can be fluid and adapt to your changing needs. If you can't get hold of a certain product to swap to right now (due to lockdown restrictions or postage delays), that's OK. Your intention to change it is the important first step.
Think about where you can make lasting change
It's all well and good making product swaps, but it might serve you (and the planet) better to make commitments that will last a lifetime.
That might be changing to an eco-friendly or ethical savings account, with a bank or building society like Ecology. Or, committing to switch to only use renewable energy, from a green energy supplier like Bulb. Once you've made these changes, they can continue your intention, running in the background for years to come.
Get technology to help you
You don't have to make changes on your own. There are apps that can help you.
My personal favourite is Ecosia, which allows you to search the web and plant a tree. By downloading the app and making Ecosia your default browser, you can join a global community of more than eight million people reforesting the planet with their searches. It really is that simple.
There's also OLIO, best known for its work tackling food waste, which has now developed into a wider community sharing app. It allows users to pass on unwanted items from food to furniture and clothes to cookware. Have you got anything lying around the house you're keen to get rid of? OLIO makes it incredibly easy for you to give these items to your neighbours.
The app has seen a huge surge of activity in 2020, particularly during COVID, achieving the same amount of growth (items shared) in the first five months of the pandemic as it did in the last five years.
Having this technology at your disposal means committing to your planet-friendly intentions are always just a few clicks away.
---
For more advice on how to live consciously and intentionally this year, here are some resources that can help: