SOCIETY
Chloe Madeley: Healing anxiety and finding body-confidence
---
When fitness expert Chloe Madeley began exercising to heal her anxiety naturally, she could never have dreamed of where her newfound strength would take her…
As the daughter of TV presenting royalty, Richard and Judy, Chloe Madeley was once – in her own words – heading "by default" towards a big job on the small screen.
First a runner, then a senior researcher, Chloe bagged a few "novelty gigs" in front of the lens as a roaming reporter on her parents' daytime programme, before landing her big primetime break, competing in the 2011 series of Dancing On Ice.
But one month in, as she prepared to perform in front of 10 million viewers with her pro-skater partner Michael Zenezini, Chloe, 30, experienced a panic attack – her very first – and in an instant, the course of her life changed.
"I was in a total haze during the performance, then went backstage and had a complete meltdown," she recalls. "Thank god Denise Welch [a fellow contestant], who has a history of anxiety and panic attacks, was there. She said: 'Oh my God, you're having an actual panic attack.'
"That's when it dawned on me that I was suffering from quite debilitating anxiety but, when I thought back, I had been my whole life, way back into my childhood. For example, I was really bad at maths and would have minor but very real anxiety attacks before maths lessons – increased heart rate, shortness of breath, and panic. I didn't realise what I'd been feeling until I started Dancing On Ice. I am not a performer in any way, shape or form, and that was the spark for me. All of a sudden anxiety flipped into full-on panic attacks."
Chloe now believes her anxiety is "probably" rooted in genetics.
"My mum [Judy Finnigan, 70] has suffered with anxiety and depression her whole life and I didn't know this until it started to hit me," Chloe explains. "She told me that in her early TV days, every day for over a year, she would get so anxious before she had to go on air that she would vomit."
To combat her own symptoms and continue performing, Chloe sought CBT (cognitive behavioural therapy) with former resident This Morning psychiatrist Dr Raj Persaud, and his expertise, specifically breathing techniques and a clear scientific explanation about why the attacks were happening, saw her through to the Dancing On Ice final where she finished third.
Yet just over a year later, in the midst of a "horrible" break up, confused about the direction of her career and partying hard in a misguided bid to heal her broken heart, Chloe "unravelled" again.
"In a practical sense, CBT helped me to do a live ice dance on national TV, but when it came to my first real heartbreak, no amount of CBT was going to help me," she admits.
"Studies have been done on the brain, which show that the same areas react to a real bad break up as when you pull a substance abuser off their substance. There's the same drop in hormones. I was in a hole and couldn't pick myself up.
"It got so debilitating that I stopped sleeping and eating. I was going out all the time. I wanted to be around people and couldn't be alone. I was going out three or four nights a week. I've always been a homebody and that's quite reflective in how uncomfortable I was in my own skin."
On the advice of her GP, Chloe began exercising to help ease the anxiety, first running three times a week and later, after starting a new relationship with actor-turned-personal trainer Danny Young, heavy weight-training in the gym. The latter had a transformative impact on her mental health.
"What I learned to do is incredibly good for anxiety –the methodical movement of training, the very visual results, developing physical strength and also being consistent and committed to something," she explains.
"Getting up every morning to go to the gym is part of my routine. Even if it happens at 5.30am, it's happening. I don't wake up and have to convince myself to go to the gym because it's so pivotal to my career and happiness."
Discovering a career ambition in fitness also contributed hugely to Chloe's inner balance. "It sounds dramatic and ridiculous, but everything changed with my first weighted squat," she says.
"I thought: 'This is what I want to do.'"
Chloe swiftly qualified as a personal trainer, gym instructor and nutritionist, and accumulated a full quota of clients. In 2013, she launched her exercise and nutrition advice website Fitness Fondue, and is now a revered fitness guru, adept at shredding fat and building muscle without using pricey gym equipment. As well as 183,000 Instagram followers, Chloe has developed three best-selling fitness apps and last December published her debut book, The Four Week Body Blitz. Her next plan, The Fat Loss Blitz, is due for release later this year. Chloe Madeley's fitness empire is ever expanding.
---
The 4-Week Body Blitz by Chloe Madeley (£14.99, Transworld) is out now. Follow Chloe on Instagram @madeleychloe
---
Full interview in the August issue of Happiful Magazine
---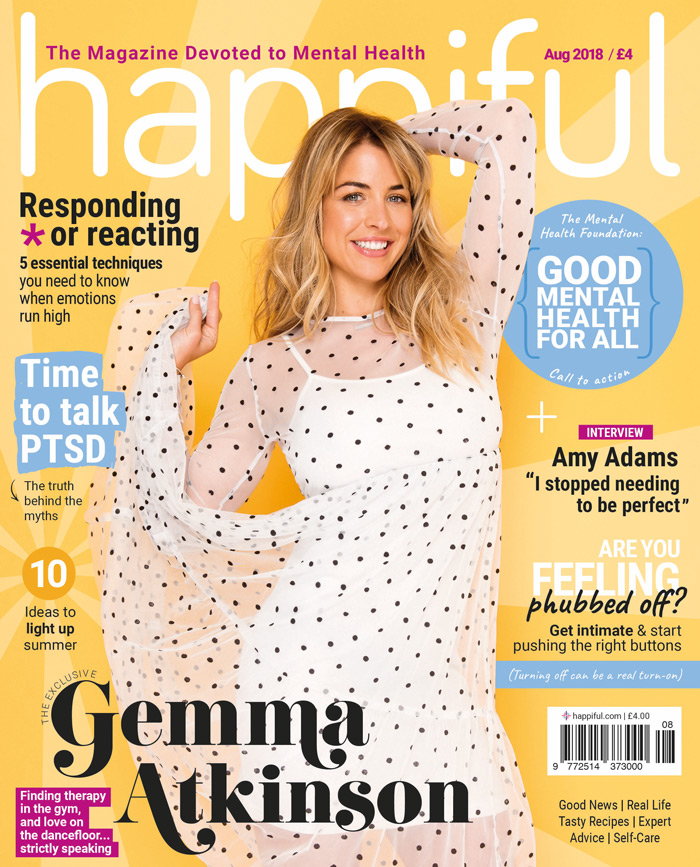 To read more of Gemma's exclusive chat with us, pick up the August issue in supermarkets this week.
3 Ways to Get Happiful Magazine
In-store: Pick up your copy in Waitrose, Tesco, Morrisons or Asda. Find a store near you.
Online: Happiful is completely free to read digitally. To get our August issue in your inbox this Thursday, subscribe now.
Happiful Shop: Can't see your copy of Happiful in a store near you? Head to our online shop.
Photography | Sam Riley