NEWS
Happiful Signs Time to Change Employer Pledge
---
We are pleased to announce that Memiah Limited, the organisation behind Happiful and Counselling Directory have signed the Time to Change Employer Pledge.
By signing the the Employer Pledge, we demonstrate our commitment to changing how we think and act about mental health in the workplace, and ensuring that our employees feel supported.
Why sign the Pledge?
The conversation on mental health may be becoming the norm, but mental health in the workplace? That's a different story. Mental health is still a taboo subject and despite our awareness of mental health rising, many employees remain silent.
There is a culture of fear and silence about mental health in the workplace, despite an estimated one in six workers experiencing common mental health problems, such as anxiety and depression. Things need to change.
"Looking after the mental health of your employees makes business sense: tackling stigma can make a real difference to sickness absence rates, presenteeism levels, staff wellbeing and productivity, and retention."
"Since signing the Employer Pledge, 95% of employers said it had a positive impact on their organisation" say Time to Change.
How have we done this?
We're now one year old, and Counselling Directory has just passed it's twelfth birthday. Since then, we have been working to raise awareness and provide information and support not only to the public, but our staff. As part of our work, we invite staff to contribute their real life experiences of mental health, or simply write about the topics they are passionate about. Happiful really is a team effort.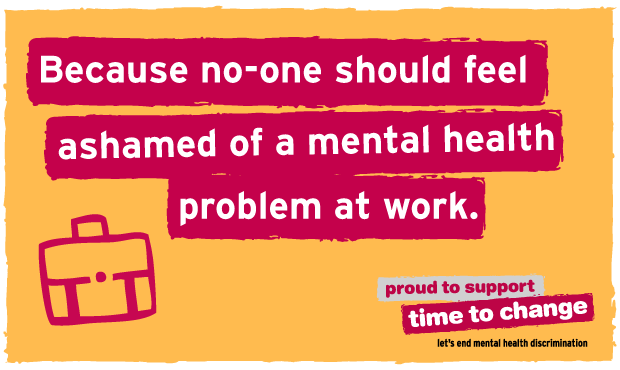 One of our team members has enrolled in the Mental Health First Aid course, run by Mental Health First Aid (MHFA) England. Once qualified, they will be training all of our staff on a half day course, and all line managers on a two day course. This will not only raise awareness of mental health in the workplace, but also give line managers the tools they need to be our employee champions and help them spot the signs, and support and manage their teams' mental wellbeing.
With signing, we join a movement of more than 500 employers in England, across all sectors. Learn more about the Employer Pledge on Time to Change.